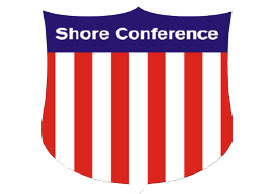 It didn't  taken long for the Shore Conference to take center stage. It also did not take  long for Brynn Farrell to become the star attraction. Last night in the biggest game of the early season. Two proud programs did battle. It's been years since since St. Rose has played a meaningful game in December. But they have a new coach and new culture. But more than anything else, they have a new shiny star named Brynn Farrell. While she may have been the star, her co stars were putting on a award winning best supporting act.

Yesterday St. Rose jumped all over the young Casey's early. It was clear from the start that St. Rose was looking to end it early. It was also clear that Brynn Farrell was a completely different animal, than everyone else wearing a uniform. She attacked the rim right out the gate. The young Caseys bounced off her like ping pong balls. When see wasn't running over Casey's, she was in the air, as if she was some kind Mary Poppins, like character in sneakers, flying over everybody. Making moves in the air, few girls can do. She set the tone in the first quarter with 13 points. RBC was totally on its heels, they looked very young and very physically  overwhelmed. St Rose played volleyball on the backboards, while Abby Antongoli gobbled up every lost ball. It's appeared after one quarter there was true massacre brewing. St. Rose lead 25-4 and nothing seemed to make you believe, RBC could do anything other than roll over and die gracefully.
Joe Montano is masterful on game night. He realized his babies needed a diaper change. So he switched to a zone defense and two things happen. It slowed the game down and allowed his shell shocked talented babies to catch there breath. He also got real  toughness from Antonia Panayides. A total gased Fab Eggenschwiler was carrying RBC on her back when Miss Panayides, entered and as one college coach asked "has anyone other that Fab got a rebound for RBC" we still don't have the  answer to that one, but Antonia Panayides, came off the bench and delivered real support for Fab Eggenschwiler. The timing could not have been any better for RBC, as Brynn Farrell picked up her 2nd  suspicious  foul and was forced to the bench. RBC took full advantage of Brynn Farrell moving  to the bench as Eggenschwiler and Antonia led the Charge. They cut the lead to 12 with the ball and 30 seconds left, with a chance to make it 9, but instead of getting a shot turned the ball over…but RBC saw light, as somehow they fought back as St. Rose only led 33-21 at half.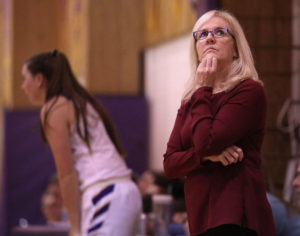 If there was any question, if Coach Mary Beth Chambers is ready for the big stage? It was answered last night in a BIG WAY. It was Chambers decision to open the game with Lauren Lithgow on RBC's young star Sophia Sabino, as she took any ability for Sabino to post up and more importantly took her away her aggressiveness. It was Chambers decision to bring in baby Mary Donnelly, who was sensational on the boards with 11 rebounds. But more importantly, Donnelly and teammate Sam Mikos, did a masterful job of turning the lights out on RBC stud freshman, Justine Pissott, who only had one deep three attempt and two points in the 1st half. As coach Chambers said.."we showed shot after shot of her on video and each one was deeper than the next, we were determined to take that away" and that's exactly what St Rose did, until the start of the 3rd quarter. St. Rose came out in a 1-3-1 defense, a defense which was effective during the scrimmage season. But Joe Montano, was sitting and waiting for St. Rose to use there 1-3-1. He saw it from a mile away, he went 1-4 across posted up little Abby and slid Pissiott to the wing on the first pass…St . Rose had to pick there poison. It was Pissiott who banged out, her one and only deep three of the night. Then RBC found Sr Julia Setaro open for a three and just like that RBC had come all the way back..they trailed 33-27 and the news got even better for them Brynn Farrell picked up her third foul. RBC saw blood, Coach Chambers saw a chance to display her coaching skills.
When Farrell picked up her 3rd foul all the college coaches went into discussion mode. The comments ranged from "oh boy St Rose is in trouble"… "RBC could steal this game" to finally…"omg she is leaving her in the game" yup that's exactly what Coach Mary Beth Chambers did, she rolled the dice last night. Her team was in free fall and she left her mega star in the game. Brynn Farrell did not disappoint. She simply put her Super Women cape on and went to work on the young Casey's. Baby Mary Donnelly and Abby Antognoli, did the hustle work and seem to get every lose ball and anything that came off the backboard, Donnelly showed she can be every bit the superstar many have predicted. Antognoli, showed she is becoming special. But Brynn Farrell is already is a different kind of person. She  told her teammates step aside, there's work to be done, get on my back. Farrell went for  back to back three's with crowd yelling in sheer delight. She  re-energize the Saint Rose fan base and broke the heart of the RBC fateful. She gave St. Rose the breathing room they needed going into the 4th quarter. More importantly her cool demeanor and elite attitude settled her teammates down. She also showed her Coach ….IN BRYNN YOU CAN TRUST.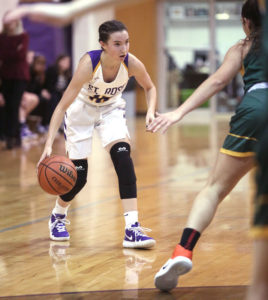 It appeared RBC finally may go away in the 4th. But Sophia Sabino had different ideas, as she started to attack the rim for buckets. First she got three the hard ward way. Then a tear drop in the lane. She helped RBC cut the lead to 8 again. But then ABBY ANTONIOGLI, did what she does better than anyone. She picked up two 50/50 balls for what may have been the two biggest baskets of the day. It was her two baskets that officially sent RBC on its way. The game ended with Brynn Farrell scoring 28 points over half the St. Rose entire offense. Lauren Lithgow gave her real support with 11 points. Abby Antognoli had 7 points, 8 rebounds and 5 assists stuffing the stat sheet. But there is no stat for hustle and her energy. But maybe the two  most under appreciated  players of the night were Freshman Mary Donnelly and  Sam Mikos. They both pounded the backboards, tipped balls all night out of RBC players hands and keep Justine Pissott in hand cuffs most of the night. St. Rose was a true team last night and on a big stage in there GYM..RBC, gave up almost half the points on the evening in the first quarter. That would be 25 of St Rose's… 55-42 win….they will not be the same team next time the two meet…and neither will ST. ROSE!!
Last night Shore basketball truly returned to a program with a rich tradition of sucess. The fans were jumping, the college coaches were back and the media was out in full force. Every person associated with the Saint Rose program should feel very proud. It's what the  St Rose family derserved because they have earned it. There was talk about jealousy and parents behavior before the season started. But what the St. Rose family proved was those were all smoke screens. Almost, every player made contributions. Maggie Stapleton's deep three in the first quarter,  just may have been the key to bringing her team together. The crowd and her teammates jumped and cheered like we have not seen in years…she made the  St. Rose family SMILE. Mary Beth Chambers was masterful. She made every right move last night. When  her team was getting sped up and feeling the RBC pressure, she moved her Senior Lauren Lithgow to the point, she made the Brynn Farrell decision, knowning the consequences if Farrell  picked up a 4th  foul. She went to her baby Mary Donnelly off the bench and when she turned the ball over 3 times, stayed with her and Donnelly rewarded her for her trust. Soon Mykaya Andrews will return and the outsiders will be hoping for team explosion. They will hope jealousy and selfless will rear its ugly head..I DONT SEE IT …BECAUSE IT LOOKS TO ME …LIKE ST. ROSE IS IN IT TO WIN IT!