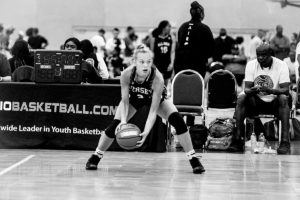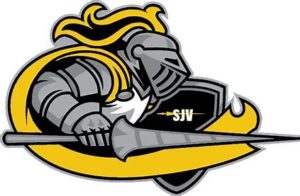 EVERYONE'S ROAD to fulfilling their dreams are different. Some times the roads are full of twist and turns. Some times the roads are smooth sailing. That's just the way it is, yet there is one thing they all have in common. The journey is a long one that requires patience and a understanding. There are simply no short cuts along the way. Nobody understands this better  than the Central Jersey Cardinals EMMA BRUEN.
WHEN  EMMA BRUEN decided to attend SJV two years ago, she knew exactly what she was walking into. She understood that Sarah Karpell currently at Fordham University and Rahmena Henderson currently at Sam Huston state, would be the point guards for SJV. She also knew they'd  be around for 2 years. But Emma Bruen wanted to be part of SJV, it was her dream school. So she took on the challenge of playing for SJV. With that came a real understanding that one day she would get a chance to play meaningful minutes at SJV. It meant preparing and working hard on her game. It meant living in the gym and setting real goals. It meant not dummying down the competition. But more than anything else,  it meant  swallowing your ego. You see when your not getting attention, it hard to keep showing up. It's hard to walk in the gym, when you don't have a reputation. You see, you have to earn everything and you can't expect anything in return. Emma Bruen has figured all this out.
I am a big believer in rewarding hard work with  productivity. I believe lots of kids work hard. But there not all productive and show improvement. Emma Bruen, has shown improvement, lots of it. You see Emma Bruen, has been preparing for this moment a long time ago. What moment, do you ask? The moment when college coaches will discover her. The moment when she when she  gets a chance to show she belongs at SJV and can be a big part of there program. How did she prepare for this moment? With a undying commitment to get better. Emma Bruen has lived, eat and sleep basketball for the past two years, knowing their are no guarantees or promises. She has made every sacrifice one can make to live out there dreams. It's why, she is at after school shooting everyday for two hours. It's why after two hours of after school shooting she attends Point Guard School. It's why she attends NBS twice a week. She will DO ANYTHING TO GET BETTER. Her ability to show up everyday is beastly. It because the mission means so much to her. It's why her reward is coming and it's coming faster than even she knows.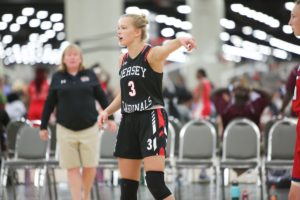 I have watched Emma go from a shy and at times a player lacking confidence. Into a leader, a typical SJV guard. You know the tough hard nose defender who wears you down with mental toughness and confidence. There was a time Emma Bruen, would hide at NBS. Now she knows she is as good as any guard at NBS. It's why now when she looks for  her match ups at NBS. She looks for the best guards in the gym. The D1 guards with the reputation. Now she is building her own reputation and refuses to take a back seat to anyone, damm the reputation.. Many kids like Emma, rather skip NBS. They know the love won't be there, but what they don't understand  is, you have earn the love. Emma Bruen, understood that hard work and long term development leads to a opportunity with no  guarantees. It's  the opportunity Emma has been looking for because she knows she's prepared. That's because EMMA doesn't duck competition or make excuses. It's why she went to SJV to fulfill her potential. But she understood that she needed to work and show real dedication while not getting major minutes at SJV was the key. She knew her future depended on her development . Her dreams could only come true  by challenging herself and that's exactly what she did, no school challenges you more than SJV….DAMM THE EGO OR TRYING TO FOOL HERSELF….SHE HAD A DREAMS AND SJV GAVE HER THE BEST CHANCE TO MAKE THEM COME TRUE.
Some Players are able to PAY price …TALK IS CHEAP…just ask Emma Bruen https://t.co/4SFs0d26QQ

— ellonya Tiny Green (@CoachTinyGreen) July 15, 2019
LAST SUMMER, I went to watch Jersey Shore Elite play the 2021 Shoreshots. I thought it would be a blowout and maybe I 'd watch a half. JSE had Katie Hill, Megan  Cahalan and Amelia Mendolla a very talented team. So instead  of leaving at halftime. I saw the JSE team pull off the biggest upset of the summer. The ShoreShots down by 18 points with 5 mins left put on a for ferious run. They had cut the lead to four. But it was Emma Bruen who put them to sleep with two show stopping  daggers …she buried 2 three's late. It was Proof to me that Emma Bruen liked big moments. It was proof that Emma Bruen could stand up against the best of the best. She is an excellent ball handler, she protects the ball and gets her team into there offense. She also has the ability to get by opponents and score or find teammates. She is the rare rebounding point guard who can also defend both guard positions. Her versatility allow her to slid to either wing position. You see Emma Bruen has developed into a player college coaches will soon fall in love with.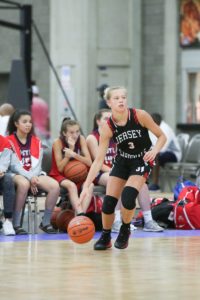 Here is what I say about gym rats… gym rats are ultra competitive players. They get better at the next level. They also can play a level higher than their natural ability. You see gym rats don't change. I believe kids are who there are, hard worker in high school….hard worker in college…lazy in high school and lazy in college…except in college, they get the coach fired. EMMA BRUEN is going to one day make a college coach look real smart, one day This is a young lady that will not let anything get in her way. She has been waiting for her moment….GETTING BETTER…OUT WORKING HER PEERS…DREAMING AND WAITING….We'll guess want?  We have another SJV player who has taken on the challenge of greatness and like all the rest...EMMA BRUEN WILL BE REWARDED!
SIGN UP NOW…
The one event nobody should miss… pic.twitter.com/ikMZnIVhC2

— ellonya Tiny Green (@CoachTinyGreen) July 15, 2019