Rachel Caupa is like a lot talented Ocean County players. They come in under the radar and we discover them at a later time. I had no idea who Rachel Caupa was three years ago, I had never seen her play. She was not a brand name player entering high school. She didn't have the hype of a Jenna Paul or Brielle Bisogno. She didn't have star written all over her like Destiny Adams. Rachel Caupa had to make things happen on her own in order to get noticed. So that's exactly what she did in her freshman season. She averaged 12 points and 6 rebounds a game. Staggering numbers for any freshman but even more shocking because few if any knew about her. In fact Rachel Capua was so good that she was named to  THE SHORE CONFERENCE ALL FRESHMAN TEAM.  It was a first for Jackson Memorial player. It seemed Rachel Capua was about to become a household name.
Deceptively strong an extreme "downhill" guard..on a change of possession gets to the rim with a vengeance, finish in traffic with or without contact, worked on changing pace by pulling up from three or using the left side of the floor. Don't be fooled by that smile, COACH TURHAN

— ellonya Tiny Green (@CoachTinyGreen) June 3, 2019
This spring I stopped by to watch a tournament at Hoop Group. I had fully intended to watch one game. I was there to see a young lady, so many coaches had been asking me about. But while waiting for her game, I saw the Turhan Belles standing around.  I also saw Rachel Capua, it was then I realized, she had basically somehow fallen off the map. Right away I knew  Rachel Capua was a totally different player. What jumped off the page was her improved IQ and shot selection. I saw her make back cuts and use handoff's to perfection. She still attacked the rim in transition and knocked down three's from the parking lot. She had 49 three's as a freshman. Her shooting talents have never been questioned. But to see her defend and handle the ball with such improvement. Told me Rachel Capua was taking her development very serious. It was clear to me she wants to take her game to a new level.
— ellonya Tiny Green (@CoachTinyGreen) June 3, 2019
If you know Coach John Turhan, he does not throw around compliments very easy. He is task master who pushes his players. JT is clearly not for everyone but is the perfect coach for kids trying to raise there level of play. I asked JT how Rachel Capua was playing. He told me "tiny Rachel Capua is playing at a real high level, she could be a Division one player" Now those are strong words. I was honest with Coach Turhan, I said coach I want to see her do it against D1 players. I want to see her do it against real competition. Then coach Turhan said "we play the 2021 ShoreShots in two weeks. I will let you know how she plays." It was a month ago, that the Turhan Belles led the 2021 D1 loaded  ShoreShots by 10 points at half. It was also the game that made everyone understand how speical RACHEL CAPUA can be. She put on one of the best performances this spring at the highest level of competition. Rachel Capua proved she could play against any level of competition. John Turhan knew his talented guard was good. But now her knew she was capable of getting on a higher level. JT has been the best thing to ever happen to Rachel Capua this summer….he challenges her and it appears it's just what she wanted.
Rachel Capua has had some magical nights in just two years. Next season she will score her 1000th point in her junior year. She has done just about everything, she has been All Division, All Freshman, scored over 20 points on multiple occasions, too many to list. She had a career high 30 point game against Howell this past season. These are things that go to her talent. But now Rachel Capua is trying to separate herself from others. She has stepped up her level of competition. During the live recruiting period in Atlantic City she averaged 17 points a game. She showed even with the pressure of coaches watching, she could still step up her game.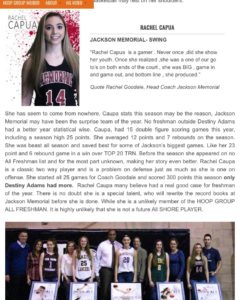 Rachel Capua has a real motor, she also is way more competitive than what her face says. She smiles and is such a sweet kid, you could mistake that for weakness, because she plays with a real edge. Rachel doesn't have the advantages other kids have. Like entering high school as a star, but she let her playing speak for herself. She played at a high school that didn't get must attention as it had in the past. That was until she put on Jackson on her back as a freshman and led them to the biggest upset of the year over Tom River North with 2 division one players(23 points and 7 rebounds). Her Jersey Belles team did not start the summer with much buzz. But Rachel and her teammates are creating their own buzz. They have proven there worth on the court. It seems we have forgotten about Rachel Capua, it almost like she is trying to remind us, how talented she really is and IT'S JUST A MATTER OF TIME before we all forced to remember.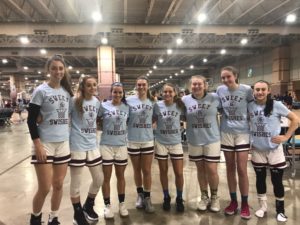 CAMP DATES…