It's the first day of June and I like to think the summer starts on this day. It's also the time we start thinking about high school summer practice. So today I will give you my Summer TOP 10.  There is no dominant team on paper as of today. There also a few transfers who have not made it official. This year more than any year. It may come down to who has the best chemistry because nobody is going to overwhelm everyone with their talent.
THE 2013 SCT CHAMPS…RED BANK CATHOLIC may be the only team in recent Shore History to win the SCT TITLE WITHOUT A DIVISION ONE PLAYER… more to boot. They went undefeated in the Shore Conference…#chemistry pic.twitter.com/v8rxk0VYtC

— ellonya Tiny Green (@CoachTinyGreen) June 1, 2019
1. St. ROSE-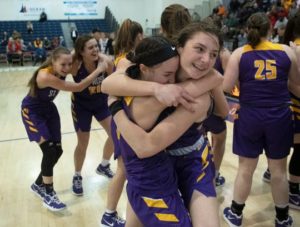 There are loaded at every position. They return three All Shore locks in Abby Antognoli, Brynn Farrell and Makayla Andrews who will play a full season. They will add a impact Freshman. But the biggest surprise just may be Layla Laws who has been beastly this spring. So beastly she has attracted the interest of D1 schools. While they have lost some valuable seniors. It may open the door for some very talented players waiting in the wings. Mary Donnelly will receive additional minutes and that alone will make St. Rose stronger up front both offensively and defensively. Donnelly has been sensation all spring. She has superstar written all over her. But Donnelly won't be along in the added minutes department. Maureen Stapleton has been a star in waiting and with extended minutes expect the future D1 forward stats to soar. Marie Tedesco could be a nice surprise next season. She is playing AAU and has a full year with St. Rose  There is no doubt the team chemistry will be stronger. The question is can the  Non Public state A champs take the next step and win a SCT OR TOC?
2. RBC-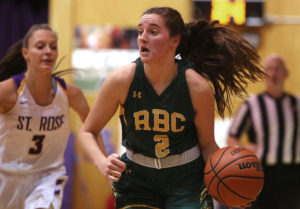 They will not be able to say there babies anymore. They return 4 D1 players who have all gotten bigger and stronger. They add two impact babies, both  future D1 players who should adjust nicely to high school basketball. Justine Pissott is the most recruited player in the Shore and has grown to 6'3″. Sophia Sabino is one of the best point guards in the entire state.  But the biggest story might be the development of Lehigh recruit Fab Eggenschwiler. She has taken her game to a totally new level. Now the question is can they take the next jump as group. Nicole Stafford has moved into the D1 conversation. If Ally Carmen, and Grace Wilson continue to develop and  Antonia Panayides continue to grow. RBC will have a stacked lineup top to bottom. Because Shae Sabino is becoming a real story this spring, her development could mean more rebounding, scoring and defense up front. She will no question be looking to move into the starting rotation, if this spring is any indication. No team will have more competition for playing time in just about every position. This RBC team will be a deep talented team. Now the question is who is the leader of the team? Its a question that must be answered before discussing a possible SCT title.
3. MANCHESTER-
They ran over everyone last season in route to the SCT title. But they lost the player of the year in Leilana Correa and maybe there most important player in Dakota Adams. There is no replacing them. But Destiny Adams is a year older and will make a run at Player of the Year. Kemari Reynolds will be asked to return to her previous role as a scoring point guard. They have what many believe is the best baby in the Shore. Freshman Gabbi Ross is a future mega star. She will be a impact from day one. But the biggest story just may be the emerging Amyah Bray, who is showing real flashes of stardom this spring. The question  is do they have enough to get over the hump and can defend there title. Serenity Anderson is a proven big time player. So clearly there is enough tools
4. RFH-
All coach Callahan's work is about to pay off. He has been a fixture in the community in developing youth basketball. Now he has a massive talented group of babies entering RFH. They also add a D1 transfer in PAIGE SLAVEN, who instantly gives them the elite point guard they have been missing. They return mega star Grace Munt and Lucy Adams. Not to mention Cortland McBarron, Sophia Passalaqua and Charlie Rosen.  Making RFH one of the deepest most talented teams in the state.  This group could win it all this season. Here is why? The chemistry and family approach has no match in the state, because the entire roster is made up of home grown kids, with the exception of Slaven. But more importantly, Coach Callahan has real offensive weapons to work with now. The real question is are the freshman ready. The bulk of them have not spent time playing against older elite competition. Exactly who they will have to beat in order to win the SCT.
5. SJV-
When is the last time SJV started this low? Four years ago to be exact, and guess what they did? Make it all the way to the SCT FINALS. Madison St Rose is a mega star in waiting.  Katie Hill who has A-10 offers will be a All Shore player. Christine Whitehead is under valued and will be looking for a breakout season. SJV have no less than 3 impact babies arriving and all three will make a run at the All Freshman Team. But the biggest story for SJV is the insane talent that has been in waiting.   Emma Buren, who seems to get better everyday, could be the key to everything. If she can lock down the point position SJV solves their biggest off season question. Ashley O'Connor has looked like a nice answer to the shooting SJV lost to graduation. But it's Megan Cahalan that should excite SJV fans. This spring she has been electric and is making the case as the best post in the Shore. The future D1 6'2″ forward could hold all the keys. Oh yeah somebody named Dawn KARPELL is the coach.  The big question is can they overcome losing 4 D1 players? SJV plays for championships not wins!
6. MARLBORO–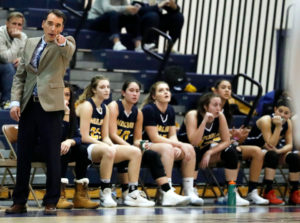 Remember when everyone laughed when I told you they were a TOP 20 Team last season. Well there not laughing now. Marlboro was a Top 20 team and that was without D1 forward Kathy Sanchez. Now the athletic talented wing will return next season from her season ending injury. It will take some of the sting out of losing Gisella Romeo. Marlboro returning just about it's entire roster. Jess Reipe is moving into All Shore status and was nothing shore of sensation. They summer she has continues her march to greatness.  But if you really want to get excited, look no further than Danielle Schlesinger who spent the spring training against elite competition. She was on the All Freshman 2nd team and many believed she deserved 1st team. She could have a big year if the spring is any indication. Point guard Sammy Jay at times has shown flashes of greatness. If she can put it together. Marlboro will not just be ranked but could race into the state Top 10. Samantha Slofkiss is showing signs that she is ready to build on last season. Her development this summer could hold the key to everything.
7. RBR-
Coach TRUHAN and crew are is not going to like his summer ranking. They stunned RBC in the biggest upset of the year, in the biggest tournament. The SCT and then almost took out Manasquan. They will have Amelia Mendolla for an entire year. CHOLE TETER has D1 schools breathing down her back. Caitlyn Decker had a all star season last year. Losing Megan Murray can't be understated, she is unreplaceable. The good new is this, almost the entire roster is playing this spring. In fact RBR is operating more like a Monmouth County team rather than a Ocean team. The players are playing against real competition and training in elite environments, credit one person, Coach JT. What should excite RBR is they will start the year in the Top 20. The real question is can they stay there.
8. JACKSON MEMORIAL –
There is no question the talent is there. They return the big three in Kristina Donza, Rachel Capua, and Bianca Giordano. All three are among the best in Ocean County.  Losing Dani Evans will hurt but they have a talented impact baby who will fill in nicely. The biggest impact just might be what Rachel CAPUA is doing these days, mainly playing against and with real competition this spring. This no question will serve her well come next season. Jenna Paul and Brielle Bisogno have both moved on to D1 basketball. That should open the door for Jackson Memorial to win a division title. It's now or ever for this group. The question is  the same. Will they challenge themselves at some point this summer and up the level of competition they play against? If they do…WATCH OUT!
9. NEPTUNE-
Surprise, surprise look who is back. John Brown returns two of the best babies in all of New Jersey. Anjane Young and Amaya Young both are future D1 players and represent the future of Neptune basketball. But what everyone forgets is that Macy Brackett is easily one of the best post players in the Shore. She is a scholarship player with a massive heart. This group got better all season and next year could be a coming out party. But the biggest surprise just may be little known Sophia Yevchak who is playing AAU this summer and training. Her body has changed and she looks much more confident. If the 6'2″ forward steps up, Neptune becomes a real problem.
10. MIDDLETOWN SOUTH-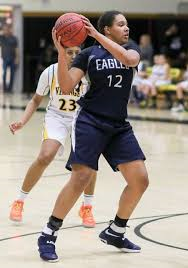 Tom Brennan is looking at a massive rebuilding job. But don't worry because here is why. Right now Kayla Richardson just may be the best 2020 in the Shore Conference. That is not talk folks, that's a  dose of reality. Next Stephanie Mayerhofer is showing she is a D1 player. Both have made major jumps this spring. If there was ever a time for Grace Meehan to step up, now is the time. She will most certainly move into a prime role. The good news for South is Tom Brennan has a track record that is unmatched doing more with less…the question is who will step up. Freshman Renee Wells showed she has the chops and maybe she will be what the doctor ordered.
THE SUMMER CAMP DATES ARE HEATING UP