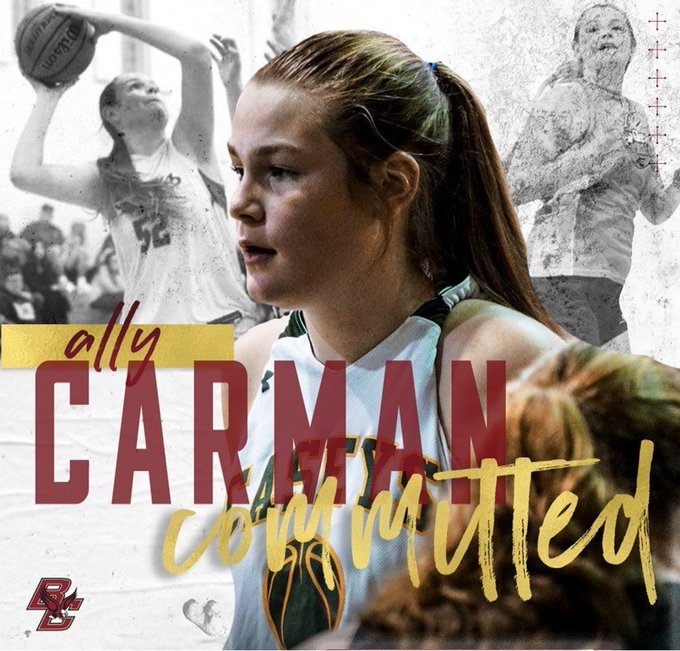 When your a 6'5" female basketball player people expect so much more from you. They expect you to be super women. They also never appreciate the work you put in. They don't understand that oftentimes you are overlooked and treated like a 2nd class citizen. When you tall and talented it's always your fault when things go wrong. Your expected to have thick skin and everything is suppose to run off your back. Ally Carman is just a teenager. She is sensitive. She has been through many ups and downs. She has had to overcome so much in her young athletic and personal life. Ally Carman has been under pressure for so long, she probably doesn't know what it feels like not to have that weight on her shoulders. Yet on Sunday evening that weight got a little lighter… as ALLY CARMAN FLEW LIKE A EAGLE and COMMITTED TO BOSTON COLLEGE OF THE ACC.
Ally Carman's mother Candice is one of the greatest basketball players in Shore history. Her father Jon played for the Philadelphia Eagles of the NFL. Both played at Georgia Tech. So they know the pressure that comes from playing big time sports. They also know since the time there daughter picked up a basketball there has been pressure on Ally. There is no sneaking up on anyone when your always the tallest girl. Teachers, Coaches and adults don't view a kid that tall the same way as other kids. We expect so much more from them. Ally Carman has been giving those around her so much more since the day I met her. She has flown solo so often, it has made believe anything is possible with hard work. That hard work has been her saving grace. It's what has opened so many doors for her.. now she has walked though the biggest door of them all… the doors of ACC BOSTON COLLEGE.
Weather Ally knows it or not, she has been blessed. Somehow people have come into her life to help her along the way. For some reason every step of the way, she found people who loved her and gave themselves to her. People like Jim Pissott who put her on his travel team in 5th grade. When she was just tall, not much of a basketball player. Jim Pissott taught her the most important thing of all.. how to work hard and to be willing to accept coaching. He also did something very rare these days. Jim Pissott made Ally fall in love playing in the post. He encouraged her to be a post player. It may be the biggest reason for Ally's development these days. It was he who made her believe being a center can be fun. It was Jim Pissott who treated as a daughter along the way. It was also Jim Pissott who fought tooth and nail to get Tracey Sabino to more ALLY CARMAN UP TO TBE 2021 Shoreshots.
Tracey Sabino, most people don't realize was a D1 coach before entering the AAU world and her kids came into her life. She is a masterful coach and has built the best organization in the county. Nobody is doing what Tracey Sabino is doing. Her track record is unmatched for sending kids off to college. But more than anything. Tracey Sabino has built her program by taking chances on kids. She is not part of the AAU world that involves stealing kids and claiming them after they have success. She has turned little girls into big time basketball players. Her most successful project to date, just may be Ally Carman. The Shoreshots took Ally Carman under their wings and allowed her to develop. They allowed her to make mistakes and most of all allowed her to grow as a person as well. You see when your 6'5" you become a easy target. Everything you do is magnified. Play great and it's because you're bigger than everyone. Play poorly and you don't want it enough. Tracey Sabino pushed Ally but more importantly gave Ally a support system and a solid foundation and family. A family she would stick with thought out her AAU career...called the 2021 ShoreShots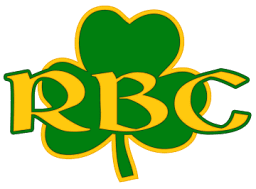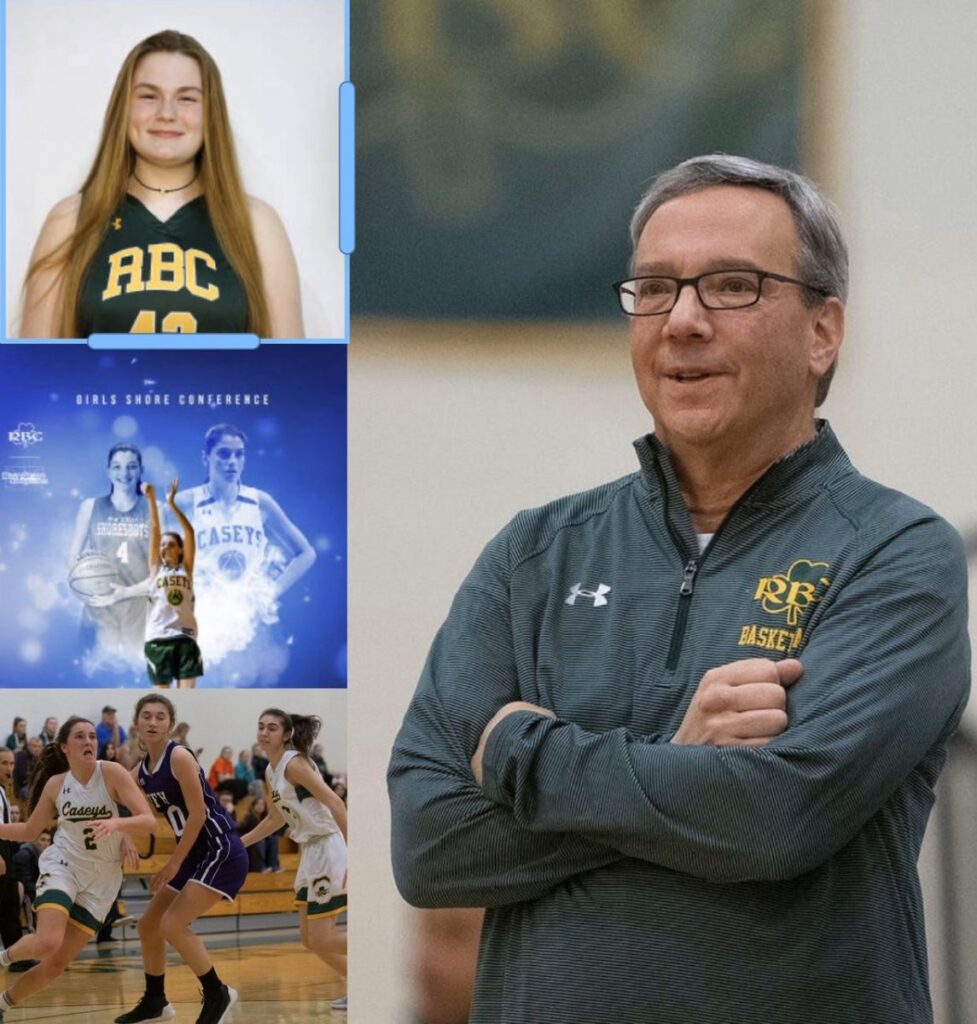 There are sacrifices and things that hurt when making tough decisions. Ally Carman and her family had to do just that two years ago when picking a high school. The choice was to stay at home and play for Barnegat or attend a more traditional basketball school. Barnegat has one of the best coaches in Ocean County. Tammi Nicolini has been named coach of the year and has made Barnegat a legit basketball program. But Barnegat is not RBC. So Ally Carman and her family decided to attend RBC. It meant waking up every day at 5.30 in the morning. It meant Commuting to school every morning with her teammate Justine Pissott. It was a sacrifice few kids are willing to make. Leaving their friends and local school. Only the great ones tend to do this. They are the risk takers and achievers.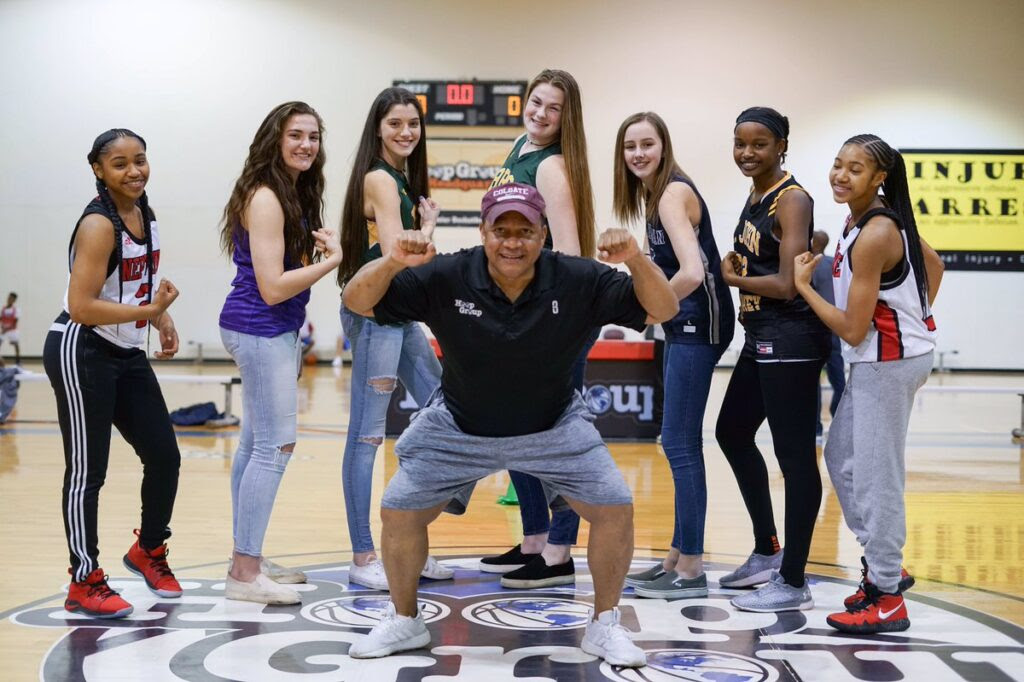 Ally Carman has achieved so much at RBC and it goes basically unnoticed. She had led the team in scoring, was named 1St Team All Freshman, was named MOST IMPROVED PLAYER and been a starter on one of the best teams in the state. Yet sometimes it isn't enough. It's why she is lucky to have Joe Montano in her life. Joe Montano has given Ally balance. He has held her accountable for all she does. But it has been with a balance of compassion and toughness. If you wonder why ALLY CARMAN has been so vocal on the court this fall. Think of one person Joe Montano. If you are wondering why Ally Carman has developed, think of one man. Joe Montano's patience has 100% been the key to Carman growth. I truly in my heart, I believe no other coach could have coached Ally though her early stages. Joe Montano was willing to live through all her mistakes and growing pains. Not once did he ever question Ally's future as a player. Now her future is even brighter with her commitment to BOSTON COLLEGE.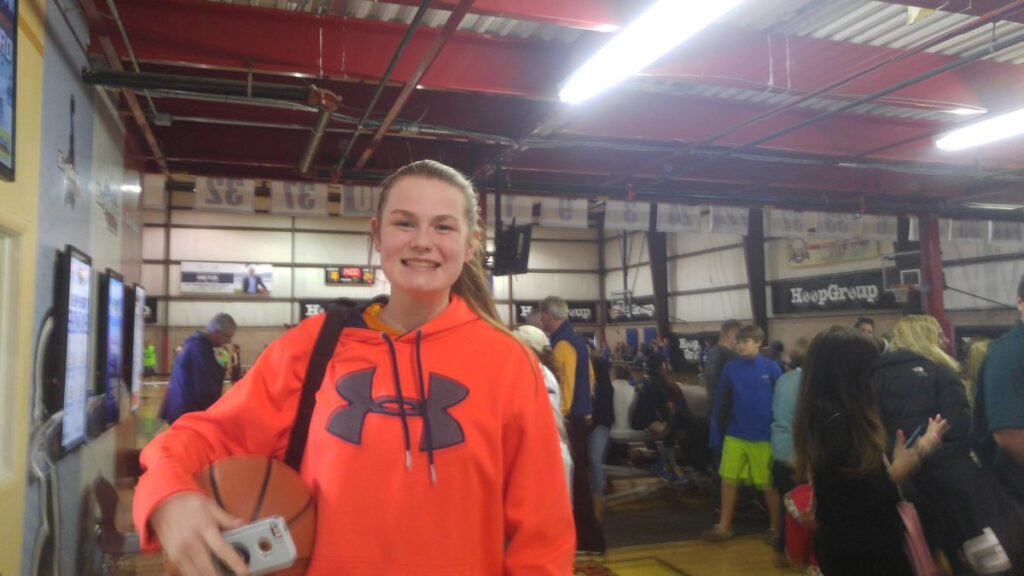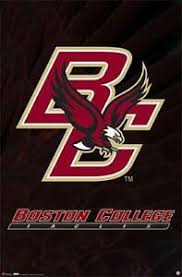 Ally Carman visited Boston College as a 9th grader. She went to there elite camp. There were future Power 5 players surrounding her everywhere. When she left campus they did not offer her. She was disappointed. I told her "it was something to shoot for now." She loved everything about the school. She loved the campus, the coaches and most of all the ACC. Ally Carman from day one wanted to play in the ACC. The same conference her mother and father played in. But more than anything was her dream school. What she didn't know was that she would have multiple ACC schools offer her. It was a tribute to her hard work and commitment. When Boston College finally offered Ally, they were in a recruiting war. They had lost that recruiting advantage of getting in early first. But it really didn't matter because Ally was already sold on BC. The other schools were a mere distraction. It was clear to everyone BC was where her heart was. So when Ally finally made the call Sunday afternoon. It was a celebration of a journey. A journey that was not always been cookies and cream. It was a journey that took real mental and emotional Fortitude along the way. Ally Carman has done what so many kids dream of doing… she worked towards a dream and made it come true.
Today Ally Carman is the best center in the state of New Jersey. Boston College is getting that rare center, who wants to play center. They have out recruited schools they traditionally found themselves playing runner up too. Today Boston College, may not know this, but they just added a game changer to their program. A player with size who is a gym rat. Ally Carman has worked as hard as any kid can be expected to work. More. Importantly she has willingly done all the work. Now it's time for Ally Carman to enjoy the fruits of her work. Now Ally Carman can look toward the future. She knows there will be no SCT or TOC title, due to the pandemic this year. But there is going to be a season. A chance to show everyone what she has become… the toughest player in the state to game plan against. The one player that is a problem every night. Ally Carman is in rare company and BOSTON COLLEGE IS GETTING A RARE PLAYER… CONGRATULATIONS TO TEAM ALLY CARMAN…. well done👏👏🏀
ALLY CARMAN…SACRIFICES