The SCT seeding and tournament are right around the corner. But make no mistake there are some real important games left to be played. Last week, we saw some teams with a real chance to put themselves in the driving seat. Some took advantage and others did not. The Top 10 gets clearer every week. The beauty of basketball is that it's always gets settled on the court.
 TOP TEN RANKINGS (week 9)
1. MANASQUAN– Marina Mabrey wants another SCT RING

2. St. Rose– They will get a crack at Manasquan this week.
3. SJV– Think there RFH game means a lot?
4. RFH– Sabino and Stant are rolling and RFH may be coming together
5. Neptune- Right back on track this week
6. Middletown– All of a sudden Healthy and SCARY! Blew out #20 Notre Dame
7. RBC– Larkins and Brazotti have been lights out the last 2 weeks
8. Southern– Lost to very good Cedar team…no shame in that.
9. Marlboro– Moving on up….
10. Freehold– Welcome back to the CLUB
WEEKLY  AWARDS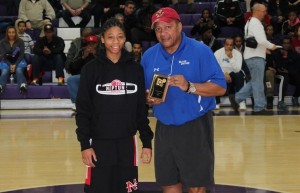 "I'm ballin Tiny you better recognize "
PLAYER OF THE WEEK- Marajiah Bacon– NEPTUNE HIGH SCHOOL- SENIOR
BACON is now officially a candidate for 1st team All Shore. She averaged over 25 points last week including 35 against Trenton. She has her team in the Top 20 and #5 in the Shore. Folks nobody could have predicted this before the season started. Bacon has become one of the most dangerous offensive and defensive weapons in the Shore Conference.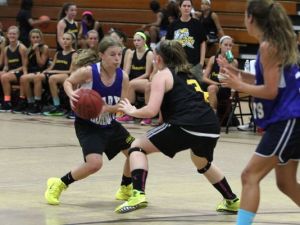 "What Tiny you've never seen magic before?"
FRESHMAN OF THE WEEK- Christina Antonakakis- HOLMDEL HIGH SCHOOL
The "magic woman" had  a big week against REAL COMPETITION. First against RFH she 13 points and 4 dimes. Then against Freehold she dropped a season high of 22 points. That is the highest point total for a freshman this season with the lone exception of Luciana Thomas's 23 vs Long Branch. "The Magic woman" has been as advertised all year.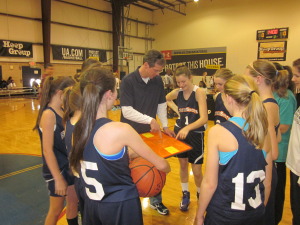 "Hey kids… now gather around a master teacher is speaking"
COACH OF THE WEEK- TOM BRENNAN- MIDDLETOWN SOUTH HIGH SCHOOL
The man is pure genius. First he steals a game from the bench against Freehold Twp on the road. His set plays and Princeton style offense late in the game were brilliant. His adjustments in his 1-3-1 defense was masterful. Then the very next day his team blows out  #20 Notre Dame.  That fact he has his team playing at this level after all its been though is nothing short of AMAZING! oh by the way he won his 4th Class A title (http://www.app.com/story/sports/high-school/basketball/2015/02/06/midd-south-secures-fourth-consecutive-division-title/23015681/ ) …..NAW HE CAN'T COACH..HE JUST LUCKY…LOL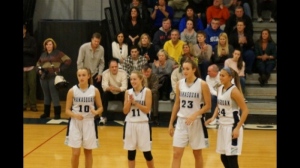 There a true team and all smiles…
TEAM OF THE WEEK – MANASQUAN HIGH SCHOOL
They avenged an early season lost to SJV in grand style. Manasquan beat the former #1 team by 25 points. They could have been the worst DEFEAT BY A SJV TEAM in the Karpell era. But make no mistake Manasquan is not a one woman team these days. Gillian Black has been a major up grade to this team. Stella Clark and Dara Mabrey are playing their roles to the "T". Courtney Hagaman has played like a senior. But the biggest difference for Manasquan has been the play of Victoria Galvan…she has been nothing short of sensational. When are we going to start giving Marina credit for leadership on and off the court?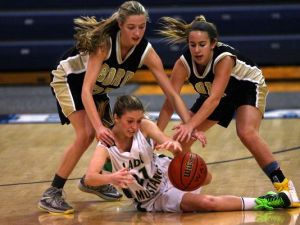 Hughes and Havens led the upset of the week
WIN OF THE WEEK- PT BORO HIGH SCHOOL
It looked like Donavon Catholic was on its way back to the TOP 10…But somebody forgot to tell Pt. Boro as they knocked off Donavon Catholic. Sophomore stud Megan Hughes had 22 points. Lindsey"1000 points" Havens had 18, Brianna Skinner had 17 and just like that Donavon Catholic and there Top 10 ranking along with there 11 game winning streak were gone.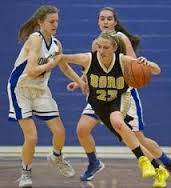 She is becoming a full blown star
SURPRISE PERFORMANCE OF THE WEEK- MEGAN HUGHES- PT BORO- SOPHOMORE
Hughes wins this award for the 2nd time. She had 22 points in the upset win over Donavon Catholic. The future D1 guard has had a banner season and it just got better last week as she led the way in the  monster upset.
MY THOUGHTS ON THE TOP TEN AND WEEKLY AWARDS-
They were 3 big decisions to make this week regarding the TOP 10. First who would be #5 Neptune or Middletown. I watched both teams play this week. The eye test tells me Neptune who lost and now has split with RBC. Middletown South blew out RBC in December, but they did not face the same team Neptune lost to last week. RBC is a much different team than the team Middletown South beat in December. All things are not equal as South has had a few major bumps prior to last week.  I will give Neptune the benefit of the doubt, you say Middletown should be in that 5th spot, I say OK, you could be right.
Next who is #8? this was a tough one. Both teams have beaten Freehold Twp and both teams have been rock solid ALL year. This week Southern lost to a good Cedar team. Marlboro shocked me by beating the Lebbers sisters Allentown team. I gave the edge to Southern because they revenged the lost of TRN….folks that the best I could come up with… you want to say Marlboro is 8th go right ahead…they are razor close!
The final decision was the 10th spot and its tricky. Holmdel lost to Freehold Twp and some Holmdel fans will point to Morgan Graziano not playing. I only have one thing to say about that and its this…"If "ifs" and "buts" were candy and nuts, we'd all have a merry Christmas.". What are we suppose to discount all of Middletown and SJV's losses because Jill Favery and Emily Urbie are out for the year. You play with what you have… end of story. Injuries and sickness are all part of the game, some teams overcome this and others don't.  Holmdel  was not competitive against RFH, making for what can only be called a disappointing week. Freehold Twp not only beat Holmdel but they handed a game to Middletown that they controlled most of the day. In the end both can thank  Donavon Catholic, who opened the door for both teams by losing to Boro…Head to head competition trumps everything, when all is equal ….ALWAYS… Holmdel goes from out of the poll to six and right back out a week later…..FREEHOLD RETURNS TO THE TOP 10..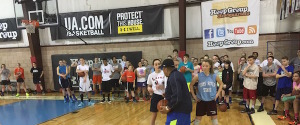 http://hoopgroup.com/headquarters/weekly-instruction-programs/
POINT GUARD SCHOOL STARTS TOMORROW AT HOOP GROUP..5.30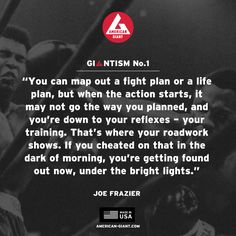 QUOTE OF THE WEEK- "
PHOTO OF THE WEEK-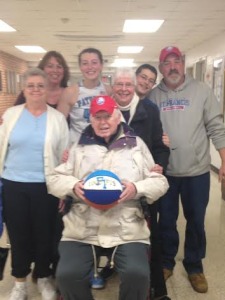 TORI WAGNER CELEBRATING 1000TH POINT WITH HER FAMILY…CONGRATS GIRL!