Yesterday's Rumson vs Paterson Eastside was as well played game as we will see all year. Two teams totally prepared and talented, it's too bad either team had to walk away with a lost. I learned a great deal about RFH yesterday.
http://www.msgvarsity.com/diaz-3-pointer-sends-eastside-past-rfh-1.1681087   GREGG LERNER ARTICLE.
Stant is taking her game to new heights
Grace Stant is clearly stepping up and has moved her game to a new level. She did almost everything yesterday. She scored, rebounded, passed and handled the ball against pressure. But it was her insane defense on Taylor Brown in the middle of the 3rd period that was special. It allowed RFH to come back from 10 points down. She held Brown who was torching RFH to zero points the last 12 minutes of the game; when Coach Sourlis made the switch.
Sam Sabino proved yesterday that her trademark is playing big in big games. Yesterday she again was sensational on a big stage, making big play after big play. Sabino's sweet dish to Hannah Scanlon late to tie the game was a next level type play. Sabino right now is playing like she belongs on the all shore team.
Nicole Morris for a minute looked as if she was going to steal the show. She had 13 first half points and played locked down defense on Kayla Diaz for 3 quarters. It is very clear that RFH is not the same team when she is not on the floor. Morris was great yesterday.
Bench players Hannah Scanlon and Emma Miller were huge yesterday. Both gave RFH a major lift, with offensive rebounding and big baskets when they needed it. Both players allowed RFH to rest starters and not lose distance from Paterson Catholic. Scanlon is growing up, right in front of our eyes.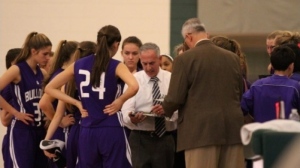 Sourlis pulled all the right strings
George Sourlis brought his "A" game yesterday and he needed it. First Paterson was late to the game and his club had to sit around for a hour before tip. His diamond press was super yesterday whenever RFH was able to score. He called time outs when his players where in trouble late. His last second play set up for Stephanie Lesko was a masterpiece, unfortunately the shot missed. Some asked why didn't he call time out earlier when there was over 10 seconds left? It was simple, he did not want Paterson to set up there defense…great decision, because Paterson was quick and athletic. The fact the they got back after missing a free throw is a real tribute to that team and coaches. Sourlis pulled all the right strings yesterday and some how can out on the wrong side.
My overall thoughts are this, RFH showed they have a never die attitude. They were down ten in the 3rd and fought back against a great team.  There shot selection was their best of the year in a real game. Grace Stant, right now is the 2nd best player in the Shore Conference. Sam Sabino and Stant are clearly leading the team, not only on the court but off it as well. If Rumson can get Stephanie Lesko going  at some point ….watch out! because she could be that missing piece to put them over the top. I like that George Sourlis finally gave Sid Sabino real minutes (she did not score) she has deserved it. You must reward players who are getting it done and she has been getting it done, since day one.  She will be a real weapon down the stretch.
Now the bad news…RFH lost another close game down the stretch…why? Details. Up by eight,  Nicole Morris went to the bench, with Stant and Sabino… when they all returned?…the RFH lead GONE. This is not the first time we have seen them lose a lead closing out a half. In the the 3rd after Sabino cut it to one with a three…they allowed a coast to coast lay-up to end the third, again failure to close a quarter.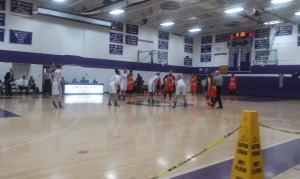 Paterson got the win..nobody deserved to LOSE!
In the 4th the poor shot selection finally reared it ugly head. With 20 seconds left and RFH with a chance to tie the game, they took an ill advised shot. Now to RFH's credit, the shot selection all night was great. They shot what some and myself included, to many 3's but they were ALL GOOD SHOTS. In the 2nd half they made the adjustment to get to the rim. But what should concern every RFH fan is this…RFH never, ever loses a game on the defensive side of the ball. They over -rotated not once but twice in the deciding moments of the game. They did not stay at home on Kayla Diaz who made them pay with deep three's to give Paterson the victory….her release is lighting quick and no way RFH should have not been face guarding…much the same way teams guard Sid Sabino! So in the end it was the minor details that did RFH in…again these Top 10 teams as so close, every detail matters. No question these are things team film sessions can fix. If RFH cleans them up watch out folks. Because this team could win it all before its all said and done.
About Paterson Eastside, first of all they are a well coached group, who play very hard. They play as a team and their coach is in total control at all times. His strong but not over the top style is a pleasure to see. He is not there to put on a show but rather coach his team. He team was fully prepared and his in game adjustments were priceless. Eastside had a few bad whistles go against them(none like the non call that Sabino got mugged on), but they never let that take them out of the game. There kids where classy and showed great sportsmanship the entire night…Bravo to the Paterson Eastside Staff, players and families….PLEASE COME BACK AND GREAT WIN.
TOP TEN UPDATES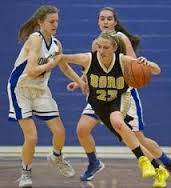 Donovan Catholic ran into Sophomore Stud Megan Hughes
We have some real decisions to make tomorrow. First who is #8? Southern lost to a very good cedar team yesterday…no shame in that. But Marlboro beat Allentown in a non shore game. Both have wins over Freehold…
Who is 10th...Donavon Catholic let a golden opportunity slip away yesterday. Sophomore Stud Megan Hughes went for 22 points to lead Pt. Boro to the upset win. That leaves Freehold Twp and Holmdel fighting for the 10th spot…Holmdel had a rough week, losing big to RFH and then losing to Freehold Twp… Freehold after beating Holmdel had Middletown beat on Friday and simply gave away the game late.
DON'T FORGET THE PRESIDENTS CLINIC WEEK STARTS TOMORROW AT 9AM-2PM