When a player has big stats against top competition and doesn't play on an top team, its rare. Luciana Thomas is that RARE kid and yesterday I had the pleasure of watching her for a HALF…and she did not disappoint.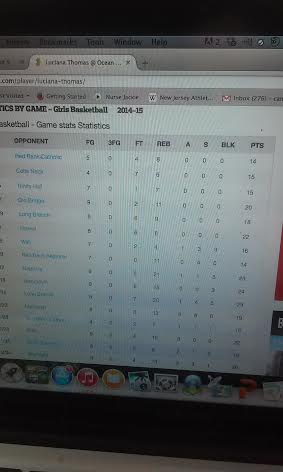 These Stats are no Joke!
Yesterday morning I received a text from a parent. Now most times when I receive a text from a parent its about their child. Then later I received a e-mail, this too from a parent. Most of the e mails I receive from parents I never read. But this one had the title Lucinda Thomas(SMART MOVE). Then I got a text from a parent saying "do you know about Luciana Thomas? she could be the best freshman" Next the E-mail…  first  the parent reminded me how I only write about kids I train (first time I ever heard that one), but she did go on to say "Luciana Thomas was the best freshman in the Shore". So I went on NJ.com and looked up her stats and my jaw dropped. I couldn't believe her numbers and against quality competition.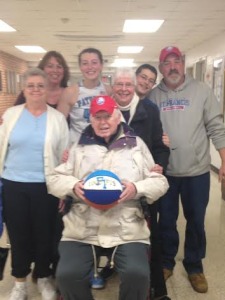 Now way I could miss Tori Wagner get her 1000th
I then called a coach and asked "how good is Luciana Thomas?", he laughed and said "best freshman in the shore." So I had to make a big decision, go watch Middletown South vs Freehold or Neptune vs Ocean Twp where Luciana plays. I decided Tori Wagner one of the hardest workers I have know was getting a grand and I needed to be there. I watched Middletown steal one from Freehold and then jetted to Neptune high school. I got there at halftime and Neptune led 17-13. I saw Mr. Vreeland and asked who was Thomas, he said "right there". I said "how good is she?", he said unstoppable and with a little more foot speed will dominate the shore…he couldn't have been more on the money.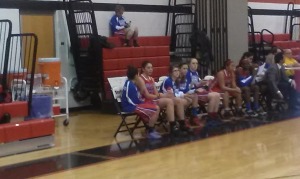 Luciana 2nd from the left
So lets talk about what makes a good post player. I want to know one thing about every post player and I don't care who she is…do they have the great hands? Meaning can they catch bad passes and good passes. Can they  tip balls to themselves and secure it. Next I ask can they rebound in traffic in and out of there area. Now we are getting into some real areas that separate the good ones and the great ones. Like do they know how to set screens? Meaning feet to the sidelines on the wing screens, feet pointing to where half court and the sidelines on middle screens. Do they know how to roll out guards. See this stuff am talking about is next level stuff.  Do they know how to defend in the post..meaning step troughs, belly up, and can they rotate to defenders without fouling?  Do they make 18 footers? which allows your stud guards room to get in the lane?  Can they put the ball of the floor? and make a play for themselves or a teammate.
Finally and this is big, please don't tell me you have a stud post player, if they can't do this consistently… does that player score with their back to the basket against double teams or get fouled. Now don't tell me you have a great post player and they don't have this skill set with the ability  to pass out of the trap if need be.
Now I saw most of that out of Luciana Thomas in JUST A HALF…WOW. Neptune is the perfect team to watch when forming an opinion about post players. SOMEBODY HAS COACHED LUCIANA THOMAS UP BIG TIME!  Her skills sets are insane for such a young player. Interestingly as I tweeted out earlier you have to go back to Sam Clark to see those kind of numbers …the difference Thomas is only 5'11
So what did I find out about Miss Thomas? She plays AAU for Dawn Karpell's 8th grade JERSEY SHORE ELITE team. Now you may be asking…why if she is so good is she playing 8th grade AAU? Because she is 8th grader age wise( folks you can't make this up) and that's why her team won the state title and finished 14th in the Nationals. Now she is far from a finished product, but I can tell you she has star written all over her. She has that presence all the great ones have and a work ethic which I loved watching yesterday. I counted every rebound and she had 7 in the 3rd quarter alone…REAL STATS FOLKS! Every time she touched the ball 3/4 Neptune players swarmed her…she didn't panic once and gladly used her teammates.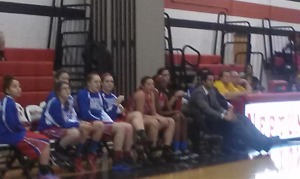 Thomas leaving forward(3rd from right)
Now how good is this young lady going to be? I don't know, I couldn't even find a picture of her on the internet. Who knows if she has the intangibles. Only her trainers and coaches know about such things. Like does she like competition? Can you coach her hard? Is she is a gym rat? and of course most importantly can she function outside her comfort zone? I do know this, she is the best Freshman in the Shore? I don't know, I haven't seen her enough. But this is a fact that no one can dispute… statistical LUCIANA THOMAS is far and away the best freshman in the shore….its simply not close.  Her stats are as real as they get folks…College coaches this kid goes right to the top of your recruiting list on potential alone…As far as the All Freshman team, thats not even worth discussing…the real question is…. she the Freshman of the Year?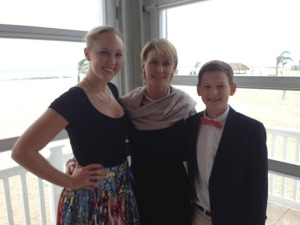 Parents you would be wise to READ THIS!
https://nothingbutskills.com/old-school-mom/
COMMENTARY– It always good when parents think about not only there kids…two parents did that yesterday..be it one parent had to be rude, but at least she helped a young lady. So posted this old blog about Virgina Stant…maybe other can learn…we can support each other children and our own at the same time. https://nothingbutskills.com/old-school-mom/
UPDATES- This week we start a new round of Point Guard School. This is a program all young guards period should attend.  Core Skill training starts next Saturday there are spots available…if you are an talented player who wishes to improved I strong urge you to attend
TOMORROW HOW TO PICK A AAU TEAM…WHAT TO LOOK FOR…HOW TO GET EXPOSURE….