When Lindsey Havens buried a deep 3 point shot in the SCT semi final against SJV, it gave Point Boro a 3 point lead with 2:00 mins remaining. It may have been the biggest shot of the night. It  propelled Pt.Boro to their first SCT final. That shot was big and without it Pt. Boro doesn't  play in that SCT final. Most folks have forgotten that moment…NOT ME!  I 'm sure her teammates will never forget it. You see all her teammates were seniors that year. They needed her and She didn't let them down that day. After the game, there were interviews and pictures, just not of Lindsey Havens. You see Lindsey Havens has never really ever gotten her due at Boro…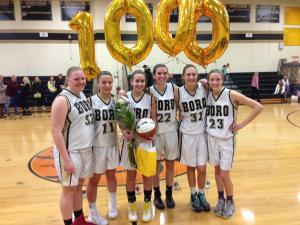 Lindsey Havens, finally got the spotlight
Lindsey Havens scored her 1000th point last  night. There were pictures and smiles and of course LITTLE MEDIA attention that comes with such an accomplishment. You see Lindsey Havens has been in some big games and moments during her career, that a lot is taken for granted these days. She has won a WOBM title, played in a SCT final, won  a State title and a section title. To be honest she has played in so many championship games you almost can't believe she is still around. It feels as if Lindsey Heavens has been in high school forever.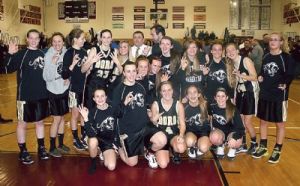 She part of a history that may never be repeated again at Boro
When you play with a once in a lifetime player like Kelly Hughes its easy to be over-looked and in many ways that is what has happen to Lindsey Havens. She was one of the best freshman in the shore and still not many people spoke of her or even knew her name. Pt. Boro was returning 4 starters to a team that had just won a state title, when she joined the team. They were a tight knit group. They all played AAU together and worked as a well oiled machine together. It was group of girls that had a lot of success together over the years at every level of basketball. But Havens was just what the doctored ordered when she arrived at Boro as a freshman. The team was thin and needed some additional scoring as teams double and triple teamed Kelly Hughes each night. It was Havens that kept them honest on so many nights. It was she who hit the big 3 against SJV in the semi final as a sophomore. She was the 5th starter that nobody gave much attention too. She was the missing piece that all good teams need. That player willing to do their job and not expect much credit except from their teammates and coaches.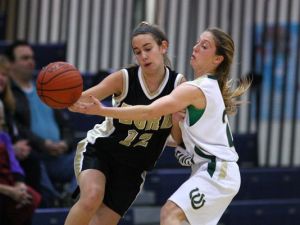 She has having a monster year!
When Lindsey Havens scored her 1000th point. I wanted to be there to see it and honor her for such a great career….I missed the game. You see its been that way for Havens the past 4 years,  people are always over looking her big moments. I guess when Kelly Hughes moved on so did the media, the sell out games, the attention and most importantly the spotlight that follows the elite teams of the Shore Conference. Point Boro is no longer a heavy weight in the Shore Conference. They are just a solid team who plays hard and is hoping for good things. The star power of Kelly Hughes no longer drives the focus to Boro. But Havens is still a remainder of what once was….she just doesn't get a hell of a lot of credit for being part of it. While everyone from those great teams have moved on…It's Lindsey Havens and Coach Drew who are the only remainders of a mini dynasty. They are the lone survivors of one of the real great stories in Shore History. A group of girls all from the same tiny town taking an entire community on a ride of a lifetime.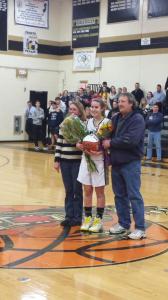 It was a special night for the Havens family
While last night was special, what most people don't know is this. Lindsey Havens is having the best season of her career. The 27 point mark she hit last night, was the 7th time this season she has had 20 points or more in a game. This year she is averaging 19.5 points a game. She has been a beast all season. Her team is 9-5 and for the record  she and Coach Drew are doing one hell  of a job this year. Boro is in 3rd place in B South. They led first place Donovan Catholic at half time in game one, before losing 59-50. No question they are looking forward to the re-match. Lindsey Havens had 21 points and 5 rebounds in that game. It's seems Lindsey is not done just yet.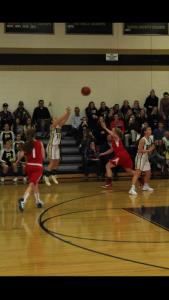 This Shot made it official..never to be forgotten
Time is running out on Lindsey Havens career at Pt Boro. She has given everything you can ask a kid to give to a program and a school. Lindsey has given way more than she has taken. She has seen the best of times and the the changing times. She knows what it like to be hunted and what it's like to be the hunter. She has seen all the superstars in the shore and played with one of the biggest ones of all. She is now the STAR of Pt Boro  and its going to very hard for anyone who saw her play to forget her impact on the SCHOOL… not just the basketball team. I missed Lindsey Havens cement her name forever in the Point Boro records books…But the truth be told, we all have missed THE GREATNESS OF LINDSEY HAVEN'S all too often….SHE DESERVED SO MUCH MORE THAN WHAT WE GAVE HER