There is always surprises this time of year. They come in different forms. It could be a team, a coach, a commitment to a college or even a star transfer for example. But some stories are just getting started and they become surprises right under your nose.  This is the case with 2o25 HOWELL forward KIERA MCKOWN who is beginning to look like the biggest surprise of all this fall.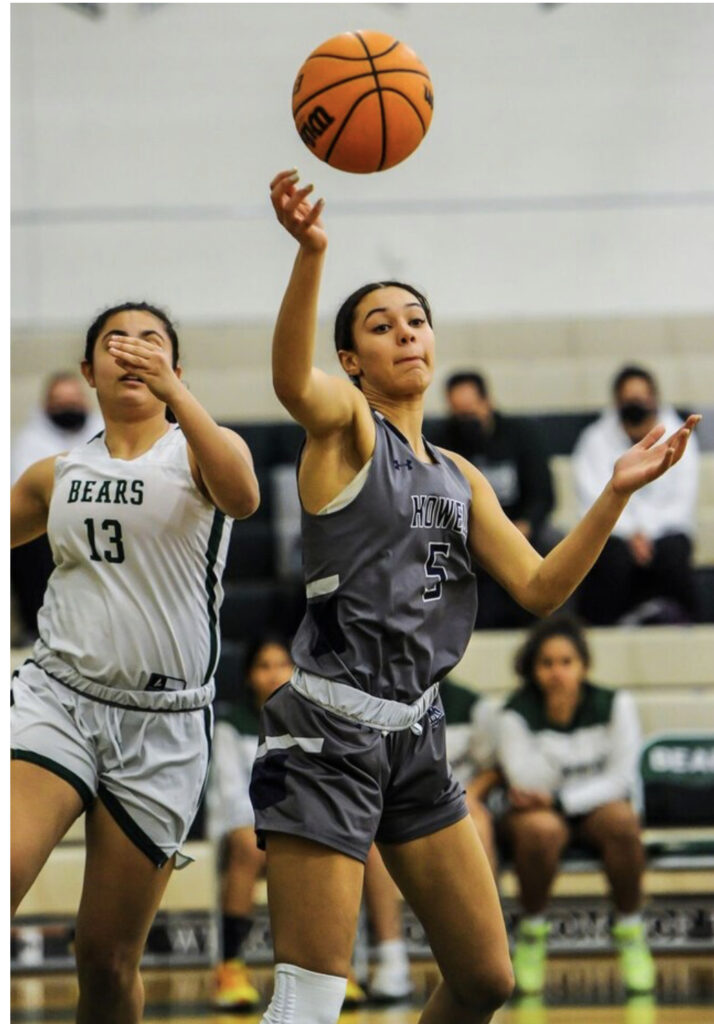 Last season Howell High school won 20 games. Not a whole of folks talked much about it. But Coach Joe Santopietro did a remarkable job of building the Howell program into a competitive group. From the start of the summer a year ago, right up to last years big state win over Middletown South in a breakout season. While the team went unappreciated by most. What may have been the biggest oversight of all is that of 6'1" Kiera MCKOWN. Not because as a sophomore she grabbed 190 rebounds and score 180 points with 55 block shots. Those are numbers that few sophomores can brag about. The fact that she was also named 1st Team All Division  as well, you would think that would raise a few eyebrows;Well it didn't. In fact few if any recognize  the name Kiera McKnown. That's because she has not been in the belly of the beast. Well here is a message to all, especially college coaches. Last weekend Kiera MCKOWN jumped into the belly of the best and had herself a grand old time!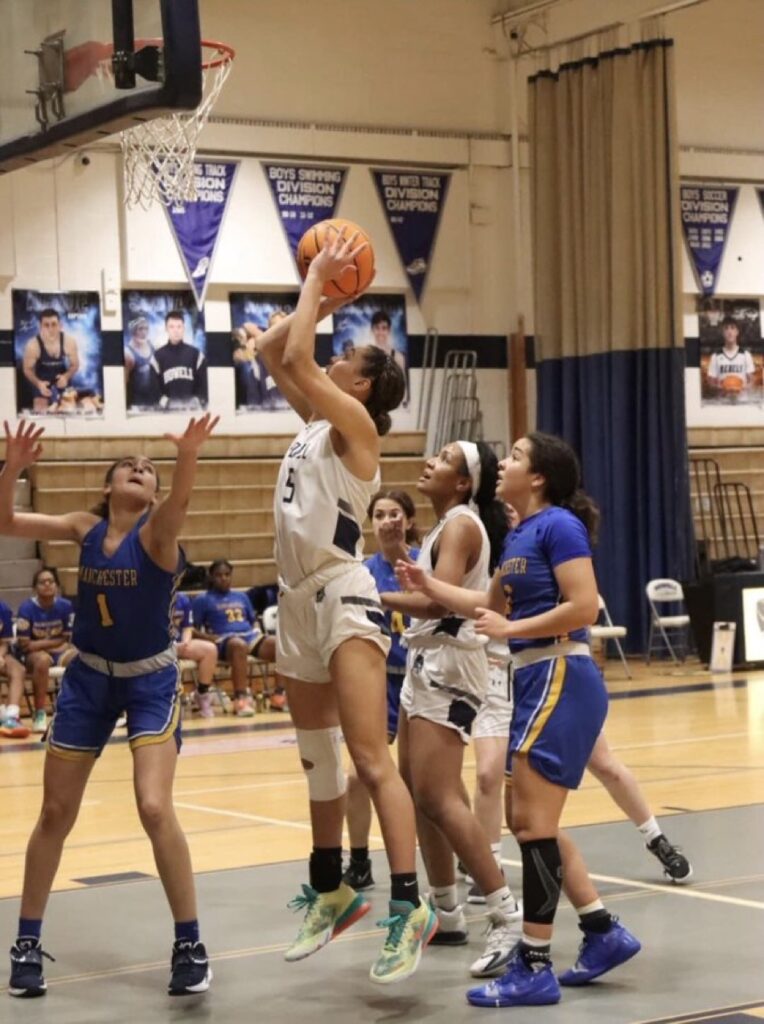 Two years ago I drove to Pt Pleasant to take in a few summer league games. I was really there to get a good peek at the Trinity Hall babies. I happen to catch Howell that day. I saw an athletic, talented freshman in her own right. She was long, quick, Mobil and raw. But she had the one thing that matters most…BIG TALENT! Then the young lady just seem to go puff ! She just went  up in smoke and disappeared. I had no idea she was still at Howell. Not just playing but  producing and evolving as a player. I had no idea she had grown to 6'1 and her skill sets and footwork had gone to another level. That because like most in the Shore I was not paying attention to Howell. I didn't realize she was helping Howell make noise. But sometimes all it takes is a phone call to change all and this is how I found out the Kiera MCKOWN was one of the sweetest secrets in the state of New Jersey.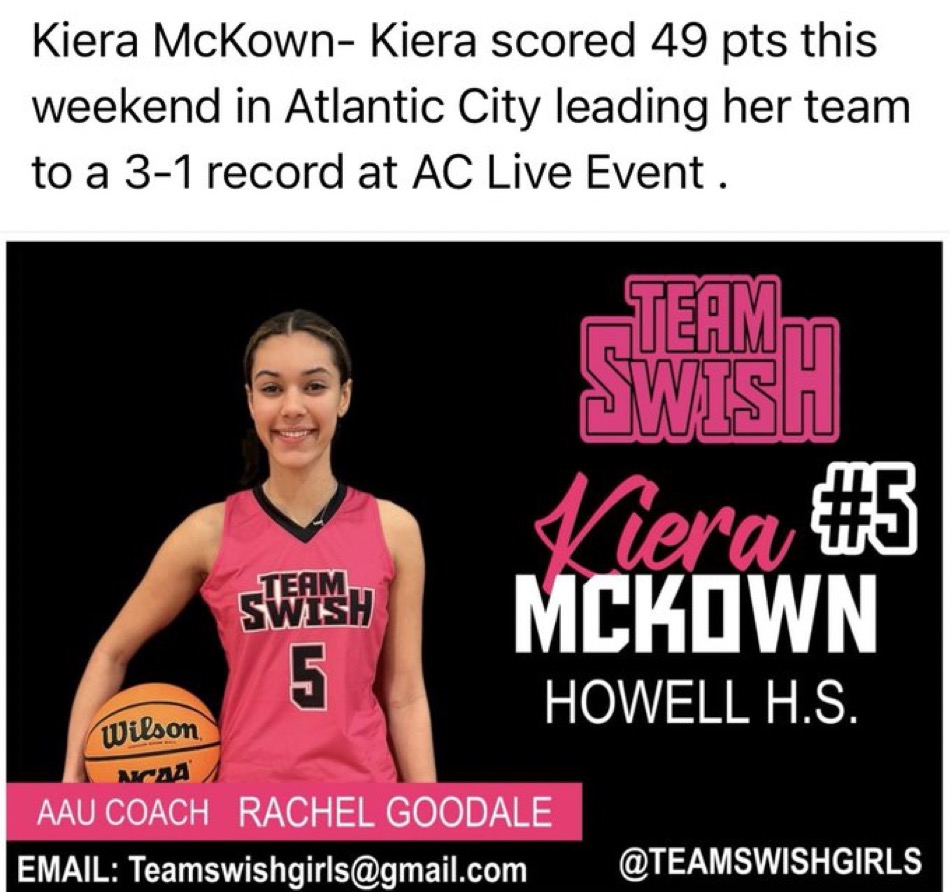 I was sitting on the couch when I got a call from a D1 assistant coach. She asked me if I knew Kiera MCKOWN. I said "WHO?".  She said Kiera, the tall kid from Howell. I said "no never heard of her" and that conversation ended quickly. But then I thought about that day in Pt. Pleasant. I thought could that be the kid I saw a few years back? So I made a few calls and it was then I learned nobody really knew this young lady. Some folks said "she really isn't serious about basketball"… some said she is really talented but " it's too late at this point"  for her to think about playing high level basketball. Then other person said " she doesn't play AAU". Then another said "she is listening to the wrong people" It was then I discovered nobody knows much about Kiera MCKOWN. She is a mystery women. So I watched a few video of her. Then I leaned later. First she is very, very serious about basketball. Next she is only a junior, in fact one of the best forwards in the Shore 2025 class. Finally she does play AAU. She plays for TEAM SWISH. You see Kiera MCKOWN has every stereotype attached to her. Every stereotype that a kid out of the loop gets saddled with when they're not with the in crowd. When there not crowned. Kiera MCKOWN is about to make lots of folks wish they knew her name a  long time ago.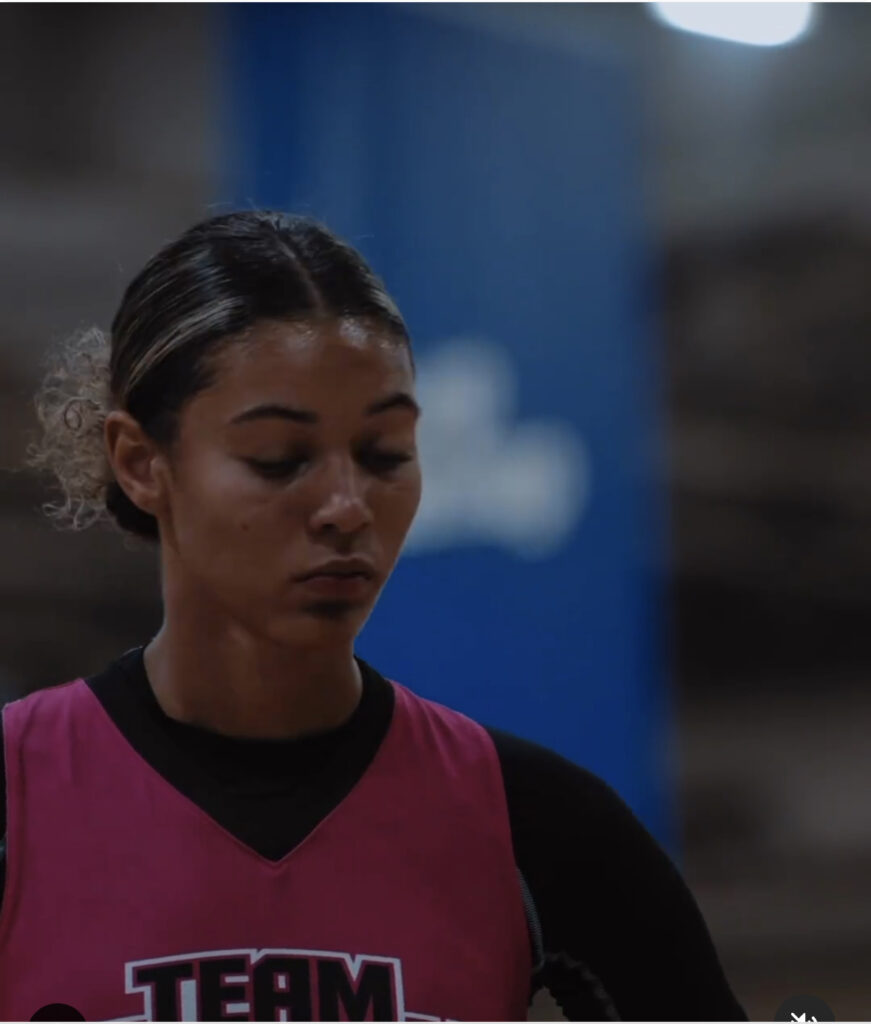 I rarely invite a kid to NBS. All kids know about the program. It's either for you or it's not. One thing every kid knows is it not for the meek or kids trying to hide or stay in their comfort zone. Many come and then disappear. Many spend hours hating on kids they  don't like or have beef with and stay away. Many do not like my style. I often say NBS is truth serum especially for those who hope one day to play D1 or get a free education. This past weekend Kiera MCKOWN showed up at NBS after I invited her. She did not know a single soul in the gym. She was on an island by herself. In a gym where folks openly root for and against you. I told her coach Joe Santopietro that this might be a process and to please tell her what to expect. I told him to tell her not to quit after one weekend. Well I was the one maybe that need to know what to expect. Because Kiera MCKOWN had two of the best days any kid could possibly hope for at NBS. Fight she made it clear, that she was not there for shits and giggles. When the competition got physical. She got physical back with a few extras. Displaying a toughness that threw me and everyone else in the gym off guard . Then she showed footwork for the heavens. Her footwork was a thing of beauty. She displayed her athleticism with her quick jumping ability and lateral movement. Then she broke out her offensive  versatility, showing she can score from in the lane or from perimeter. Finally it clear she has been schooled in the art of defense. College coaches here is a fact, Kiera MCKOWN has been coached you by Joe Santopietro.  In a nutshell Kiera MCKOWN served notice. She is a baller in fact she must be projected as a future D1 based this weekend. The only thing she is missing is  for people to take notice.


They're going to be some great stories this year in the Shore conference. They will be folks trying to paint  a narrative about who the best players are, who is POY, ALL SHORE the and  best  teams. I never listen to much to those narratives. I choose to trust my eyes. My eyes tell me Kiera MCKOWN wants her time to shine. My eyes tell me this is a kid willing to work. My eyes tell me
KIERA MCKOWN IS GOING TO BE HIGHLY RECRUITED BY THE TIME THE HIGH SCHOOL SEASON ROLLS AROUND…
Why you ask? Because she is about to paint her own narrative and I believe it's going to be a masterpiece
Sign up here⬇️
https://register.hoopgroup.com/site/register/register.aspx?EventID=5790