Today's SPOTLIGHT  THE 2019 BETH CHAMBERS JERSEY SHORE ELITE TEAM. This is a team mostly made up of players who have verbaled to D1 school and are also D1 locks. Perhaps no team in Central Jersey has more D1 fence sitters. This is a team made up of serious player, who more importantly are HARD WORKERS. They are coached by Mary Beth Chambers, so they will look much differently in July than they did in April. This group no question will be heavily followed by coaches both D1 and D2. Like everyone of Chambers teams, they will focus on playing the best competition and getting better as a team and individuals.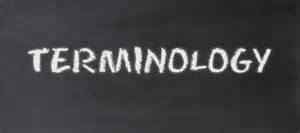 Before I start I would like to clear up a little terminology. When I say a player is a lock Division one player that means a player has a offer on the table or I believe will have multiple D1 offers at some point…key word being multiple. MY TRACK RECORD IN THIS AREA SPEAKS FOR ITSELF…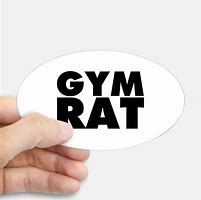 When I call a player a GYM RAT, that player is constantly in the gym outside there team practices and comfort zone, seeks outside competition and there work ethic is bigger than there ability. These players train against high level competition. I never call a Gym Rat, unless I have seen them against older elite competition and PREFORM at a high level while doing so. They are in the gym at every turn and seen to always be around. These players will be better in college than high school and can play a level HIGHER than there recruitment. I believe you build programs with gym rats…they have a added value recruiters do not get to see. Gym Rats are tough to find as all coaches know. There are hard workers and then their are GYM RATS.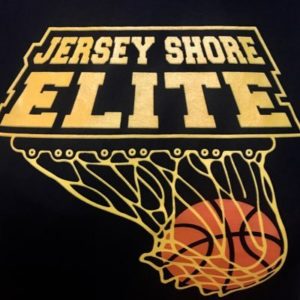 2018 LIVE PERIOD SCHDEULE
JULY 5th-8tht…Run for the Roses, Louisville Ky
JULY 10th-12th..CHICAGO
JULY 22nd-25th…US NATIONAL CHAMPIONSHIP, WASHINGTON DC
THE COACH…
The track record is unmatched on the AAU LEVEL. She has been coaching for over 33 years. Nobody develops more players or changes careers more. Nobody gets their players more exposure and nobody has the respect of college coaches like BETH CHAMBERS. Coaches trust her word and flock to watch her teams play. There will play against the best competition and players improving is always the #1 goal. Her practices are organized and the focus  is on teaching. Running plays and winning are a small focus, it just happens to come with all she does. She has coached over 30+ Division one players and will add to that list this year. She is the current coach of St. Rose High School. Her daughter KC Chambers is a two time winner of the Ivy League Championship while playing at U Penn, she is a current Asst. Coach George Washington University.. FOLKS I WILL LET RESUME DO THE TALKING…READ ON!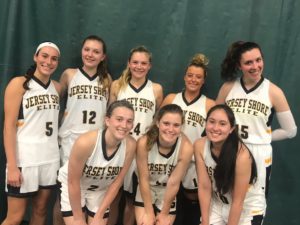 TALENT BREAKDOWN
CURRENT DIVISION ONE LOCK PLAYERS–(3)
Projected D1 players- (5)
Special note– this team has( 3) DIVISION 1 fence sitters
GYM RATS– (1)
CURRENT POSSIBLE POWER 5 PLAYERS-( 0)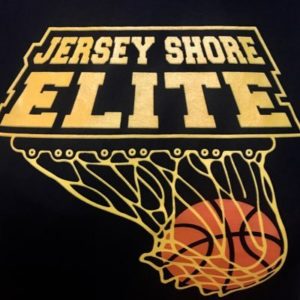 JSE 2021 ROSTER PROFILES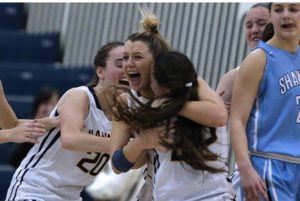 BRILLE BISOGNO-5'7″- POINT GUARD- TOMS RIVER NORTH HIGH SCHOOL
CLICK LINK- https://nothingbutskills.com/brielle-bisogno-spotlight/https://nothingbutskills.com/brielle-bisogno-spotlight/
GISELLA ROMEO- 5'8″-COMBO GUARD- MARLBORO HIGH SCHOOL
This is a classic case of coaches not believing there eyes. I saw her this year have one of the most amazing high school performances of the year. Her ability to steal the ball and anticipate is as rare as it gets. She does not have the profile of her teammates or others, but her preformance in games right now, just might be the best. She gets lost because she simply has not trained or played in the right high school  atmosphere. But make no mistake when you watch her. She is highly effective and more importantly ridiculously efficient. She is simply as good as any girl I have seen attacking the rim in transition. She scores or gets foul with  regularity. While not a pure shooter, she is very reliable around the three point line. Now throw in her ability to guard the ball and elite help defense off the ball and you have a serious problem. Now the question is how can a player with all these qualities be such a  mystery. Once again it's goes back to not believing your eyes. Can she really be this good? I say we are going to find out, but there is zero question, she is MAJOR IMPACT FOR A D2 National Contender type team…and D1 is not out of the question.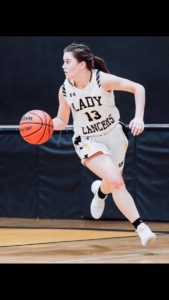 SARAH KARPELL- 5'7″- COMBO GUARD- ST. JOHN VIANNEY
She gave Fordham University a verbal commitment two years ago. There is only one word to describe her …TOUGHNESS. Flat out one of the toughest defenders and mentally tough players in the state. She has played against the best high school competition there is to offer. She has ice in veins late in games. She is a classic Fordham type guard. She can slide to the point or the shooting guard position. She is murder below the foul line because of her ability to drop dimes or pull up in the lane. She can knock down the three off screens and off the catch..real next level type stuff. She understands clock and situation but more importantly is not afraid to make big players. She has won too many games to count in her SJV career including a SCT TITLE. She is the ultimate winner and has never  shrinked under the pressure of being Dawn Karpell's daughter. She has embraced the SJV culture and will be the leader  for #1 team in New Jersey to start the season next year.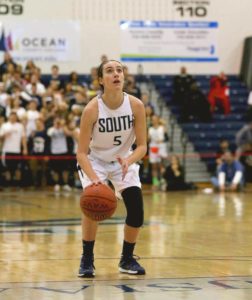 ISLA BRENNAN-5'9″-COMBO GUARD- MIDDLETOWN SOUTH
Here she comes and if last weekend was any indication, she is ready to fulfill her promise of greatness. Last weekend she had 8 threes in two games and was according to Coaches brilliant. Injuries have delayed her greatestness after helping lead her team to a state title as a Freshman. Now she is healthy and going beyond the duty  of what is expected. She has been in the gym working on tighting  up game and it has paid off. She is very coachable and  anxious to learn and get better. It's why she will find herself the target of D1 coaches this summer. The next level body and shooting range jumps off the page. The ability to get in the lane and create contact is a gift. ISLA is playing against elite competition for the first time in her basketball career and it appears to be paying off in a big way. Easily one of the best rebounding guards in the Shore Conference, she is a typical coaches daughter…she aims to please. Now here is the scary part regarding this future D1 guard, I believe she could be. MM+ player come July…her upside is that big.
JENNA PAUL-5'10"-SWING- TOMS RIVER NORTH
Colgate University may have gotten the biggest steal in the Shore Conference. She was recruited by Ivy's and Patriots because she is an elite student. But she is also an Elite Shooter, passer and defender and the Mary Beth Chambers effect could not be on display more. She is the ulitimate GYM RAT. She is 100% dedicated to her craft on and off the court. She has an elite attitude. She is very receptive to criticism and responds to it….RARE TODAY. She is an elite teammate, willing passer and rebounder. Last season she was Player of the year in her Division and was named All Shore by every media outlet. She has had the benifit of playing for Mary Beth Chambers for a 2nd year. She was once a member of the insanely talented Tom River Starzs. She was A HOOP GROUP FIRST ALL FRESHMAN TEAM MEMBER. Jenna Paul is as close to the total package as you will see.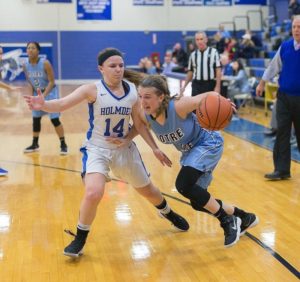 — ellonya Tiny Green (@CoachTinyGreen) June 5, 2018
NATLIE SMITH-5'7″- POINT GUARD- NOTRE DAME HIGH SCHOOL
Shore Adopted, she is the ultimate teammate and always has both feet in. She travels 90 mins to practice 3 days a week. Her handle is reliable as is her ability to dance by opponents. Her un-selfness is off the charts. She has real vision in transition or when making the extra pass. She has the ability to get on shooting roles. This year at the Coaches Choice high school showcase, she put on a shooting show. While she is a steaky shooter, opponents must respect her ability to get blistering hot rolls. She is a50/50 ball winner. Playing for Mary Beth Chambers will allow her to become a next level defender by summers end. There is zero question in my mind that she is a future D1 player. She is a hard worker and committed to her development. She has positioned herself for a monster summer. No player may benefit more from being part of this group.
DANI EVANS- 6'0″- SWING-JACKSON MEMORIAL HIGH SCHOOL
She is the last of the Evans sisters. Like her sisters before her, the attitude is off the charts. She has elite size for a wing player. She can play both around the basket or step out on the perimeter and knock down three's. She is a major underrated rebounder, just go look at her stats from a season ago. She is a excellent passer and is very capable of taking over games at times. She has improved her back to the basket game and ball handling. She took the big step of moving to the JERSEY SHORE ELITE and the step up in AAU competition. It was a wise decision from the stand point of visiabilty. She is something all coaches look for, not only does Dani Evans have size, but a thick frame and length. It would surprise no one if this summer, she explodes. The talent is there and she has the focus…Engineering Schools HEADS UP .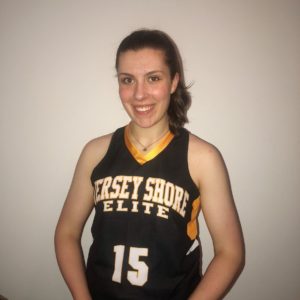 MADISON SZABO-6'3″- CENTER- MIDDLETOWN SOUTH HIGH SCHOOL
There is no question, this is the most interesting player on the roster. She does not have Elite size but rather WNBA size. She is a hard work in relentless  pursuit of improvement. She has made leaps in bounds as a defender, rebounder and scorer. She has improved her hands and is insanely coachable. She clearly has an objective…too be the best player she can be. She now is running the floor in transition in a way that will shock coaches this summer. Her big body allows her to set elite type screens. In fact, let me go on record, if your team has guards who shoot off screens …pay close attention. She is the rare post player who makes effort plays. The Mary Beth Chambers effect just may be why D1 coaches may come calling this summer. Her passion and commitment along with her upside make it impossible to ignore her. No question she will be a player, coaches will want to see….SIZE MATTERS!
CAMP UPDATES…