I am always amazed how kids get missed in the recruiting process, but to be honest it happens more and more these days. Years ago we would see NBA players from small schools or Division 2 and 3 schools. In fact when I coached at the D3 level I had players drafted or play in the NBA. When I coached at the Division 2 level I had two kids from the same team drafted into the NBA. But that was during a time if the truth be told; when the recruiting process was not nearly as sophisticated as it is today. David Vaterpool was one of the best players I have ever recruited and he played in the NBA for a decade and just retired last year. He is now an asst coach with the Sacramento Kings and the school I had to beat in the recruiting process was Monmouth University. You see kids were missed all the time in the good ole days and guess what? Kids are still being missed….This is why I give you Chelsea Crowe!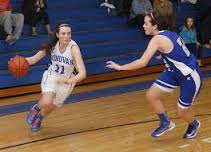 I repeat..one of the best Point Guards in the Shore
The Shore is loaded with Point Guards, Kelly Campbell, Nicole Morris, Katie Healy, Kelly Crouch and Stephanie Karcz are heavily recruited talented players. I mean you watch these kids once and you know they are Division one players. Each has more offers from colleges than they know what to do with. Even the babies in the Shore Conference are rare; Dara Mabrey, Tori Hyduke and Christina Antonakakis for example are already on most coaches' wish list. These players make life very difficult for players with talent who just want a little attention.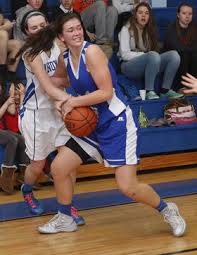 Chelsea has had to fight for respect
Chelsea Crowe is one of the best point guards in the Shore, and has helped make Monsignor Donovan a top 10 team in recent years. She is one of the most compete guards in the Shore. Let me tell you what makes a good point guard in my mind. First all point guards must be able to handle the ball against pressure. Miss Crowe does this as good as ANY point guard in the shore.  I love point guard who are good decision makers but still risk takers,  Crowe fits this bill. I believe the best point guards are leaders and their teammates like them. The likability factor is huge at this position, because point guards must be able to communicate with teammates. Chelsea Crowe and Dara Mabrey of Manasquan are shocking stars in this area. But what separates Chelsea Crowe from EVERY point guard in the shore is this…her ability to use screens correctly. College coaches please pay attention. No point guard in the Shore shoots better behind screens when opposing guards go underneath and no guard turns the corner and stays on their feet better while getting to the rim…NOBODY. Translation…she has a college type game right now, and can read defenses when coming off screens. Trust me when I tell you this, few if any other guards in the shore have this college ready skill set!
Now of course Crowe doesn't play for a high powered AAU or high school team, but you what? She has had great coaching with the Sting and with Coach Bruno and this will serve her well long term. Because when she plays against the best competition, she performs her best. When Grace Stant and Dana Carbone put on a show at Battle of the Boardwalk last year, nobody said much about the 13 points, 5 assists and 1 turnover in 32 minutes of play.  By the way that Rumson team had 7 Division one players on their roster. But this is the deal for Chelsea Crowe; she is caught between the now and the future. When coaches talk about great guards in the shore it seems it takes a bit before the name Crowe comes up. But Chelsea Crowe understands this and accepts it.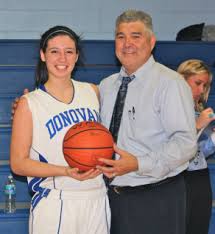 Carbone (Monmouth U) was blessed to have Crowe in her backcourt
Some coaches want her to be more aggressive, but I believe Crowe is the type player who does what she thinks her team needs. She could no question score more and take more shots, but Chelsea is about teammates and making those around her better. She is not blessed to have a team of D1 players around her. When she did have one; that player Dana Carbone became a First Team All Shore player. Carbone would be the first one to tell you Crowe had a lot to do with her success. In a few weeks the early signing period will end and some college coach will call me looking for a point guard. Maybe, that Division one school will offer Chelsea Crowe and they are going to be thinking… I hope she can help our team. But then she will  put that lucky  colleges uniform on and join a list of underrated players who have become excellent college players…because Chelsea Crowe is just sitting in the cut and waiting for everyone in the recruiting process to catch up with what I already know…she has what it takes!
 Real Soon Chelsea Crowe will join this list and I will say…I TOLD YOU SO AGAIN!
MY ALL UNDER RECRUITED TEAM IN PAST 4 YEARS…KIDS WHO GET LOVE DIDN'T TILL LATE IN THE RECRUITING PROCESS
MEGAN MGUINNESS- Niagara College– Had one DIVISION offer and is currently a two time All MAAC player…LOL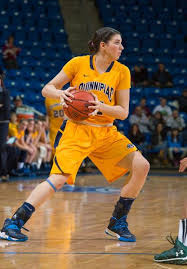 SAM GUASTELLA-Quinnipiac One of the biggest steals in Shore History, Currently 2014-15 pre- season All MACC…top 25 mid major program…no local school offered, she would start for every team in the state
KRISTEN SHARKEY- Buffalo U– Could not even get schools to return her calls..lol. Current Captain and walking double, double machine. Most likely will make a living playing basketball
AARON ZIMMERMAN- American U– All Patriot and was the forgotten member of those great SJV teams, guess who has had the best career to date?…"Tiny do you really thing she can play in this league" LOL former unemployed Patriot Coach
TIFFANY  MONTANGE-Northeastern– Didn't have a offer till spring of her Senior year…just a starter for Northeastern who had 30 point games, 20 point  games as sophomore and couldn't get s sniff from most Division one schools…heads up baby sister will be better….that's a bone throw to coaches…one coach told me she was faster enough…lol
IMPORTANT UPDATE
THE GIRLS ACADEMIC ELITE IS THIS SUNDAY NOV 2…THERE ARE ISSUES SIGNING UP ON THE HOOP GROUP WEBSITE…NO WORRIES, JUST CALL ERIC….HIGH SCHOOL COACHES I URGE YOU STRONGLY TO ENCOURAGE AND ALLOW YOU KIDS TO ATTEND…..THIS EVENT IS FOR THEM