Four years ago I wanted to start an event that would bring kids who were good students and basketball players together in July. I also wanted to give kids who rarely got a chance to play in front of college coaches or be on a center court, the opportunity to do so. I was told by a number of people forget it, because college coaches would not leave the AAU circuit to come watch a local event  during the recruiting season. But the Shore is no an ordinary place, it's the home of the best collection of players anywhere in the country.
The Success of Academic Elite goes to people like Rob Kennedy who makes the Hoop Group available during the busy summer. Rob Kennedy understands what this means to me and so many kids. Beth Chambers, Kristen Somogyi , Tracey Sabino and all the coaches WHO have worked the event, have never received a nickel, but donate their time. But no event can be a success without the players who draw the coaches to the event. This is where the shore conference is so much different than any other area.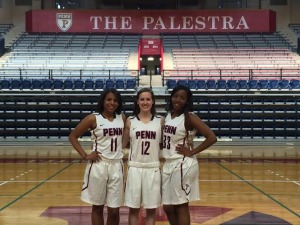 It was players like current U-Penn star Kasey Chambers who gave Academic Elite the star power it needed to draw coaches
It was players like current Fordham Star Sam Clark who attended Academic Elite when there was nothing in it for her. She attended for all the reasons that had nothing to do with herself.  I asked her to attend to draw coaches to the event. She also had to pay to attend the event…thank god, she didn't think I was crazy.  Jackie Kates and KC Chambers showed up for no other reason than to support me and the event. This tradition has been continued by players like Grace Stant ( Villanova), Kelly Hughes (Boston College),  Alex Barazotti(Loyola), Sam Sabino(UNH), Jill Falvey (St. Francis of PA) and others in recent years….you see it took kids thinking about other kids to make the Academic Elite special.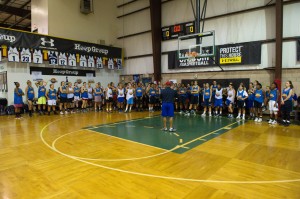 One day the fall Academic Elite will look like this!
That first year their were 42 players at the event and 23 div 1 coaches. Today the Academic Elite sells out with over 100 kids and Div 1 schools flock to the event. Its a real tribute to everyone involved.  Players are being put in the spotlight in many cases for the first time; with a chance to maybe shine and earn a scholarship. But it was the players and coaches with least to gain that have made the summer Academic Elite what it is today. Now they  have left something in place for kids to benefit from for years to come! The Summer event is mostly Division one coaches and we needed something for everyone in the fall.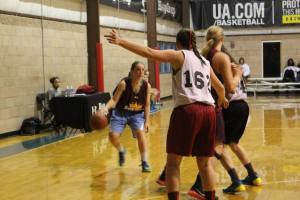 Molly Collins is becoming a household name and yesterday, she wowed coaches!
Last night was the first fall Academic Elite at Hoop Group headquarters. This was a night for kids who hope to keep there dreams of playing college basketball alive. It was night when seniors who were still looking for a school could find one. It was a night for babies to start that all important thing of creating a buzz and gaining name recognition. Then of course it was a night for 13 Div 3 schools to see a group of talented  kids who love the game of basketball. But there are some real back stories to this event. Because if you don't have the right kids and coaches the event simply doesn't work.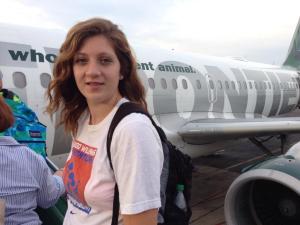 " Tiny do you need Kimi at your Academic Elite, if you do she will be there, we will do anything to help the event"  Glenn Evans father of Kimi Evans of SJV
" Tiny I'm going to visit Cornell this weekend but I will try and make it back to Academic Elite..Christina Antonakakis
"Tiny, I will come coach and bring Matt with me to Academic Elite, what else do you need from me"...Beth Chambers
"Be here Friday and I will set up everything for you, just let me know how many kid you have"  Rob Kennedy
When Glenn Evans asked me if I needed Kimi Evans at Elite I was not surprised, because his kids are among the nicest kids on planet earth and now you know why. I explained to Glenn that D3 coaches know his daughter is a major college player and would not come to see her in this event. But I thanked  him because I know this man is about helping others.
When Christina Antonakakis told me she would rush back, I said "don't your a D1 player anyway".  Her response? "Tiny I just want to get a good workout in"  College coaches let me explain something to you all right now. You will NEVER recruit a kid like this ever again. THIS IS A ONCE IN A LIFE-TIME PLAYER AND PERSON.
Rob Kennedy is one of the most powerful men in Grass roots basketball. Not only did he set up the entire program, he spoke to parents at the event. One parent said it was the most informative  thing she has learned since her child starting playing.
Finally Beth Chambers continues to show why she is different from everyone else. She refuses to be paid each year and most importantly, takes a sincere interest in helping any kid who wants to play.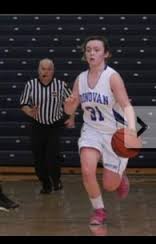 Borghesi stock just rose a little more last night
This is why next year over 100 kids will show up at this new Academic Elite and why next year there will be 40 coaches. Because at the end of the day, most people care about kids. There are always people who care about…. MORE THAN JUST THEIR CHILDREN, they are givers, not takers and we are so lucky to have such people. Because how else can a kid like Monsignor Donovan's Jade  Cunningham start the day saying I hope somebody notices me, to having coaches lined up to speak with her. It's why Megan Hughes again proved she is one of the best babies in the Shore, and why a D3 head coach said, I need to tell my "Girl at St. Peters to get on her now"..wise advice. It's a place when a baby named Isla Brennan    ..yes Coach Tom Brennan daughter(the only 8th grader at the event) was being called a future star by  ALL THE COACHES. Its a place where a 7th grader officially came out to the world. As one coach said " I have no interest in watching her unless I plan on working in the ACC or SEC…lol.  I just saw the future" ..Kayla Richardson is special folks…. It was a place where a Brittney Holmes can set up a visit to a college and realize she has more basketball to play after high school. Its also a place where Tiny Green can walk around and brag, brag, brag. Its a chance for me to get the word out about kids who couldn't attend or we know need the support. Yes the Academic Elite was a huge success last night, because  kids had a chance to keep to feel special….and that folks is why this event is here to stay for ever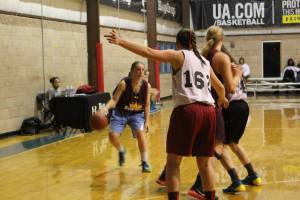 To the 13 coaches who attended this event, I want to say thank and you'd  be wise to check your email Wednesday morning…To the High School coaches like Joe Whalen and George Sourlis who encouraged there kids to come,  I am so grateful you care about more than just your kids!!!  Finally to 40 kids… weather you know it or NOT..YOU JUST started something that will last and benefit other kids forever…THANK YOU!
UPCOMING EVENTS-
TEACHERS CONVENTION IS THIS THURSDAY AND FRIDAY... 9:00 am-2:00 pm  It's a great chance to get a workout in and play a little hoops…..The event is open this year to kids of all ages….
INTERESTING THOUGHTS-
EXPECT another Division One verbal this week
Chelsea Crowe in going to be in full demand ….REAL SOON
Tori Hyduke at NBS proved again she is a rare and special talent! This kid is  to be special folks…
Again College coaches Maddie Doring better be a the top of your Recruiting list for Freshman .
Loved that Jen Inman is gaining a nice rep among College coaches…
The Rivers sister are going to make some school very happy one day!
Katie Rice is one of the hardest workers I know folks…She could be a big time player one day..
Harley Kneler is going to make a nice Patroit league point guard one day
Megan Volker folks is a major addition to the RFH rotation and College coaches, remember you heard it hear first….going to be better at the next level!t
Nice to see schools asking about Gwynn Marotta of Spotswood high school…Gwynn expect a phone call from one of the best academic schools in the northeast!
Megan Furch of SJV was on everyone wish list…why not the kid is a stud
What about Jen Louro shocking coaches with her shooting and passing ability
Finally Joe Whalen stopped by to support his kids…nice touch Coach!