Last year Brain Sansom told me he was recruiting Kate Sire of Raritan High School. I told him he was going to have to get very lucky, in order for that to happen. But Brain Sansom is one the best recruiters I know and last May, Katie Sire decided to go play at Montclair University a Top Ten D3 team. I have to admit I was shocked that Coach Sansom could pull it off, but what shocked me even more was what I saw on Friday night. Because Montclair has a lot of Katie Sire type players!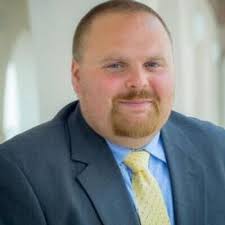 Coach Sansom, stealing great players from the Shore
Friday night I decided to drive up to Montclair University to watch their scrimmage against NYU. BOTH teams are nationally ranked at the D3 level. I was really excited to see a number of former Shore players, Katie Sire, Zoe Curtis and Rachael Krauss all play for Montclair, while Cassie Fontana plays for NYU.  I expected it would be a fun night of basketball. Instead it became an eye opening experience, which became a real education for me regarding Division 3 basketball.
NYU is big time in every way!
Most conversations when people discuss college basketball centers around the Division one programs. The players who get the most attention in high school are those that attend Division one teams. So it's very easy not to pay attention to top flight basketball being played right in your back yard. On Friday I saw college basketball played at a shocking high level. I saw two teams that not only were talented but well coached and more importantly play with pride and passion. How good were these two teams? I can assure you, not one school in the MAAC or NEC will ever schedule both of these teams and for good reason…BOTH TEAMS HAVE THE TALENT TO PLAY AT THAT LEVEL.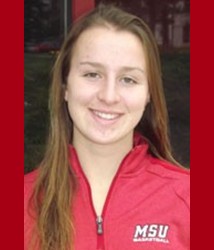 Zoe Curtis continues to earn time
Now I may not know much about Division 3 teams, but if Montclair University is #11 and NYU is #18 in the country (http://www.gonyuathletics.com/news/2014/11/4/WBB_1104142315.aspx) then D3 basketball at the highest level is nothing what I expected. I refuse to believe there are 17 Division 3 schools in the country better than NYU….I just don't believe that. NYU has quickness, size, a deep bench and are as well coached a team you will see at ANY LEVEL. Coach Gregory can flat out coach them up, she has had back to back 20 win season at NYU in what many consider one of the best D3 conferences in America.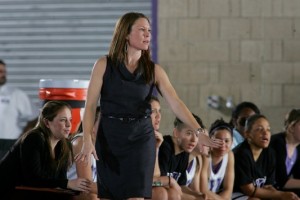 Coach Gregory has NYU back on top!
Montclair has everything you need for a successful program. They have history; remember at one time Montclair was one the best women's basketball programs in the Country. Coach Karin Harvey has keep Montclair at the top of Women's basketball, in eight years her record is 143-54. I don't want to scare the Montclair folks but if I were an AD at a D1 school, she would be on my SHORT LIST…. This is the school were Olympian and NY Liberty General Manger Carol Bazjowski played and led the county in scoring. This is the school that played for national titles at the highest level of women's basketball. This is a school where a current player's uniform hangs in the hall of fame. (http://www.montclairathletics.com/news/2014/7/3/WBB_0703142922.aspx?path=wbball).  Folks the truth is these schools are Division 3 in name only.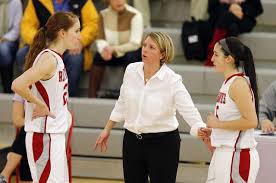 Coach Harvey has built a POWERHOUSE….
The kids are Montclair and NYU are very lucky; they get to play at a high level of basketball and continue their education. There are no bells and whistles at these schools the only thing the kids and coaches care about is WINNING! Some kids will play in college and never play in a NCAA game. But these kids are not only playing in NCAA games, they are playing for National titles.  This is what drives the people around these programs. I saw two coaches sweating and working in an exhibition game. Now am sure both staff's will say it was just a scrimmage… I assure you both teams were playing to win. Both programs you can tell have pride in what they do and more importantly have a commitment to excellence. Every player that hit the floor played with passion and energy that only comes from being part of winning and successful programs.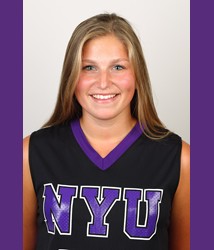 Cassie Fontana knows NYU has a top notch education and basketball program
Katie Sire started for Montclair, like all freshman appeared nervous, but she settled down and had a very nice solid performance. Zoe Curtis of RBR was really a surprise for me, as she played very well and was rewarded with extended minutes and was on the floor during crunch time. Rachel Krauss was a beast getting to the rim and you can tell being in a big time program has helped her development. Cassie Fontana got some spot time and looks like she will be a very good player for years to come for the powerhouse NYU program. The one thing I keep thinking while watching the young ladies, was this….did they really understand what they were getting into?  I have to think many kids go to talented D3 programs like these two and are shocked at the ability of the players, not to mention the intensity of the competition. I know that I consider myself very knowledgeable and I was simply not prepared for what I saw. I have to believe it's a major adjustment for most kids expecting so called D3 basketball only to find they are in a D1 setting!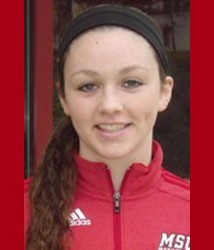 Katie Sire is hoping to win a National Title!
So what did I learn Friday night? First if you are a young lady looking to play in college, know this…If you want to play at NYU or Montclair you better be a damm good player. You better be very serious about your game and you better be super competitive. I also learned that Division 3 basketball just like D1 has levels of play. Because when I found out that Montclair was not the best D3 School in Jersey last year… my jaw dropped…The best D3 School in New Jersey is the National Champion, FDU-Madison.  This is a scary thought, even for somebody who played in a D3 National Championship game.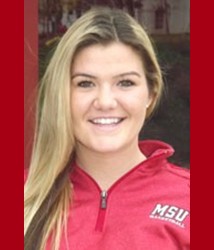 Being Part of a Big Time Program has helped her develop!
If you are not sure what a big time D3 game looks like….then Watch this because folks unless you see it  you cannot understand….Now I know WHY COACH SANSOM THINKS HE CAN RECRUIT ANYONE…HE IS PART OF A BIG TIME PROGRAM.
Must See… just paste into your search engin
http://www.montclairathletics.com/news/2014/3/2/WBB_0302143344.aspx?path=wbball