Folk it's time to say it Tracey Sabino right now is the G.O.A.T in girls basketball in New Jersey pic.twitter.com/4ck1zPbiEd

— ellonya Tiny Green (@CoachTinyGreen) April 22, 2018
The live recruiting is a wrap and now it's about getting ready for the July recruiting. There were many good stories of teams stepping up and players watching their stock rise. But one team once again sucked all the air out of the building. The 2021 Shoreshots proved they are that rare group when…GAME MEETS HYPE.
The 2021 Shoreshots just may be the future model for girls AAU. Yes they are a insanely talented group. But what Tracey Sabino, has done is put together a collection of gym rats, ego free kids and families. This group is a mix of kids who have developed and decided to play for each other, something unheard of in the world of AAU basketball. Now I can tell you how the Shoreshots won the 9th grade ADIDAS GAUNELET Championship. But that is not the story. I could tell you how they were one of 10 teams invited to play in the exhibition showcase. These are nice things for the ego, but really don't make a team special. What makes a team special is when the players on that team are willing to sacrifice. These sacrifices are both on and off the court.
It all starts off the court, I have always said Gym Rats rule the day. If you have a team of a few gym rats, your lucky. But when your team is 100% gym rats, you have hit the lotto. You are in rarified air and are blessed. The 2021 Shoreshots are a group that has one goal… to get better, its a rare attitude for such young players. They live in the gym and most importantly never make excuses regarding performance. On the court, they don't care who gets the credit, they don't care who scores the most points. What they do care about is making the right pass, taking the right shot. This is why they are rock stars on the AAU circuit right now. They play basketball the right way, and allow every player to shine at some point. Each player gets to eat at the table of success. No player is bigger than the team, they don't care about who gets the most love on social media, they don't care who wins the player of the day. They care about one thing…WINNNING, even if means giving up part of their game in FRONT OF COLLEGE COACHES. It's why they are the hottest team on the AAU circuit from New Jersey.
Yeahhhhhh for getting dubs #2021 @JonnyBigBlock pic.twitter.com/PBvfAliAaV

— NJ Shoreshots Girls (@ShoreshotsGirls) April 23, 2018
When they walk in the gym, all eyes move to the 2021 Shoreshots. They are the team, everyone wants in their tournaments. They draw coaches and everyday basketball people to their games, like honey to bees. They weekend the list of coaches at their games was something nobody has ever seen before.  I've never seen a team draw in coaches like this, especially such a young team. U-Conn, Louisville, Villanova, name the program they were watching. More importantly coaches  stay over and over to watch…they watch them even when they get to games 6 and 7. This is unheard of, but so are the 2021 Shoreshots. It's because they play with such energy and passion and seen to never give up on each other. They all seem to understand it's about the team and if  the team wins, they all win. No egos or self motivated goals. They display, something you rarely see in AAU…LOYALITY AND TRUST.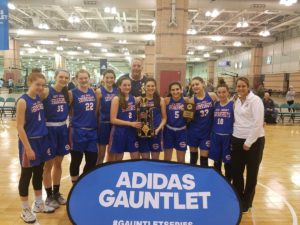 They said Abbey Antognoli and Sophia Sabino couldn't play together. They were wrong, because they didn't understand both play beyond their years. They said the sneaker companies would break them up. That's because they didn't understand Tracey Sabino built something bigger than a sneaker company, a happy family. They said Allison Waters who was sensation all weekend would not develop. They didn't see her in the gym 4 hours a day. They never saw Chloe Teter becoming one of the best freshman in the shore. That's because they couldn't understand, she was okay playing her role. They didn't know Maddie Mad dog McCrea would develop into a D1 lock. That's because folks outside the shore, don't understand, she's be all Freshman if she played in the shore. Nobody new Allie McGinn would become the next Megan McGuiness, a former star. She plays with that same edge and passion of McGuinness.  Teresa Haigh drives 4 hours to be part of the Shoreshots, nobody thought the future D1 star would do such a thing. But she wants to be part of this special team. Justine Pissott they say will be one of the best in the country one day…they're right and this weekend proved that. Nobody knew Ally Carman at 6'4″ would guess with her future AAU team in the invitational exhibition game, or her becoming the best post in the 2022 class with D1 offers before she played a high school game. Just like nobody knew Toni Panayides would become a D1 prospect 2 years ago. That's because she has been okay floating under the radar.  Nobody knew this would become the most exciting AAU team in years.  But more than anything else, what nobody understood, that they simply play harder and at a pace…few are have seen.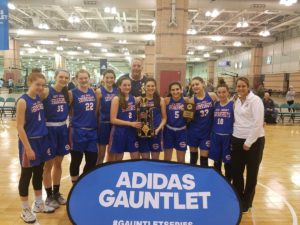 This weekend the 2021 Shoreshots, showed they are  the "IT"  team. Not because of all the college coaches after them or the attention, they are receiving . They are the "IT" team because they GET IT….work hard, play as a team. They have not allowed outsiders and haters to disrupt their team or mission at hand….
LIVE PERIOD UPDATES….there were some teams that stepped up…here are a few!
Tough loss 35-31 to Castle NYC. Great tournament by our girls 5-1 for the weekend. We will learn from this and get better! Great group of kids! @CoachTinyGreen @scgirlshoops @ZGSelectWBB pic.twitter.com/kOQ1MmBqvb

— Jersey Warriors (@jersey_warriors) April 22, 2018
https://twitter.com/EliteTeamMiller/status/988113180802142211
" Tiny thanks for doubting us…fat boy we just blew up this weekend, jump on the bandwagon it's not too late" pic.twitter.com/naZknwgCUh

— ellonya Tiny Green (@CoachTinyGreen) April 21, 2018
2022 lose 46-44 in OT to an awesome PA Bruins team. Amazing showing for this 2022 group #allin @CoachTinyGreen pic.twitter.com/riiAOXI4u2

— NJ Shoreshots Girls (@ShoreshotsGirls) April 22, 2018
https://twitter.com/MBHoops10/status/988172668527628288
Another 2022 Belles win at Boo..3-0 ..65-40 win versus Missouri phenom…guess there pretty good… pic.twitter.com/pI2Z2zP9Ns

— ellonya Tiny Green (@CoachTinyGreen) April 21, 2018
Belles2021 JT lose heartbeaker 38-37 without injured Olivia omelchuk…6'0"Maureen Stapleton fills in at point guard and has 8 points and 8 dimes pic.twitter.com/wvPaP2A3te

— ellonya Tiny Green (@CoachTinyGreen) April 22, 2018
"Hey Tiny now you know why we get in the gym…first JERSEY team with a CHIP THIS WEEKEND" pic.twitter.com/GzWJEnguDN

— ellonya Tiny Green (@CoachTinyGreen) April 22, 2018
TALENT…GOOD KIDS….WINNERS pic.twitter.com/k8ek3W1OpP

— ellonya Tiny Green (@CoachTinyGreen) April 22, 2018
 PONT GUARD SCHOOL…MONDAYS/WEDNESDAYS…4.30-5.30
CORE SKILLS….TUESDAYS/THURSDAY
HOOPGROUP CAMP DATES ARE UP…BIG SAVING! (HOOPGROUP.COM)