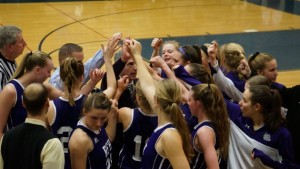 A TEAM!
All the signs pointed in the wrong direction for Rumson in the first quarter of tonight's classic between RFH and Manasquan. Dara Mabrey was back and announced that with a deep three to give the warriors a 5-0 lead. Then with 17 seconds left in the first quarter and RFH up by 3,  I turned and said "it's important for RFH to end the quarter strong"…and in an instant before you could say Deja Vu, Nicole Morris was being subbed out and  Stella Clark promptly then drove to the basket and scored at the buzzer and somebody yelled out LOUD..."Ground Hog Day" it was shocking and almost hard to believe and it appeared it was going to be Deja Vu for RFH all over again.
They say repeating the same thing over and over with the same result is insanity and it looked liked RFH had gone nuts. In the 2nd quarter, RFH panicked and things got crazy. Nobody could predict what was next, the ball stop moving and Manasquan was on a 10-0 run to end quarter. It appeared nothing had changed for RFH except the time and the place. But after Manasquan had built a 7 point lead, RFH took another ill advised shot…a air ball. George Sourlis had officially seen enough and subbed in  his  forgotten Sophomore transfer guard Christina Antonakakis into the game. She had barley played and could have easily called it a night. But instead Antonakakis was ready and she did something RFH has not done in a big game….CLOSE A QUARTER…SHE HIT A JUMPER FROM THE FOUL LINE AT THE BUZZER, it was the last time she would see the floor all night. Her basket cut the Manasquan lead to 5 points at the half, but more importantly RFH finished a quarter and a half on a positive note. It also showed everyone RFH was truly a team….ANTONAKAKIS  rather than sulk, was there when her teammates needed her most.
 It was Tori Hyduke who shot that air ball in the 2nd quarter, it was Tori Hydule who Coach Sourlis decided needed to step up in the 2nd half and the message that Coach Sourlis sent was clear. It's put up or shut up time, and Tori Hyduke put up…and she put up big time. Right out the gate she found Hannah Scanlan with a sweet feed to open the 3rd. They she found Sid Sabino with another laser like pass for a bucket and then she did something that many had been waiting for, she drove pass a defender like only she can and rather get to the rim…HYDUKE GREW UP IN FRONT OF EVERYONE'S EYES AND KICKED THE BALL TO SABINO WHO HIT A THREE AS THE BUZZER SOUNDED. This was a pass Hyduke would not have made 3 weeks ago. She was  brilliant in the 3rd and played the role of superstar for the 2nd game in a row on a big stage. More importantly RFH did something that nobody was paying attention too…they had turned the tables on Manasquan. It was the first time in two years that it was they who was closing quarters at the buzzer. Their was no Hagaman scoring at the buzzer, no Dara Mabrey at the buzzer, no Stella Clark at the buzzer to end a quarter, no Marina with a great pass at the buzzer…it was Sabino who has been waiting so long to be a star….at the Buzzer to tie the game to end the 3rd quarter!
Syd Sabino is going to Wagner College and it's in large part thanks to her AAU antics. She has been waiting for her big moment at RFH for 3 years. She has had great shooting nights, but has never been given a real chance on the big stage. She thought this could be the year. She had 3 three against SJV in a lost. But RFH has talent and lots of talent, trying to find a role for everyone is not easy for any coach. So it appeared after the Saddle Day game on Sunday, Sabino would have to wait until college to put her shooting skills on display. But tonight something happen, Coach Sourlis forgot about offense and defense rotations. He simply allowed Syd Sabino to play, none of the offense/defense stuff.
This was big of Coach Sourlis and a change in his coaching philosophy, he was brave and came out of his comfort zone… and Sabino rewarded him big time.  Her 6 big points and sweet assisit in the 3rd were big.  But it was her lock down defense and hustle that nobody will be talking about tomorrow. Nobody will talk about her drawing a charge on a bad screen and walking to the foul line. But it was one play that nobody noticed and nobody cared about that Syd Sabino made; that changed this game tonight. Manasquan was getting every loose ball, on missed shots and deflections. When Sabino rushed in and fought life and death for a loose ball that RFH recovered….it was Sabino who showed RFH what toughness and  what closing quarters was about.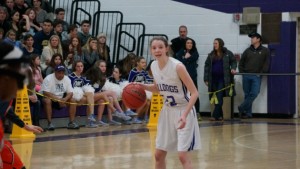 "THE DEFENSIVE PRINCESS OF DARKNESS" TONIGHT
What makes a game a classic is big plays. It's Megan Volker who couldn't seem to finish in game one growing up. It was Volker's tough drive in the 4th quarter than gave RFH breathing room and the lead at 35-33. It was Nicole Morris that made sweet moves to the bucket and more importantly stay on the court in the 4th quarter and why RFH had no turnovers. It was she that chased Dara Mabrey around and closed the door on the RFH nemesis. Nicole Morris was brilliant on both side of the ball and refused to let RFH die. It was Tori Hyduke whose on ball defense and insane hustle that matched the Manasquan guards single handily. Hyduke's Hustle at times was nothing short of breath taking. Its was the bench cheering and George Sourlis turning to his asst Coach Joe Roman after a sweet play designed after a time out and congratulating him…But in the end it was the Most Improved Post player in New Jersey and a rising star, that put RFH on her back and said enough is enough
Closing a game can happen in so many ways. Manasquan was packing it in the paint in the 4th quarter. They simply stop guarding RFH on the perimeter and dared RFH to shoot. RFH had long forgotten about Sabino who was brilliant in the 3rd much like they had forgot about Katie Foos in the first game after she was brilliant. It clearly was Deja Vu all over again. But nobody told Hannah Scanlan, because she was having none of this nonsense. When Dara Mabrey had a break away and tried to pull up for a jumper to tie the game, she blocked the shot. She then ran floor and got the fouled as the growing and improving freshman Hyduke right in front of our eyes… hit her with another breath taking feed and Scanlan was fouled. She made both and it looked like RFH was home free. Because Manasquan on the next possession missed a shot. RFH got the ball and held it until being fouled. RFH missed the front end of a one on one. But Scanlan again made a big play. She tipped the miss back and RFH was fouled again. Amazingly Manasquan had life as RFH missed the front end of the one on one a 2nd time. It appeared RFH would pay for not closing, because Addie Masonius hit her superstar sister Faith Masonius with a sweet dime and it was all tied and everyone just knew it was Deja Vu all over again.
But even superstar hall of fame coaches can grow and George Sourlis grew a little tonight. With 17 seconds left, Syd Sabino who was great in the 3rd,  but long forgotten in the 4th, somehow was asked to returned. Sourlis realized that Manasquan had been packing the lane. He decided to bring his senior back and hoped she would stretch the defense, and it was a great decision. Manasquan defense stuck with Sabino on the left wing like glue and it opened a driving lane the size of the grand canyon as Manasquan refused to help off Sabino.
It had worked last year, when Dara Mabrey denied Sabino from getting a shot late. But Tori Hyduke drove the lane, and missed but smartly put the ball on the rim(not easy as you think folks)…  Hannah Scanlan the best post player in the Shore these days had plenty of  room to clean up the miss and scored with 3 seconds left. But it was not over as Stella Clark's rushed the ball up the floor for a shot, only to have it blocked, by who you ask?…Tori Hyduke the player who missed those two one on ones late. It was sweet redemption for Hyduke, who showed what real mental toughness can do and because of this…. it was not Deja Vu for RFH all over again but rather …THE SWEET  SOUND OF SURRENDER FROM THE MANASQUAN CROWD AND TEAM