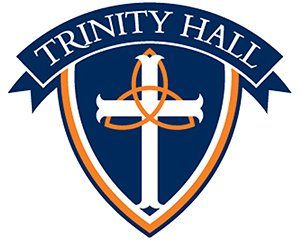 Yesterday the Trinity Hall basketball program grew up.  Last season Trinity Hall won 20 games. Nobody paid much attention to the upstart program. This year they have won 15 to date and now people have taken notice. COACH Matt  McCarthy in two short years has changed not only the culture of Trinity Hall but  the perception of his program as well. Yesterday, Trinity Hall went on the road and won a SCT game for the first time in the schools  brief history.
What to pull off the upset? Make free throws, have your best player Wingertzhann show up…catch lighting off the bench Emma Bradley …have you senior play like a senior, Cust and have your BABY Dora Haven behave badly towards strangers pic.twitter.com/Ts0bSWFvX5

— ellonya Tiny Green (@CoachTinyGreen) February 14, 2019
Winning a road game at any level of basketball is hard to do. But winning a road game against a well coached hungry team in the SCT…NOW THAT'S real hard. Trinity Hall's win over Middletown North was considered an upset. But not to the Trinity Hall faithful. This making of this victory started months ago when coach McCarthy decided wins were not as important as getting ready for the moment. He went out and added 4 Top 20 teams to the schdule. Each time his team played one of these top teams. He got a little closer to pay dirt. They opened the season vs Marlboro and lost  by 41 points. Then they played then higher ranked  Middletown South and lost why 15. Then last week in there final game against a Top 20 team RFH, Trinity Hall lost by 6 points. Thats the same RFH team who blew who out Marlboro and beat Middletown South. It's called progress, thinking long term, getting ready for the big moment on the big stage. That moment was yesterday and Trinity Hall hit pay dirt.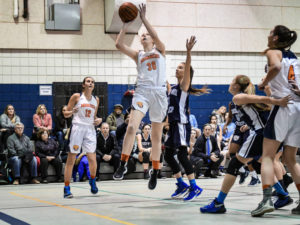 When you win a SCT road game as a underdog. Things have to go right and everyone as to step up. First your star player most play like one. Caitlin Wingertzhan yesterday was not just a star, she was a shooting star. Wingertzhan had 18 points, 7 rebounds and 4 blocks. She was as dominant as any one could have expected. She brought out her entire arsenal all afternoon. She opened the scoring with a 19ft jumper, she posted up in the lane and over powered Middletown North, she displayed her unique ball handling and pssing skills for a post player, late in the game. She shows her toughness when being knocked to the ground multiple times. She simply jumped up and walked to the free throw line and knocked down…free throw after free throw. She went 8/8 and yesterday played like the best post player in the Shore….she was superstar yesterday, just ask anyone in the stands!
Babies are suppose to need a diaper change in games like yesterday. Heaven Dora, is proving not to be an ordinary baby. Yesterday Heaven Dora broke the back and  Spirit of  Middletown North, any time they felt a glimmer of hope. Yesterday the baby handled North's pressure like a seasoned pro, she was turnover free for 32 minutes. Nobody must have told her, how big yesterday's game was, because she played as if she was going for a walk in the park. That walk included dropping some of the most filthiest dimes you will see this year. Heaven Dora broke down the North first line of defense and dropped off passes for easy baskets it seemed time after time. Then to start the 2nd half, she was in the mood for cookies as she she stole the opening pass for a run out and free throws. She made both as she went 5/6 from the line yesterday. The stat sheet  will show 10 points, 5 assists and 5 seals. What the stat sheet doesn't tell is timing. Like with North roaring back, having cut a 10 point lead to 4 and Trinity hanging on for dear life. Trying to run out the clock and North pressuring. It was Haven Dora the baby, who took things into her own hands and made a back breaking unscripted drive to the basket. Those two points were the biggest of the night.. This baby was ELECTRIC ALL AFTERNOON!
When trying to pull off a big upset, your seniors must  deliver. They must deliver not just in the box score but in other ways as well. The seniors must bring leadership,  calmness, IQ and the ability to close the door if needed. Colleen Cusat was that yesterday for Trinity Hall. It was she who went ICE…ICE baby late  in the game at the free throw line. It was she who made the BIGGEST play of the day. When she ran down a loose ball late only to get trapped, yet still have the Presence of mind to call a time out. Thats REAL SENIOR STUFF FOLKS…That's what seniors due in between scoring 7 points, grabbing 4 rebounds, getting three seals and going 4/4 while making pressure pack free throws late to close the door on North. Colleen Cusat, is a name, I now know how to spell it now, I won't forget.. Yesterday she was the senior you need to show your team the way..
When the upset is complete everyone will run to the box score. That's the first mistake many make. Just like the mistake Middletown North made in missing what seemed like open shot after open shot. But when you miss so many open shots, you expect to get some back. That is unless the other team has Emma Bradley coming off the bench. The box score will show zero points for Miss Bradley. But her impact cannot be read in a box score. Yesterday she was a force all afternoon. She was a human vacuum cleaner, anything that game off the rim, she absolutely sucked up. She didn't give North a chance to even think about a 2nd shot. The Sophmore was alive and kicking all afternoon. When Trinity was making a run and the crowd coming to life. There she was with the biggest defensive play of the day, blocking a certain layup to halt North's run and  quieting the crowd. Her 4 blocks shots had North on their heels anytime they went to the rim. Just like her 11 rebounds. Emma Bradley was HURRICANE OFF THE BENCH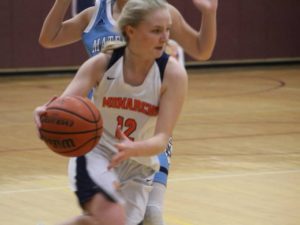 Maggie Ward and Colleen Kelly were the perfect duo, combing for 10 points, 7 rebounds and 2 steals. They were more that solid as a rock, they were rolling rocks who hit North all afternoon. When you want to pull off the upset, everyone has to chip in. That's way Cameryn Keane's two seals and a rebound mattered. You see everything mattered yesterday. These three are not going to get headlines. What they are going to get is a chance to play another SCT game. No way that happens, if they don't do there part. Yesterday Maggie Ward, Colleen Kelly and Cameryn Keane did more than their part….they played  Academy award winning roles.
Yesterday the Trinity Hall program grew up. They got that all important PROGRAM WIN. They now have shown us, they are real.  Coach Matt McCarthy is trying to turn his program into a state power. He knows winning big games and playing top competition will attract top talent. Yesterday he sent a message not only to the shore community. He sent a message to ballers everywhere…it said, Trinity Hall is place where big things happen….COME JOIN US!
SAY WHAT?!?! Where ya gonna be Monday? We will see you bright & early…🏀💪🏽 @CoachTinyGreen
.
.#nodaysoff #presidentsday #allin #gettourgameon #earlybirdgetstheworm #callingallballersshotcallers #thatsright #rebound #swoosh #improveyourgame #tinygreen #theoneandonly #hoopfest pic.twitter.com/RvJtYce7PQ

— Hoop Group HQ (@HoopGroupHQ) February 14, 2019