They say success is "when preparation meets opportunity" and in recent months Katie Foos has made this statement ring true. Recently in a blog about the Jersey Wildcats, I wrote that Katie Foos COULD be a great story this summer and guess what? Now I can say she IS a great story, but this hasn't been an easy ride for Katie Foos, it took some tough times before things started to go right for Miss Foos.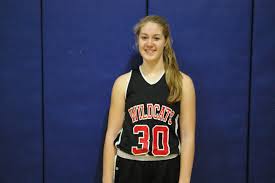 Katie Foos is now a great summer story
When Katie Foos would train at NBS she often found herself in the weaker groups after the players were separated based on ability not age. She had to feel at times all but forgotten some weekends.  Katie Foos learned just how hard  it is sometimes to find somebody who really believes in your ability.  Katie Foos was forced to find something deep inside, if she wanted to become a basketball player that was respected; she had to NOT GIVE UP or make excuses. The temptation of running away or looking for easy solutions in these times often ring loud.
When kids come to NBS, they are placed in groups by ability. When this happens,  a player can feel hurt and disrespected; when they are not in the top groups.  When this happens sometimes a parent will ask "can their daughter be moved up" not because they earned it but because they feel their daughter's self-esteem has been injured. Some parents choose to simply drop out of the program, feeling their daughter is not getting a fair shake. There is no question NBS is not for everyone, and once a kid makes a decision to attend, they are truly tested.
I try to tell some parents and kids, it's about long term development, but  in most cases; kids what immediate gratification and a few parents are only concerned about their child's ego and confidence; not their development. In the case of Katie Foos, she continued to show up and work hard in the group she was assigned and more importantly her parents encouraged her to earn her way to the so called main baskets. They didn't ask that their daughter be moved up and maybe more importantly they didn't run away from a tough situation. This was a big step in Katie Foos journey to basketball respectability.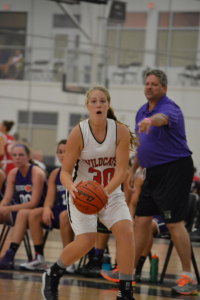 Katie Foos now has the respect of everyone
There is no worst feeling than being judged by how you look or run as a player. Some players don't jump up and down or bring attention to themselves while on the court. Some kids just go about the business of playing the game. This was Katie Foos; she did her job and she did it without bringing attention to herself. She he was very effective and productive at times, but rarely was she recognized or rewarded for her productive play; often it was more how she looked not how she played. She was just a nice kid that people just liked having around.  Many kids in this situation feel sorry for themselves or blame others for their situation. Katie Foos, had a simple solution to her problem; no excuses and work harder than she did in the past. It's never easy to watch other players get more opportunities than yourself, but you must stand TALL and Katie Foos did just that without pointing fingers at anyone but herself. Katie Foos understood that to gain respect, she would have to do more than most…. and  that's exactly what she decided to do and started on her journey.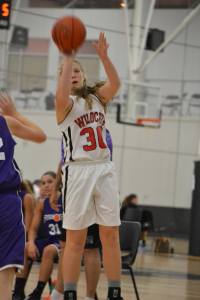 Foos knows what it like to be dismissed  and forgotten
This past season Katie Foos was a freshman at RFH and she played JV/varsity basketball.  Many nights she played extremely well on both sides of the ball. She had some big scoring nights and was hoping it would lead to better opportunities.  But when you play JV and you have been LABELED, nobody notices you have grown 3 inches or that you have gotten stronger and have improved. It's hard to get people to see the changes and improvements once you have been labeled. In the case of Katie Foos, her JV performances were overlooked.  But Katie understood that's the life of every JV player in America. When she did get her chance in varsity games and do exactly what she did at the JV level, she already knew what people would say, …its garbage time and doesn't mean much, such is the life of a JV player. These are the times when a player is really tested; it's also a time when a kid could lose all hope.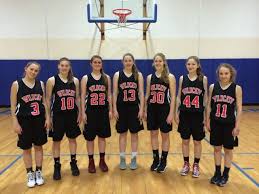 Katie Foos decided to play with and against the best
Often time's parents want their kids to score lots of points and be the focus point of a team. Starting and getting attention is very important to some people. Playing against top competition in practice or games doesn't matter. Some parents feel ducking competition or finding people who say all the right things, will give their kids the confidence they may lack and they hope this will lead to success. These people would not include Kathy Foos, the mother of Katie. They say the squeaky wheel gets the oil or in this case the playing time. Kathy Foos is no squeaky wheel, but she is dead serious about challenging her daughter. Kathy Foos as a parent had some tough decisions to make…her daughter was going to either a basketball victim or a survivor. Kathy Foos decided her daughter would not be a victim and made a decision that  may turn out to be the best decision ever made in her daughters athletic life. Kathy Foos decided her daughter would play and practice against the best competition she could find…The road to improvement and respect was never clearer for Kathy Foos and her daughter.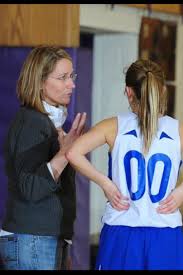 Ellen Masonious became the mentor, Katie Foos  needed!
This past summer Katie Foos decided to go play for one of the best young teams in New Jersey…the Jersey Shore Wildcats . There is no question some people were shaking there heads and thinking…What are thinking? I was not one of them, when Kathy Foos told me her daughter was changing teams, I told her worry more about her long term development and competition makes winners out of all of us. The Wildcats are a team not only loaded with talent but they are gym rats, who I like to call KILLERS… because when they hit the floor nobody with a different uniform is safe. Instead of finding a safe home, with the promise of playing time and shots, Katie Foos did just the opposite and raised the stakes. She knew playing for the Wildcats was an entire different ball game. The speed, the competition, the competitiveness and commitment was a level that would no question challenge every part of her basketball being….Katie Foos's road to improvement and respect had hit the crossroads, she no question was going to sink or swim, because now she was in the big girl pool.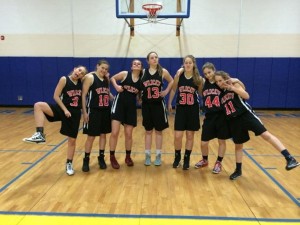 The Wildcats players have made Katie feel special and root for her sucess!
Ellen Masonious is not just a coach; anyone can sub a few players and draw up a few plays. But the real key to coaching is the psychology part of the game. You see if a coach is not honest with a kid that player won't improve. If the coach is too hard on a kid they can break them. If the coach does not challenge the player, the player won't preform against big time competition. Ellen Masonius understands how to dance on that fine line and Katie Foos got very lucky, because Ellen Masonius was just what the doctored ordered.
Ellen Masonius had to question if Katie Foos would be able to play with her stud players and had to know this was a big step for Katie. But she also knew Katie was a big strong kid with talent who needed some love and the "Go Sign"… meaning go play. She made it clear to Katie Foos it's about production, work ethic and not how you look or what your reputation is about. Then she surrounded Katie with a group of kids who ROOTED and BELIEVED in Katie, but more importantly, ACCEPTED HER WITH OPEN ARMS. Katie Foos knows she is not the best player on the Wildcats, or the go to player on this insanely talented team. But she also knows these girls respect her and want her to succeed. This is how you go from being forgotten to scoring double figures in games, grabbing rebounds and your coaches and TEAMMATES wanting you on the court.
This is how you go from being just another player in the gym to people talking about how much you have improved. This is how you score 14 points in the state AAU Championship game and hit the game winning shot. This is how you make All Tournament in AAU events against some of the best players. This is why you now play in front of 100s of coaches for the first time in your life and get letters from colleges…This only happens when you to don't quit or make excuses, refuse to blame others and SPRINT towards competition.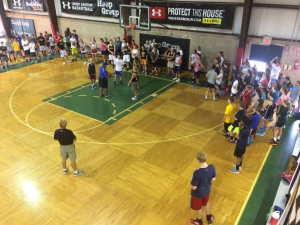 NBS CAMPERS GAVE KATIE FOOS A STANDING OVATION THIS WEEK!
This week at NBS camp some of the best talent in all of New Jersey was at Hoop Group, Katie Foos looked like she belonged. The pace of the game looked like something she has seen all her life. She was aggressive on offense and defense, Katie Foos clearly could play with the Big Girls and at one point  during the week everyone in the gym gave her standing ovation…I believe it was not because of how she played that day, but rather because they know how hard it's been for her to get to this point…
 There is another old saying "Luck is when preparation meets opportunity"…words that Katie Foos has proven are true..
ACADEMIC ELITE STILL HAS A FEW SPOTS LEFT…JULY 28TH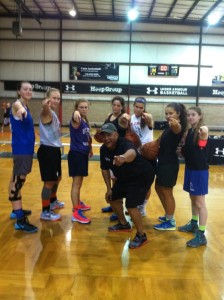 I just love this TEAM…HARD WORKERS, GREAT PARENTS, GREAT STUDENTS, AWESOME KIDS…ANYMORE QUESTIONS?
COACHES IF YOU HAVE NOT RECEIVED A CHEAT SHEET E-MAIL ME..