A NORTH- This division is a two Horse race with line mines everywhere.  Middletown North, Marlboro and that funky style of play by Manalapan, make for dangerous game for both Freehold Twp and Middletown South.
Middletown South had a dream season last year
Middletown South is the favorite this year.  Some say Tom Brennan is the best coach in the Shore, and last year he may have done his best job as Middletown shocked Neptune in the states. His talent will never match the other top teams, but he still has First Team All Shore guard Stephanie Karcz. Nobody in this division has a answer for the future D1 player. She can score in so many ways. But its her defense that gets over looked so often. She plays passing lanes as well as anyone I have ever seen. Jill Falvey who will be attending D1 powerhouse St. Francis of PA will return for a final season. The 6'2″ Falvey had a monster fall and has has gotten stronger and her 3 point shooting range has improved. She will be a tough match up for everyone this season. Haley Dalonzo reminds you of  Stephanie Karcz. She was on the All Freshman team last year and is fearless, they form the most athletic physical back court in the Shore. Finally Alex Balsamo is the forgotten women, folks she is going to play a major role in what the final outcome to Middletown's season looks like. She is big strong and can make plays…This group is trying to get to the next level, this may be their best chance ever!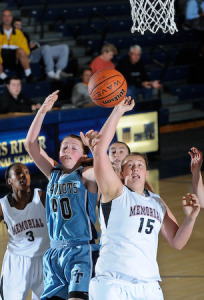 TORI WAGNER HAS BECOME A DOMINANT FORCE
Freehold Twp will need a serious approach to the season. Laughing and joking after losses was not a good look last year. Lets just say they were immature, but this year they have a true leader in center Tori Wagner, who looks like  ALL Shore is in her plans. She was a total gym rat this fall. There is no question the St. Francis recruit wants to go out with a bang. The knee is 100% and she looks like a major force both on offense and defense. Sam Famulare is a true closer and if Freehold Twp is in games close, I believe Sam Famulare will take them home. Her ability to get to the foul line and defend is underrated. The return of Harley Kneler is huge folks, and I have seen her this fall and let me say this…Kneler is back and the former ALL Freshman Team player has her teammates full attention. College coaches you be wise to play attention as well. Freshman Hailee Porrcelli had her moments last year but is injured…This is a put up or shut up season for this group and they know it!
PREDICTION-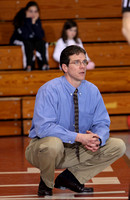 Some say Tom "the professor" is the best in the Business
BOTH these two teams should be very worried. Middletown North has always been a thorn in the side for Middletown South. Marlboro has 3 outstanding players in Nicole Shatskey, D1 swing player Tatum Evans and the rapidly improving Molly Weiss. All three of these teams on any  given night could knock off one of the contenders…My guess is MIDDLETOWN SOUTH WINS  A NORTH…but make no mistake they will need there A game to do so!
A NORTH AWARDS-
PLAYER OF THE YEAR– STEPHANIE KARCZ, MIDDLETOWN SOUTH
FRESHMAN OF THE YEAR– CARA VOLPE, COLTS NECK
COACH OF THE YEAR– TOM BRENNAN- MIDDLETOWN SOUTH