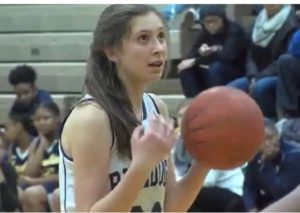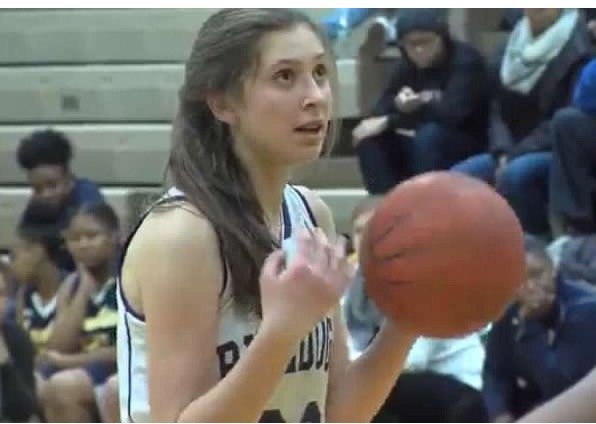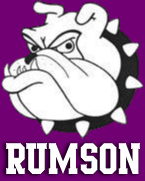 Today's SPOTLIGHT PLAYER  is RUMSON FAIR HAVEN Guard GRACE MUNT. She is a classic Program kid. Program players are a coaches dream at every level. They care more about the program than themselves. Programs kids always buy into the philosophy of the coach and the team. Program kids are always reliable and put the team ahead of themselves always. Programs kids do whatever is asked of them on and off the floor. But what really separates Program kids from other kids is this word…RESPECT! Grace Munt is a player I have great respect for on and off the court.
Many people believe that the RFH program would take a major step backwards this year. It was a young and inexperienced team, playing an insane schedule. But if Dave Callahan has proven anything in his two years, it's this…. his teams compete and he knows how to get the best out of players. It just may be why Grace Munt, one day will be another in a long list of Bulldog greats. She did not enter the season with much of a fanfare. But in the 1st game of her high school career, we knew she was special. With one play we knew Munt was different than most freshman. It was her athletic super human play against Chatham, that blew me away. In a game which was a war, their star Tori Hyduke threw a pass to a streaking Munt in transition, it appears the ball was thrown to high and going out of bounds. Instead Munt leaped and caught the ball and scored. More than any other play on this day…it broke the  Chatman's teams back and more importantly their spirit. It was Grace Munt's way of saying hello to the RFH and Shore faithful…thus the name "MONEY MUNT".
Grace Munt is different that most kids, she is not in the belly of AAU basketball. She plays for what can only be called a laid back AAU program. You won't catch her team playing in AAU tournaments week after week. You won't have players running in and out of the door. Munt and her family, understand the experience must be right. No ego stuff that comes along with AAU, just do your best and go home. None of the drama and jealously that lives in the AAU world. Loins are just a group that has a real desire to excel on the court, minus the nonsense. I rarely if ever invite a player to NBS, but in the case of Grace Munt I wanted her at NBS. I knew she was the type of kid that the entire program would benefit from having in the gym. When I call her "Money Munt" she gets embarrassed and prefers I don' t say it. But I say it anyway, because I believe she is on the Money not just as a person, but as a real baller as well.
Now we can talk about who the best freshman in the Shore and state are, we can even debate who has the best future. But here is something we won't debate about, Grace Munt is a Division one future lock. Soon college coaches will be begging for her services. RFH has had more D1 players than any school in New Jersey in recent years. I have seen them all and I am her to tell you…GRACE MUNT  will one day be in the conversation as one of the best. Dave Callahan, is a master and more than any coach in the state these days, gets the most out of his kids. He instills real confidence and teaches them to play with passion. While Tori Hyduke was the star last season. Know this, every RFH player was good with her getting the lions share of the attention. But when RFH was at their best was when Coach Callahan found a way to make babies act like grown up babies. If Tori Hyduke didn't get hurt when McGarvey game back…we could be having a real different conversation about last season and the Group 2 state champ. Grace Munt, is a big reason, Coach Callahan hopes people will sleep on his Bulldogs again this season.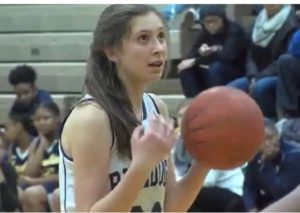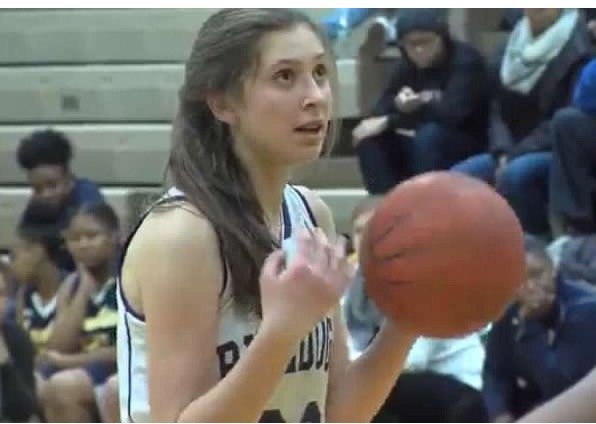 Now who the best freshman in the state were last season is a real fun debate. But which freshman played against the best competition last season….is not worth the debating. Grace Munt last year played against every top team in New Jersey and some. She also went to work in such games. How does 11 points and 11 rebounds against the #2 team in the state, Franklin? You know any other freshman who did that? What about 11 and 8 rebounds vs. Holmdel. Does 6 points, 5 rebounds , 2 assist and 3 steals against the state champ Manasquan more you? How about 5 rebounds off the bench against powerhouse SJV? How about 5 points, 4 rebounds and 2 steals against #10 TRN. No freshman played against the type of competition she played against NIGHT IN AN NIGHT OUT  and preformed at a high level. Dave Callahan would play the Knicks if you let him. Grace Munt, more than any  player in RFH recent history may benefit the most from this.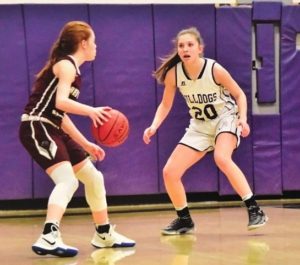 All good high players can score. That's not a big thing to me, it's when and how they score that impress's me. I watched RFH play a number of times last season. Grace Munt going for a double/double in the win over Franklin did not surprise me, just like the catch against Chatman doesn't surprise me. I think, she has great timing and a understanding of the  moment, but not with just points. Yes she has an explosive first step to the rim. Yes she has a body  college coaches dream about and yes the attitude is ELITE. But those are the things you see with the naked eye.
You must pay real attention if you want to really appreciate  Grace Munt. She does a few things even seniors moving on to D1 don't do. She is a Elite  PASSER, TRANSITION  DEFENDER (a underrated skill set) and her basket cuts have no equal …PERIOD. She is that rare player that doesn't have to dominate the ball to have a impact on a team. She was put in a position few babies find themselves. Dave Callahan, needed her right out the gate against the best competition… to grow up right away. On most nights she did just that. On the nights she did not…RFH didn't get over the hump. You don't win titles counting on babies, but babies can get you to the door. That's exactly what Grace Munt did this year.
— ellonya Tiny Green (@CoachTinyGreen) June 11, 2018
I like that Grace Munt has a innocent about her. When she sprained her ankle and was out for a few weeks, I felt bad for her…funny thing, she never felt bad for herself. But I know how bad she felt when Tori Hyduke did the same this year. Grace Munt remember I told you is a program kid…so no surprise there. She was a member of the HOOP GROUP ALL FRESHMAN TEAM… but she didn't campaign for it. It clear she doesn't concern herself with things like ranking or bringing attention to herself. She is not a twitter kid or worries about what others think. She reminds me of a little kid when I see her. She smiles and doesn't say much. When am barking like a fool, her expression never changes.  Grace just goes about the business of playing the game the right way. But there is something I know, that she doesn't know I know…she plays with a real edge and tremendous pride. She is also the first to say hello, goodbye and THANK YOU. She is very respectful to everyone in the gym, that includes teammates and opponents . But I would tell you this…
"DON'T GET IT TWISTED FOR ONE SECOND… HER PHYSICAL AND MENTAL TOUGNESS….are her biggest strength"….Tiny Green
THE MUNT FILE…
Now think about a Freshman a freshman on a big stage today and she get 11 points….Grace Munt got superstar written all over her face pic.twitter.com/vgEKHB3Axh

— ellonya Tiny Green (@CoachTinyGreen) December 28, 2017
2018 HOOP GROUP ALL FRESHMAN TEAM
MEMBER OF TOP 10 TEAM RUMSON FAIR HAVEN
NAMED TO NJ.COM TOP FRESHMAN IN THE STATE
DOUBLE/ DOUBLE AGAINST STATE RUNNER UP FRANKLIN
MUNT JULY LIVE PERIOD SCHEDULE
JUNE 16TH…HOLY CROSS ELITE CAMP 
JULY 10th-12th…USJN EAST COAST CHALLENGE, NJ( Sportika)
JULY 26th-2th…HOOP GROUP JERSEY SHORE SHOWCASE, NEPTUNE
TWO BIG EVENTS….