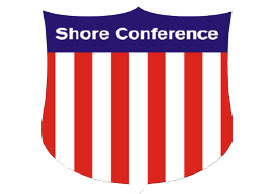 CLASS A SOUTH looks to be a two horse race. Last year State Top 20  TOMS RIVER NORTH won the division.  But upstart Jackson Memorial knocked them off to split the  season series. This year Jackson returns the bulk of their roster while a already thin TRN was hit by graduation. Tom River East returns two impact players and much of there roster. They are going to play a major role in the final outcome for whoever wins the division. TRN return the best two players in the division and both are D1 players. Jackson Memorial also has two Division one players.  While TRE has two All Division inculding a first team player.  This should be a race down to the wire.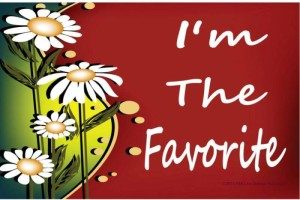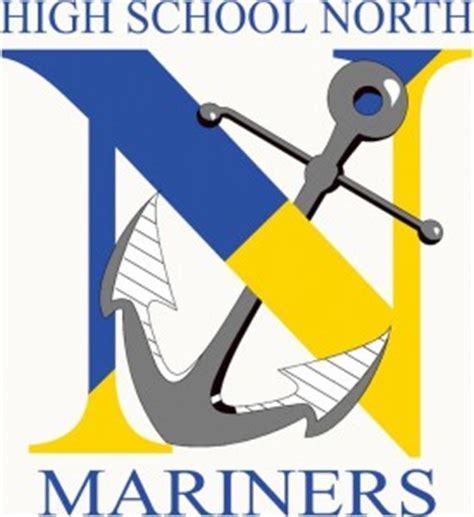 TOMS RIVER NORTH has been The dominant team in  this division since the arrival of Jenna and Brielle Bisogno. The two seniors have put historic numbers and have taken TNR to new heights. TRN has been ranked in the state the past two years and last year won its first sectional state title in decades. This year they will start the year ranked in the State Top 20. That will be based largely on the past and the two supstars that remain. The return of KRISTINA JOHNSON will give the two stars some help. But beyond that  we are talking about experience players being asked to step up. They may start two freshman. COACH GILLEN will need to be real creative.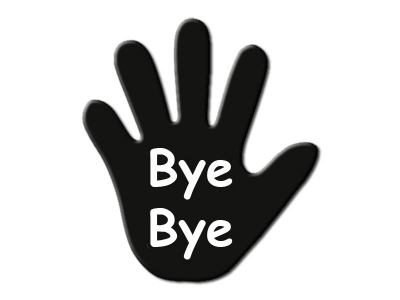 Replacing AMANDA JOHNSON  will not be easy. Johnson who currently is a freshman at Catholic University, was a mainstay for TRN. Replacing her experience, toughness and stats is a tall order. She leaves a major hole in the TRN lineup.
2017-18 Record
Coach- Vikki Gillen(Sectional Title Ring)
Overall- 28-4(ranked #14 in state, State Sectional Champs)
Conference- 14-1(champions)
The two best players  in A SOUTH will lead the way. Colgate bound and divisional POY Jenna Paul and all everything guard  Brielle BISOGNO. Both will carry most of the scoring. Kristen Johnson will chip in as much as possible. Scoring outside the two stars will be needed. Selena Carrington did see mins and could provide help.  The same goes for junior Paige Farley. Two freshman Sidney Howell and Gia Pissiott will asked to join in as much as possible. Holding on to the B NORTH TITLE will not be easy.
THE STARS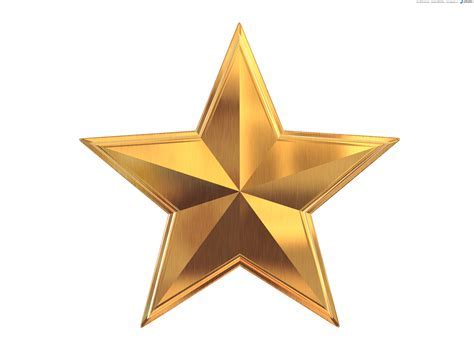 JENNA PAUL AND BRIELLE BISOGNO have been mega stars since the day they entered TRN. Both are highly competitive and  will play at D1 schools next year. These two will both be Hall of Fame players. No two players have done more for a single program in my time. They have made Ocean County basketball relevant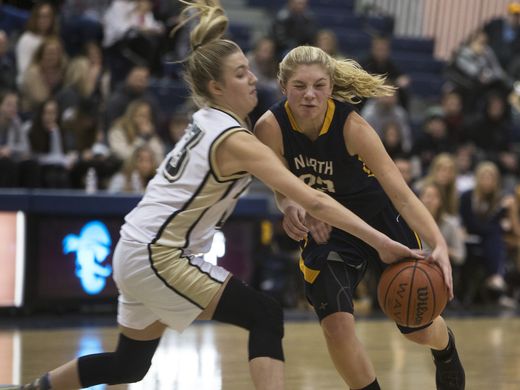 JENNA PAUL signed with Colgate  University in the fall. Last year Jenna Paul was named the Divisional PLAYER OF THE YEAR. She will be the favorite to make it two years in a row. Last year her numbers were staggering 17.5 points, 5.7 rebounds, 3 assists and a block a game. She also scored her 1000th point last season in three years. Those are 1st Team All Shore type numbers and this year the ALL SHORE TEAM member from a year ago will look to build on those numbers…She is a gym rat and classy leader who will be more than willing to do the dirty work this year. She can guard bigs and guards. But what she can do most is carry the team on her back if asked to do so. This year, that will be required more often than anyone will like.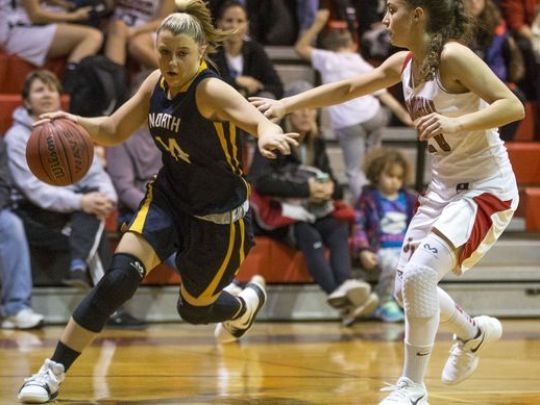 BRIELLE BISOGNO  will crack the 1000 point line this year. She will have accomplished this in three years. That will not be the only thing she will be remembered  for, she has had to many big moments to forget her. Last year her preformance in the WOBM semi will down as one of the best in the events history. But more than anything else, she  will be remembed for making  all the big plays in TRN first sectional title in decade. She is the best defender in the Conference and the ulitimate warrior. Her ability to find teammates and impose her will  on teams is special. Her stat line is off the charts, 13 points, 4 rebounds, 4 assists and 4 steals. Folks do I need to remind you she is a point guard as in the ulitimate point guard. This year she is fully recovered and All Shore, Divisional POY are in her sights. We have never seem a fully healthy experienced BISOGNO and this year we will, that's bad news for A SOUTH opponents.
KRISTINA JOHNSON more than ever will be needed to step up this season, if TRN has any chance to win the division. Johnson has been in the wars and has played a major part in the teams sucess. She is a vastly underrated player much like her older sister was. She is a top notch defender and rebounder for her size. She is an excellent shooter and her stat line will grow thi year with more opportunities. Her passing and dribble skills will be sorely needed all year. But more than anything else her experience will be a must this year. Taking care of the ball and making good decisions will go a long way for such an inexperienced group outside of the three returning starters. Kristina  Johnson this year will be counted on heavily. Last year her 7.2 points and 3 rebounds were a bonus, this year they are a must.
PAIGE FARLEY AND SELENA CARRINGTON both hit the floor. Both played in every game last year. They will need to both make real  contributions and play real minutes. If they can play mistake free on most night it will elevate TRN chances against better opponents. Carrington is athletic, quick and could help on defense and around the boards. Farley has played in some big games at times. She will need this experience to lend a helping hand. Both players will play major roles this season. Something new to both.
THE BABIES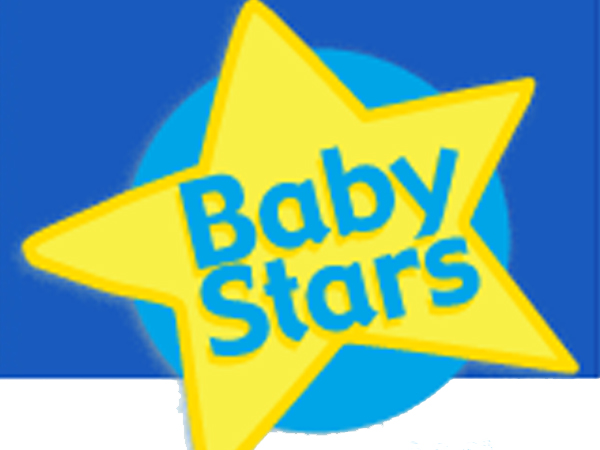 If there ever was a team that needed a pair of babies to grow up soon, it's TRN. Both there Freshman will play a major role, either starting or coming off the bench.
GIA PISSIOTT attends the MATS ACADEMY school and that makes her very smart. That's a good thing because she need to be very smart as she will be thrown into the fire. Pissiott is 6'2″ and long. She will give TRN a player who has plays some competitive AAU basketball and has some idea of what to expect. She can step away from the basketball and shoot or make layups. Two areas that will be important for the role players. Pissiott is the twin sister of mega freshman Justine and her decision to play this year is a big break for TRN.
SIDNEY HOWELL just may be the most interesting player on this roster. Last year she played for the talented NJ BELLES. She is very athletic and has always shown the ability to shoot the ball. She will add ball handing right off the bat to this team. She has at times faced elite competition. Something most of all the players in this conference has not done. She is aggressive and along with Bisogno could make a  fierce defensive backcourt. Howell could be the best  Freshman in the entire division. The question is can she adjust quick enough to the high school game? TRN hopes she can.
FAITH WAVERSHAK a two sport combo guard. Anything she brings to the table will be excepted with open arms. She will join a cast of  characters fighting for the 5th starting spot.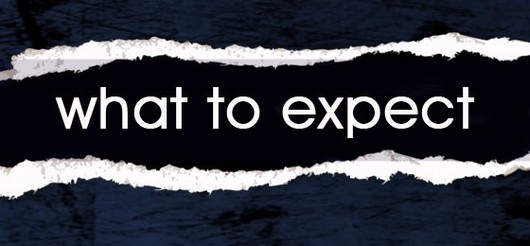 There will be no surprise here this season. Jenna Paul and BRILLE BISOGNO will do all the heavy lifting. Kristina Johnson will play the supporting actor role. She will need to have an academy award winning season at worst to have any chance to  duplicate last season. Expect TRN to play tons of zone defense and the 1-3-1 will most likely be a staple. The ball handling and shooting may surprise everyone. Jenna Paul is one of the best shooter in the state and Johnson is an excellent 3 point shooter. But what may surprise people are two things. Bisogno is a much improved shooter and Freshman Sydney Howell without question can shoot the three. They also another little secret. This team is not going to have any problems rebounding…BISOGNO REBOUNDS LIKE A FORWARD. TRN is not going to give their title away. They also have pride and  value their pre season state ranking.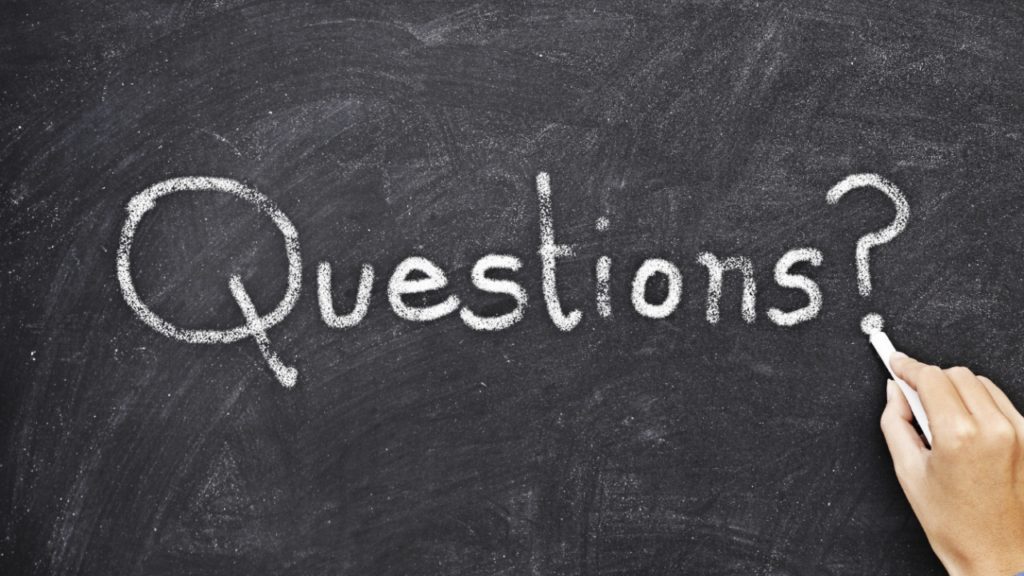 There are many questions, first like just about all Ocean teams. TRN is made up of two sport players. Most of the players on TRN roster don't train or play high level AAU basketball. It should not affect them in the division. But once outside it can become a issue. Next who are the 4th and 5th starter? What's the plan if anyone inculding the role players get into foul trouble? The weak schedule will allow them to gain valuable experience. But will it get them ready for Jackson Memorial? Finally how many box and ones and tri angle and 2,  do you think they will see? What's  the game plan for that? Coach GILLEN has her hands full.

There is no question JACKSON MEMORIAL will be coming at TRN with guns blazing this year. Coach Rachel Goodale returns almost her entire roster. She has two possible D1 players and  a roster of experienced players who all want a ring. Last season JACKSON  knocked off #10 state ranked TRN. This year they hope to sweep them. This is a deep talented competitive team. Toms RIVER EAST  gave everyone fits and will be looking to surprise everyone this year. They have two All DIVISION players.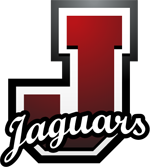 2017-18 Record
Coach- Rachel Goodale(sectional title Ring, TOC appearance)
Overall- 21-4
Conference- 12-2
This group has it all, shooters, ball handlers, rebounders and even size. They have a 1st Team All Freshman player, possible D1 players, and  4 All Division players. Last year they finished in the Shore Top 10 and surprised everyone with their big win over TRN. They are led by the THE FAB FOUR….GIADANO, EVANS, DONZA AND CAPUA
THE STAR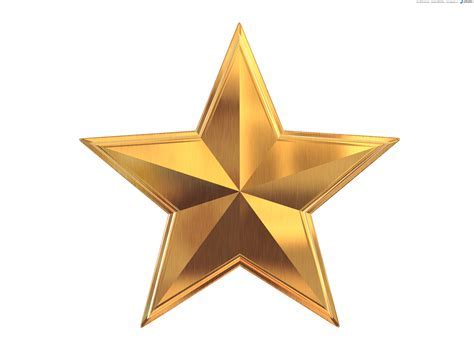 There is no question who the star of this team will be this year. BIANCA GIORDANO is the key to everything for JAX MEM this season. Her ability to find teammates and elevate every players game on the roster is exceptional stuff. She is the best passing guard in the entire state of New Jersey and last year averaged  8 assists per game. But it's not just the passing. It's her ability to raise the energy level for her team and fans. She could be the most  dynamic guard in the Shore. What lost is that she is a deadly long range shooter. Yet her biggest asset is her ability to raise her came against real competition. It was she that made all the right plays vs TRN and in every other big game. She knows when to score, witness her multiple double/double games. Where talking assists and points. Despite her size, she averaged 4 plus rebounds a game. She accounts for more points maybe more than any player in the division. She trains at NBS a highly competitive environment we're just about every elite point guard in New Jersey trains and she takes a back seat to none…this is a mega competitive guard and she will not just make a run at ALL SHORE, but divisional PLAYER OF THE YEAR as well. The junior is actively being recruited by D1 schools. She is the key to JACKSON MEMORIAL's fortunes.
DANI EVANS the senior will try to put a ribbon on the Evans sisters  Legacy. The 6'0″ Evans signed with NJIT this fall and lucky for them. Evans has improved every season since joining the program. This summer she showed just how dominant she can be, with monster preformances. Evans has the ability to dominate and take over games with her shooting and scoring ability. Her numbers last season were eye popping for a player who gets little credit. She was a walking double figure scorer and had 7 double/doubles. But what may be the most interesting stat of all is this, Dani Evans the last 6 games of the year went on a rampage the likes we have not seen from her..25 points ..19 points…21 points ..and a 21 point 18 rebound preformance  in consecutive games. The summer for Dani Evans started late last season for the 2nd Team All Division player. This year expect Evans to have a monster season. It's not often a player averages almost a double/double and goes unnoticed named EVANS.
KRISTINA DONZA the powerful built swing player led the team in scoring last season with 13 points a game and 3 rebounds. DONZA is a physical force, who is a natural scorer. She scores in transition and off tough drives to the rim. She makes a living at the free throw line on a nightly basis. While she is not know for three's she  had  multiple  games of 3 three's or more and a high 4 in one game. She is a tough gritty defender who is willing to give her body up.  She is a remarkable consistent scorer. Her high game last year was 22 points and she scored in double figures every game except four. She was named 2nd Team All division last season. Look for her to try and move that up one step.
RACHEL CAPUA was a hidden gem in the freshman class a year ago. She was named to THE HOOP GROUP ALL FRESHMAN 1st TEAM.  She  announced her arrival to the shore on game one with show stopping 12 point, 6 rebound, 5 steal and 3 asst game. The freshman led the team in scoring with 15 points a night. But it as much more than that which made her special. She did something  no Freshman is suppose to do, improved her numbers against the best teams and players. Her preformances in games against top teams are mind blowing. In her first game vs TRN, she had 23 points and 7 rebounds. Then against Top 10 Donavan Catholic she had 16 points, 6 rebounds and 4 assists. Last year during the season she had a run of 17, 22,25 and 16 on top of all that. Nobody walks to the free throw line more. Newsflash folks no freshman in the state had a run like that last year. CAPUA  if not for Destiny Adams may have had the best freshman year in the Shore She was All Division 2nd team as a freshman last year
HALEY PITLAK the senior could play a huge role this season. She has logged a lot of minutes over the years and shown she can be counted on. She is an excellent rebounder and is capable of scoring. She had a season high of  8 points last season. But if you look at her history, you will find some interesting facts, like a 17 rebounding game as a junior and a 13 point out burst vs no other than TRN. She could be a real wild card this season
ABIGAIL RESIST the senior will be expected to provide help on the boards. She is a capable scorer and defender. She gives Coach Goodale a reliable, experienced defender in the lane.
ALLYSON VELLA is another active body Jackson Memorial can run out and wear opponents down with . She is the perfect compliment to the FAB FOUR. She will get down and gritty and doesn't care about stats.
MACKENZIE DAKIN saw action in 19 games last season. She will continue her roll as a energy player off the bench, providing defense and smart play. She scored a season high 8 points vs  Central Regional. She is a lock down defender and  will be eager to take advantage of her added experience. She could be even more of a asset.
ZOE HOLMES AND NATALIE KNAULF the Sophmore and junior both return from injuries from a year ago. This is bad news for the rest of the division. Both are impact players who will give Jackson more size and depth coming off the bench. Both are highly competitive and will be looking to make there mark.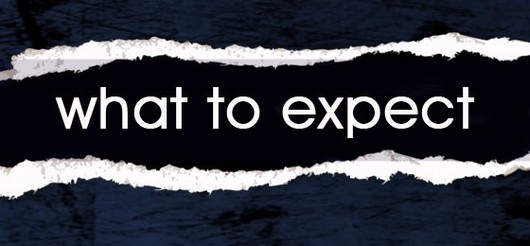 The Fab Four are just that. They can score and more importantly in a variety of ways. They all at any point take over a game on offense. They are an elite shooting group and deadly from beyond the arc and brutal at getting to the rim. They take a ton of free throws. They play fast and will once against put massive pressure on opponents transition defense. What people may be missing, is while the Fab 4 are doing most of the scoring. Jackson has a  lethal set of role players willing to do the dirty work. The Jackson bench got longer, more athletic and seasoned from a year ago. Finding fresh talented experienced legs will not be an issue but rather an advantage. This team has all the makings of a Top 20 Team in the state and could crack the Shore Elite with a few breaks. This is a team that could take the next step.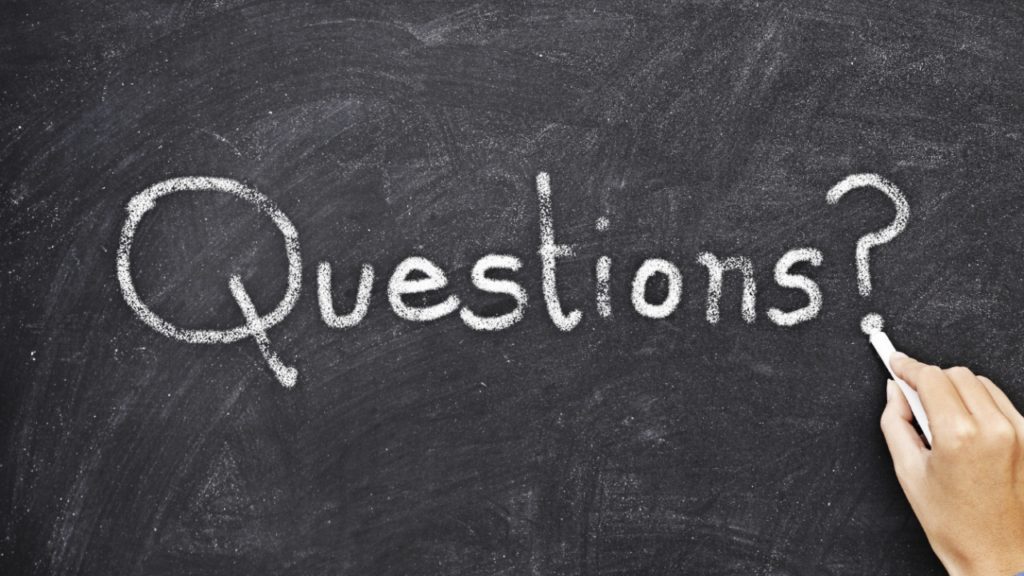 There are too many questions to list, none bigger that what's the big goal? If the big goal is to dethrone TRN in A SOUTH, they are right on track. If the mission is to join the Elite and get a signature program win in say the SCT. That's another story. While Jackson does have the tools in place to take out TRN. To join the big girls they needed a different approach in the fall. They could have taken a page out of the Manchester play book. It would have been wise to play and train against Elite competition. With expectation of Dani Evans and Bianca Giadano this group has avoided such competition. They could pay heavily for such discretions, if they run into a top team at some point. Next what does the schedule look like? Playing better competition may result in more loses, but could toughen this team up. If Giordano is lost for any reason, who is running the show? But lastly and easily the biggest question of all…can they step up the defense? they gave up a jaw  dropping 68 vs Donavan Catholic in the SCT?
TOMS RIVER EAST is sitting in the ulitimate Spoiler Alert seat and something tells me they think they can steal the division. Last year they went 18-5 and 9-5 in the conference. But on further review you realize they were a stone throw away from a mega season. This is a team that LOST 5 GAMES BY 4 POINTS OR LESS…now listen to this. TRE lost to the two favorites last season by scores of 48-41 vs JAX MEM and to TRN by 14 points. Hence why TRE might like everyone not paying attention to them. What aficionados also might be missing is TRE are returning 7 players who played real minutes and gained real confidence.
THE STAR
KAMRYN LISTER was 1st Team All Division and had a breakout season. Lister averaged 13 points and over 7 rebounds a night. She had 8 double/doubles and 15 games of 8 rebounds of more. But I guess sneaking up on people is a TRE thing because in the summer, she played high level AAU with the Jersey Warriors and had a big summer. She has quietly become one of the best, not only in Ocean County but in the entire Shore Conference as well. I would not count her out. She is a leading candidate for divsisonal POY. If TOMS RIVER EAST  has any dreams of shocking the Shore basketball community it's going to all start right here. She can score in countless ways, in the post, off the bounce or the three point line. A physical defender and warrior who plays on both side of the ball. LISTER IS NOT GOING TO MAKE IT EASY ON….ANYONE.
JORDYN MADIGAN is not a household name but she was 2nd Team All Division last year and here is a little secret. She will one day sign a college scholarship and here is why. Last fall she too was very sneaky and trained with and against elite competition. She proved first, she can stand up to that level of competition and two improved her game and competitive nature. Not that needed much help. Last season, she averaged just under 10 points, 3 steal and 3 assists as a Sophmore. She will build on that this season. What the box score won't tell you is her all out pressure defense with a next level toughness. She is a two legged pit bull. Last year against Shore Top 10 team on consecutive nights had 18, 14 and 18 vs Middletown South, RBR and Donavan Catholic. MADIGAN will give TRE somebody to lean heavily on all year. She has improved each season and more importantly this fall.
NICOLE PLATTEN  is another on of TRE's sleeping gems. Last year as a sophomore, she average 5.3 points a game and 4.2 rebounds. Now throw in the 30 threes and now she has your attention. But what she really makes you step up is this..15 points and 4 rebounds vs JAX MEM and 13 points and 7 rebounds in the state quarterfinals win. This season see could those numbers rise and that could be a real problem for the two favorites. She has had double figures rebounding games and could be another game changer for TRE.
EMILY MARIE last year she average 4 points a game. She is remarkably consistent game in and game out. You could write her in for 5-7 points in the book before the game started. She was very reliable and played a lot of important minutes. Now as a junior she will try and go one more step and if she does…watch out TRE becomes very scary.
ADRIANA HART is the classic perfect piece to this team. You see her stats and nothing jumps out at you until you dig deep. Like she has had multiple rebound games of six or more. She is a reliable scorer and has a ton of experience to boot. She had 13 points vs State Top 10 Mainland. She also had a high mark of 4 steals in one game and averaged 2 steals a game. She has done this all without a spotlight. This year she could be one of the reasons TRE could be the surprise team of the Shore.
MORGAN HALL AND JENNA LOZZI if the term every little thing counts, then these two seniors will have to do there part. Both will need to provide energy and play mistake free when called upon. While they have not played major minutes. They have been around and know the drill. TRE will need all hands on deck and these do can help.
SYDNEY LORENTZEN the returning freshman from a year ago, will try to do what all freshman in year two do. Try to earn more playing time. She saw action in 14 games season and scored in 11 a good sign and something to build upon.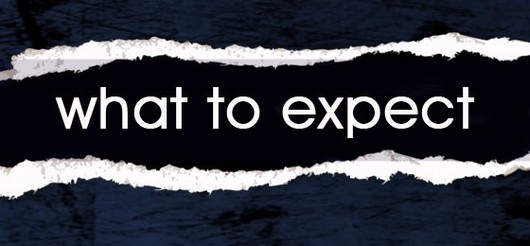 This team is not a team you should dismiss. They have scorers and two of the best players in the division. They have played a lot of tough games. It is clearly a battled tested unit. If they all step up as a group. They could not just shock everyone. Dare I say contend for  and win the division . They are not that far away.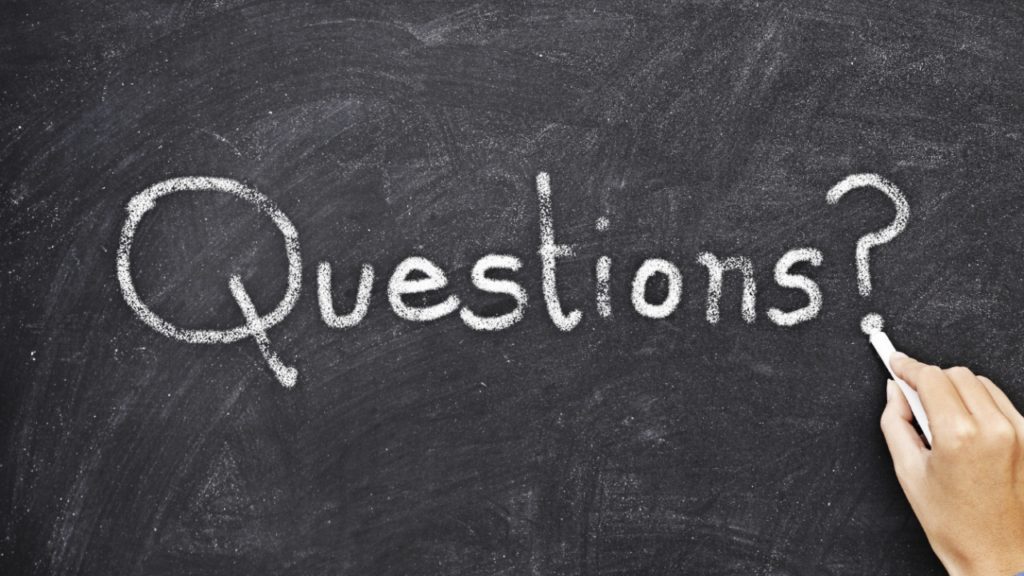 Have they learned from so many close losses last season? Was it enough motivation to get them in the gym in the off season? The big question is can they get over the top. Split with the two favorites and go  unscathed though the rest of the division? That would be a massive accomplishment. But this what TRE is facing if they want to be a player in A SOUTH.

This is a tricky division for many reasons.  First the two best players play on one team at TRN. But their supporting cast is either too young or inexperienced. But the two stars are a level better than anyone in the division and have played high level elite basketball forever. The third wheel is also a proven player. The team with best chance to beat them have 4 very talented players and 2 D1 players as well. So is the question is can 4 beat 3? Who cares because the  real  question is can 9 beat 3; JAX can go 9 deep. But there is a serious wild card. I believe TRE is beating one or both of the favorites. The question is which one…I say TRN's competitive nature over the long-term win's out…TRE plays the ulitimate spoiler roll and trips up Jackson…TRN WINS A SOUTH 
2018-19 A SOUTH AWARD WINNERS
Coach of the year- Vikki Gullin-TRN 
Player of the year- Jenna Paul- TRN
Freshman of the year- Sydney Howell- TRN
2018-19 Pre Season A SOUTH All Division Team
Brielle Bisogno-Sr-TRN
Kamryn Lister-Sr-TRE
Bianca Giadano-Jr- Jackson Mem
Dani Evans- Sr-Jackson Mem
Rachel Capua- Soph- Jackson Mem