Tonight in Holmdel, one of the two best teams these eyes has ever seen; will gather. The TOC AND SCT Championship rings will be handed out to the 2016 SJV team. There will be hugs, tears and smiles. But more than anything else it will be a reminder, that this group is tied to the hip forever. There is also something else this group, will do tonight. Remind all of us, that ego should never be more important than team and being your best.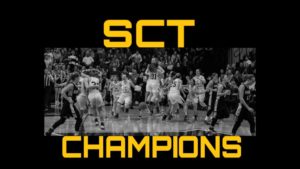 These days hype is more important that reality. It's that way in almost every walk of life. When the 2016 SJV players get there rings today, it won't be hype, it will be fact. The seniors at SJV a year ago with exception of one are all playing in college. KEY WORDS…THERE PLAYING. All SJV players, play right out the gate the moment they hit a college campus. Good luck finding any SJV player that didn't make a impact in college from day one. They become Captains, Players of the year, All Conference and All Rookie. Would you like to know why? Because of one person… Dawn Karpell. Nobody prepares their kids for college like Coach Karpell…NOBODY. It's been this way for years, look at what All HER SENIORS FROM A YEAR AGO ARE DOING…there have been off the charts at the D1 level though the D3 level.
The SJV formula is simple. It's called respect and at SJV everyone respects each other, from the 1st player to the last player on the roster. Everyone is part of the team. Everyone has a role and everyone has to earn there way. The role players at SJV, don't just play in the blowouts. They play in the real games, Dawn Karpell is not a phony who tries to trick kids to believe she has their back. This philosophy is what separates SJV from every other team. That and the fact that she plays the best competition of any school maybe in the country.
Tonight KIMI EVANS will get her 1000th point. It's a honor for any kid to score a  1000 points. You become part of history. But when you score a 1000 points at SJV it's different. It's different because those points are as REAL AS IT GETS. Dawn Karpell's kids are ready for college for one major reason…they play in practice and in games against the best competition on planet earth. Ever notice a freshman who enters SJV and then see them 4 years later? They are always 150% better. It's the SJV way, play the best, do your best and let the chips fall where they may.
Tonight nobody will talk about the sacrifice that St. Peter's foward Zoe Pero made moving so she could play at SJV. Nobody will talk about that fact, she would've started at every school in the state except SJV and never complained once. Nobody will talk about how LIU forward Gigi Caponegro never got the credit she derseves. Yet never once put herself ahead of the team. Nobody will talk about how everyone thought Tina LeBron of Caldwell would never play at SJV and became a superstar. Nobody will discuss the pain Kelly Crouch of Wagner had to endure losing her senior year. Yet went to every game…ALL SEASON. Nobody will discuss how the GREAT Vanessa Pinho turned the lights out on soooo many guards playing D1 or will be. She was under appreciated every step of the way. She is on the Mount Rushmore of great kids. She truly PLAYED for her teammates. She could've played in college. But decided to just attend Penn State and go to school…I LOVE EVERYTHING ABOUT THIS KID. Nobody will discuss how Depaul's Kelly Campbell went from a little girl to a women and became one of the best in Shore history. More importantly she learned how to lead and be more than a great basketball player. Nobody will discuss how Haverford's Megan FURCH stayed at SJV, when she could have left and been a star just about anywhere else. Nobody will discuss how Kimi Evans was a mega star and not once felt the need to steal the spotlight from the seniors. All these young ladies made sacrifices for each other. The kind of sacrifices only CHAMPIONS MAKE..
This year a group of girls who were role players last year or who played JV will keep the SJV tradition going. My guess is they are going to be the team to beat come SCT time. Do you know why?  Because these are the girls who decided to attend SJV, a place were you must earn everything. Rather than take the easy road, where you feed you ego with bogus stats and competition. While not fulfilling your talents to the fullest. These kids took on the challenge of being the best they can be. There are parents and kids out there who are afraid of SJV. Where there are no promises made, no superstar is treated special. Where being in the starting lineup is not a birth right…nothing is given. It's how they live at SJV, it's there culture. This scares some kids, they want guarantees before arriving. I asked Dawn about a star 8th grader last week. She said "Tiny we don't want them unless there competitive…no promises. "She says they just have to understand "if they work hard and get better it always works out"…just ask every single senior on this years SJV team..they all are off to college next year. Ranging from D1 to D3…and the only one who started last year was KIMI EVANS…SJV IS A DIFFERENT PLACE.
So tonight it really will be finished business for the 2016 SJV team. They took on all comers, they took everyone's  best shot along the way. They took on everyone's "A" game. They took on every superstar player. They played against every style of play and every superstar coach…..AND THEY BEAT THEM ALL…EVERY SINGLE ONE OF THEM. We will never see a team like this again in my lifetime. After receiving the rings and hanging up the banner. They will be nothing left, except a bond that can never be broken.
Some will get married and have kids on day. They will tell stories to children about last year. SHORE faithful  will tell stories about the  great plays and battles. Fans of the program will talk about the wonderful moments. Everyone will discuss the friendships that developed. Parents will remember  the sad times and good times along the way. The coaches, players and trainers will remember the bus rides and big wins, 50 years from now..it will be as crystal clear in there minds as it is today. The only thing separating 2016 SJV TEAM from others telling old high school war stories will be this, their stories will all be true…they won't be stories at all, they will be fact. We are all now witnesses to a once in a lifetime team. This greatness will gather a take a bow tonight, certainly not for the final time. There will be many reunions over there lifetimes. The Hall Fame reunion will come soon and media types will call when discussing the great teams ever. Because Remember,  greatness lives forever. Tonight the 2016 SJV TEAM,  are just taking their place in history. This was a special group group…but SJV IS A SPECIAL PLACE, WITH A CULTURE UNLIKE ANY OF PLACE!