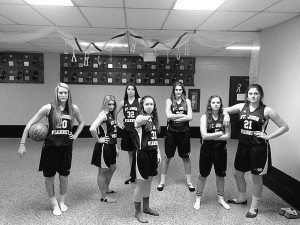 When the  season started the big question was could anyone beat SJV? Then Kelly Campbell and Kelly Crouch both went down with injuries and there was real hope across the state. SJV was ranked 4th in the country. They went down to play in one the best high school tournaments in all of America and lost a game in OT. This gave everyone REAL HOPE. Then Manasquan with Kelly Campbell back lost to SJV in OT. Then two weeks ago Morris Catholic took SJV to the wall before Tina LeBron kissed them nite, nite with a game winning three. Everyone started saying SJV was beatable….THAT WAS TWO WEEKS AGO!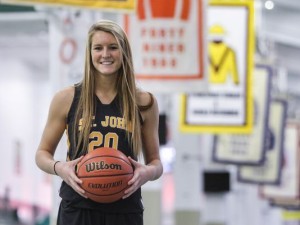 The most unselfish player in the gym
Yesterday SJV showed the world what they can be when whole and a couple of weeks of practice under their belt…and that is one of the best teams in shore history. Yesterday Kelly Campbell showed us what a big time point guard looks like on a big stage. Kelly reminded us of General Patton. She ran her team to perfection. She knew when to turn her team loose,  when to slow them down. She made finding her shooters a FIRST priority and then got hers when it called for it. She got her post players involved and keep everyone nice and happy…Kelly Campbell was the most unselfish player in the gym last night.
Evans and the Money Team…were CASH!
The GANG OF THREE, Zoe Pero, GiGi Caponergo and Kimi Evans proved once and for all…NO FRONT LINE is in the same world. They dominated the backboards, shut down the lane and scored. Caponergo shot jumpers, drove to rim, made sweet passes and played defense like a wild women. She was in one word SENSATIONAL…Zoe Pero came flying off the bench with energy and physical play. She manhandled anyone near her. She ran the floor and keep so many balls alive on the glass, at times it seemed UNREAL. Kimi Evans in the 2nd half was UNSTOPPABLE . If there is any doubt if she can shoot with her left hand it was answered last night with 3 of the sweetest post moves you will ever see with a weak hand. If there was any doubt who is the best post player in the state was…we can now stop debating.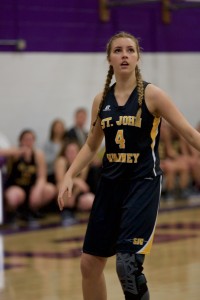 Dobrzynski led the BENCH MOB!
The SJV bench and shall we call them the bench mob? Are flat out killers. Vanessa Pinho, Sara Karpell attacked the rim all night as if somebody stole their money. They showed no fear or mercy and were relentless. They keep the offensive pressure on at every turn. They never allowed RFH to catch their breath. Courtney Dobrzynski came off the bench and right away went right to the rim for what at the time was a back breaking basket. Megan Furch, came in and at the first chance dove on the floor for a loose ball. Julia Ramos  came in and promptly out hustled anyone and everyone on the court. She drove and made a reverse layup, she then sprinted back as if to say "that was nothing lets play" and that's what TINA LEBRON DID ALL NIGHT LONG.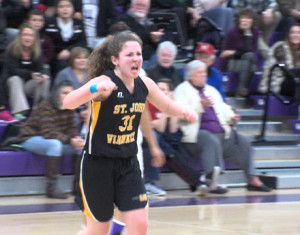 TINA LeBron was a G.O.A.T ALL NIGHT
Tina Lebron does not have a big rep…she is not going to a D1 school. Her name doesn't come up when people discuss the best 5 players in the shore. But Tina Lebron showed last night that reps don't mean a hell of a lot once the ball goes up. Its about performance and nobody was better than the "heartbreak Kid" Tina Lebron who broke Rumson's heart and soul over and over. She opened the scoring with a three and her final three of the night sent RFH into LALA LAND. She had 5 on the night but it was the other stuff like the first pumping, extra pass and the defense on the RFH guards that made her special. Yes Tina LeBron may not have a big rep…but she does have a spot on my FIRST TEAM ALL SHORE list right now.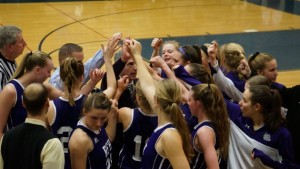 RFH HAD NO ANSWERS…ON THIS NIGHT
Sometimes you just have to tip your hat to your opponent and say..YOU WERE BETTER TONIGHT. Yesterday Dawn Karpell threw her entire roster at Coach Sourlis and crew in the first half playing 10. RFH tired it's best to match SJV and Sourlis went  9 deep. But in the end SJV's pace of play, pressure and bench intensity  was simply overwhelming. They say speed kills and SJV proved that last night. There pressure sped RFH up and RFH could never get their pace of play under control. RFH who had been taking care of the ball in recent big games,  turned the ball at a shocking rate. Some forced and some simply out of fatigue. Early the ball was in Morris's hands, but she had a full time job on her hands with Campbell. As she tired, it forced other RFH guards and  players to have the ball in ther hands. This led to over dribbling, inability to get into sets and turnover after turnover. Coach Sourlis had to know unless he had a 2nd Nicole Morris hidden away, their was no answers and SJV led by 9 at the half.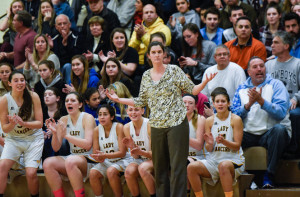 She was down right cruel last night!
The start of the third Dawn Karpell went straight up Medieval on RFH. She quickly had her team run out of the huddle as RFH was still meeting. Kelly Campbell yelled to Tina Lebron and banged both fist together, as if to say…DID YOU FORGET? It's called leadership you young point guards; well RFH was still meeting.  Then a smile, a rather sneaky smile came across the face of Tina LeBron as she walked from the sideline to the box. Then as the ref put the ball in play, SJV ran the old elevator play. RFH never saw it coming, one of the oldest plays in the book,  caught everyone and RFH off guard.  Tina LeBron went BANG for three and just like that  RFH was back on it heels right out the gate. Because SJV kicked up its pressure and RFH returned to it's old ways….over dribbling and five second counts, refusing to kick to shooters, not closing quarters, rotation issues and  most importantly they lost their team identity….DEFENSE!
She's BAACK…and was not very nice closing the 3rd
Late in the 3rd RFH cut it to 5 and had the ball.  First Nicole Morris hit Syd Sabino for a wide open three…she missed. But Hannah Scanlan rebounded the miss and found the other great Rumson shooter, Katie Foos who too was wide open…she missed. RFH's best chance had just passed, because while the RFH shooters were missing, Tina LeBron was playing string music with her 2 made three's to keep RFH at bay. It was then that RFH found out old habits die hard and RFH panicked. Their rotations got shaky and they forget how important closing quarters are, so instead of being down 5 or less…SJV closed the 3rd up TEN as Kelly Crouch in a cruel act in her first game back…Hit Kimi Evans with a sweet pick and roll pass at the buzzer. It was a reminder to everyone…SJV has weapons that never stop coming at you… and nobody knows this better than RFH this morning. OH yeah about that question, can anyone beat SJV?…WELL FOLKS THAT SHIP SHE HAS SAILED, now it's time for opponents  to think about better days gone by… when beating SJV was a real possibility!
The 4th quarter was academic as SJV shut the lights and crowd started emptying out with 2 minutes to left. There would day no exciting finish, this was clean, efficient  execution in the RFH house and trust me they won't be alone in the coming weeks! …
Earlier in the day Dawn Karpell posted a video on twitter… for all her kids to watch and it says more about SJV than anything else….pay attention folks and listen carefully to the lyrics….because it's the only way SJV knows!