She turned the lights off on opponents almost every night and against every level of player. It did not matter if that opponent had a big reputation or no reputation at all. She was the grim reaper of Shore CONFERENCE basketball all season. She made no distinction of an opponent's position; she locked down guards, forwards and centers. The easiest choice of all the post season awards this year was the DEFENSIVE PLAYER OF THE YEAR, because PAYTON "DARKNESS" SMITH was the one player nobody wanted to see when playing St. Rose.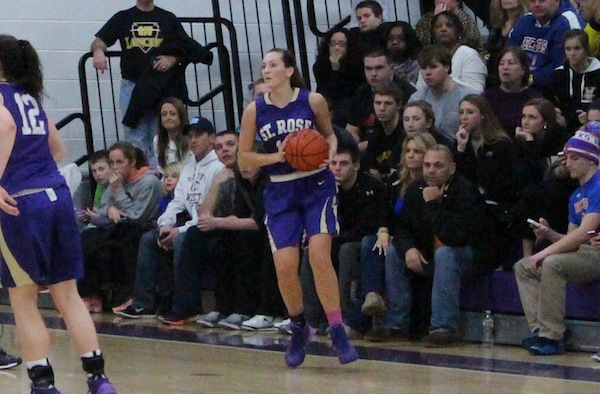 2013-14 DEFENSIVE PLAYER OF THE YEAR WAS A NO BRAINIER
When St. Rose played Gil Bernard in the State semifinal earlier this week, I saw something that made me chuckle. Payton Smith was guarding stud point Jasmine Sina of GSB. She hounded the future D1 guard all half and Sina no doubt was feeling the heat. When all of a sudden while moving around the 3 point line late in the first half, Payton Smith slipped…Almost as if on cue the GSB players fired the ball to Sina who buried her first bucket of the half. The look on Payton Smith's face was one of disbelief; her expression was one of shock. It was as if she said "how dare you" shoot when I fall. St. Rose went into the locker-room with a comfortable lead at half, but you could tell Payton was not happy. At the start of the 2nd half GSB in-bounded the ball to Jasmine Sina who dribbled to half court and that is where "Darkness" appeared in front of her… Payton Smith stripped the ball from her and drove the length of the court for a easy lay-up…Great defenders have enormous pride and nobody take more PRIDE in their defense than MISS SMITH.
"I TELL HER SHE GETS NOTHING TONIGHT AND THAT'S EXACTLY WHAT SHE DOES" Joe Whalen discussing his defensive philosophy when giving Payton Smith her defensive assignments before each game. It's a pretty good philosophy… if you can find a player that can execute it! I was at the Academic Elite this summer with over 60 college coaches, watching some of the best students perform during the summer recruiting period. When all of a sudden a young lady grabbed my attention as she got defections, steals and rebounds over and over and OVER. I was blown away by this young lady. So I went over and asked her "What's your name" She said "Payton Smith". I then asked where she went to school and she said St. Rose! This folks shocked me, because I like to think I know all the best players from the best teams in the Shore Conference. Well in this case I missed one big time, you see Smith doesn't train with me nor did I go to many St. Rose games due to their light Schedule last year. But one thing was crystal clear to me…Payton Smith was the real deal and somehow I missed the boat on her and a lot of college coaches were and still are in that boat with me.
When you talk about what makes a great defender 3 things come to mind for me. First the player has to be able to guard multiple positions, while giving help defensively. They must be physical without fouling and lastly they must rebound and for guards that means 50/50 balls. When St. Rose defeated then top ranked SJV at Battle of the Boardwalk, Coach Whalen turned Payton loose on the smaller SJV guards, Payton got physical with them and she contested every shot and she wore them down mentally. The result was she pitched a shutout vs the SJV guards in the 4th quarter, when it meant the most.
Against Franklin and Star Player and highly recruited Adriana Miller, Payton Smith chased and harassed her like she stole money from her purse. Franklin ran the star forward off screen after screen to no avail and then with time winding down "DARKNESS" ARRIVED for the then #3 ranked Franklin team as Payton Smith forced Miller into an off balance shot that did not hit the rim in their final attempt to tie the game. This was just the start of what we would see all year from Miss Smith. Against RFH she guarded what seemed to be every player on the RFH roster. She allowed no player on the Rumson team to get going all night in the SCT semi-final.
It's been awhile since we had seen a player have such an impact on the game from the defensive side like Payton Smith. We have seen great on the ball defenders, great off the ball defenders and great defenders in the post. But Payton Smith does all of these things. Her ability to help and recover is crazy at times. Most "so called" great defenders only care about that star player they are assigned to that night… NOT Payton Smith. She is like a roaming black cloud that hovers over everyone. Her ability to rebound and defend is flat out the best in the shore. While many great defenders can guard a player, rare is it that defender can go do other things such as get on the glass, most fear losing their girl. This does not apply to Payton Smith, because she fears NOBODY!
Defense is about Pride and giving up personal accolades for the overall goal of winning. Nobody has understood that more than Payton Smith. You see, defense does not show up in the newspapers and it does not win you personal awards, but what it does do is WIN GAMES and I'm talking a lot of games.…St. Rose has won a lot of big games this year and great deal of the credit has to go to the best defender in the BEST conference in America…..THE 2013-14 SHORE CONFERENCE DEFENSIVE PLAYER OF THE YEAR….PAYTON "DARKNESS" SMITH.
THE 2013-14 ALL SHORE DEFENSE TEAM-
*I decide I would pick 3 guards and 2 forwards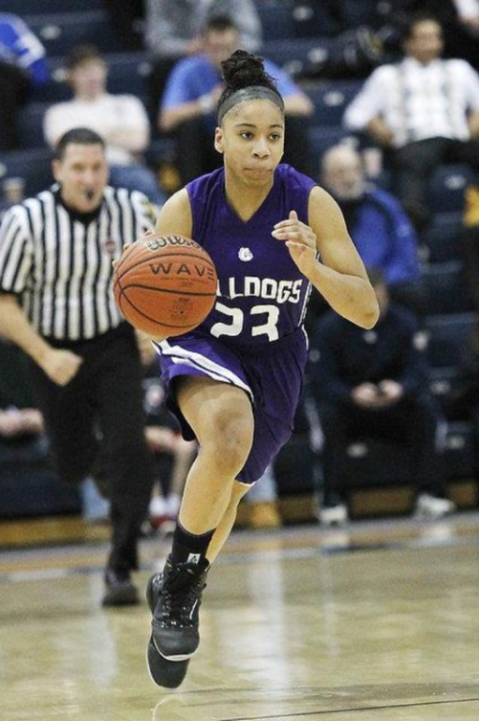 JANAE MAYFIELD WAS NAMED TO THE ALL DEFENSIVE TEAM
FIRST TEAM
PAYTON SMITH– SENIOR-ST. ROSE- Small forward
LORENA HUBBARD-SENIOR-ST. ROSE-Center
JANE MAYFIELD-JUNIOR-RFH- Point Guard
GIGI CAPONERGO-SOPH-SJV-Power forward
STEPHANINE KARCZ-SOPH-MIDDLETOWN SOUTH-Shooting Guard