The SJV season came to a CRASHING end yesterday. But yesterday's final game told a story far bigger than one lost, in one game… in any one season.
"Her kids just seem more prepared for College" Former Rutgers Asst Coach and current UCSB Head Coach Carlene Mitchell.
When most think about SJV, they think about all the talent that has come through the program in recent years. But what most don't talk about is the insane about of success her kids have in college. Missy Repoli All Freshman at Colgate; Arron Zimmerman All Conference at American; or her current Asst Coach Apo, who was player of the year at Sacred Heart University; just to name a few. You see, Dawn Karpell's kids go to college and kick ass….all of them! Go check out what her kids are doing in college these days. Go look at what kids like Katie O'Reilly or Lindsey Rowe are doing and then just shake your head in amazement. DAWN KARPELL turns girls into big time basketball players…and into WOMEN.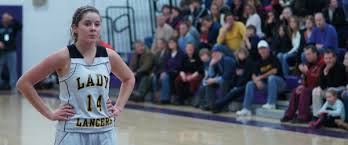 Lindsey ROWE IS CURRENTLY STARING AT WAGNER
I had dinner with a Division one Athletic Director, who was looking to hire a coach. She asked me who I thought would be the perfect fit. I told her Dawn Karpell just may be the best young coach I know. I told her Dawn would turn around her program right away. I also told her don't assume she would even take the job. I called Dawn and told her that she should consider this job. Her response was she loved her current group of kids and right now it had to be the right job for her to leave, plus she was having her 3rd child. You see Dawn Karpell understands what building something and taking care of it means. She also understands her SJV kids need HER! I know she hates when I talk about jobs, but anytime an AD calls me, she is the first name I mention. Every year coaches call me looking to hire asst coaches and the first thing I say is this….TRY AND GET DAWN KARPELL….BUT GOOD LUCK!
When SJV played St. Rose this year, it was the biggest and most important game of the year for St. Rose. When Manasquan played SJV it was the biggest and most important game of the year for them. When RFH played SJV it was the biggest and yes most important game of the year for them. When anyone plays SJV it's the biggest and most important game of the year for them. SJV kids get this and so does Dawn Karpell; she knows that every opponent circles SJV on their schedule. But that's exactly the way Head Coach Dawn Karpell likes it, because nobody challenges their kids each year the way Dawn Karpell does. She will play anyone, anywhere, anytime. Most often her team comes out on top and when they do lose …nobody part of the SJV PROGRAM MAKES AN EXCUSE and it's been that way for four years running.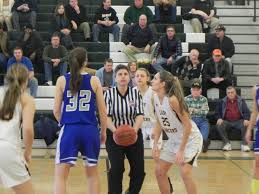 EXPECT GIGI AND SJV to continue JUMPING ALL OVER opponents FOR YEARS TO COME.
Yesterday SJV played without the heart and soul of their basketball team, Katie Beriont. The senior who was chosen to the coaches First Team All Shore Team has been great all year. More importantly her size and toughness cannot be understated. But most important is that Beriont is a senior and has been through the wars. Yesterday SJV didn't have that experience they could lean on to have saved them. But what made yesterday more painful is this….Last year SJV looked like it was going to have a special group. They had the best incoming freshman class; Lindsey Rowe and their leader POY candidate Kate Egan, who currently is at Seton Hall. SJV was going to be a rough customer folks. But during a game in the middle of the season, Egan got hurt and was lost for the season. This was shocking and many people including yours truly thought SJV was done. So much that Dawn Karpell texted me and asked me to stop writing about the Egan injury. Dawn is not about excuses and didn't want her babies to feel they couldn't move on without any one player. She was right. Lead by Lindsey Rowe and the "babies", SJV made it to the SCT finals. When they lost, what did people say? Not what a great run by SJV…nope! All they talked about was how SJV lost….talk about a backdoor compliment.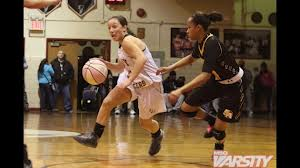 SENIOR JACKIE GALLAGHER WENT FROM SOFTBALL STAR TO BASKETBALL STAR
Now you would think the past two years was enough to send any coach over the edge. But in the case of SJV, we are just getting started. It was 3 years ago when star transfer and current Wake Forrest Freshman star Jill Brunori showed up on the SJV campus. First Dawn had to listen to all the talk about how she recruited the South Carolina star. Nobody cared to mention that Dawn Karpell did not know the young lady or that her mother was from New Jersey, and smart enough to send her to one the best coaches in the state. Those details don't matter when it comes to SJV. Well when Jill Brunori showed up at NBS for a workout, the first thing I did was call the Rutgers staff and say you better get over here and see this kid NOW(I also called a couple of mid majors too, they thought she needed work…LMAO… can you say KATIE SIRE, COACHES). It's no surprise what she is doing at Wake Forrest these days. But what she could have done for SJV is a whole different story. SJV had what looked like an unbeatable team. Brunori gave them something rare in talent; quickness and size. The only problem is in the middle of the season she got hurt. This had to sting, because Dawn may not admit it but she put a lot of energy into making sure Jill would fit nicely into her program. This folks was not the start of SJV's bad luck, because the year before Brunori, it was even more heart breaking.
Four years ago the shore had 4 teams that were let's just say …we many never see the likes of again. RFH, Colts Neck, Neptune and SJV were loaded. All had a real shot at winning the SCT and the TOC. It was a toss-up folks. They all could make a claim for being the best team in the entire state. All were loaded with major college players and POY type candidates. To give you an idea, these 4 teams have 23 kids currently playing or signed at a Division one school. Let me repeat that! 4 teams with 23 division players! SJV folks mid -way through the season looked like they would be the team to beat. But then the heart and soul of SJV, lone senior and arguably their best player Theresa Manigrasso, who would go on to make the MACC All-Freshman team, got hurt and with that went a SCT and a 2nd TOC title. Now Dawn Karpell would tell you, none of these injuries are the reason they lost late in the season…I will tell you she is wrong…DEAD WRONG.
Through these entire tough BREAKS… Dawn Karpell has never made an excuse why she hasn't won a 2nd TOC or a first SCT. People will say she has more talent than everyone else, but fail to mention NOBODY DEVELOPS or uses their talent more. How many times have you seen talented kids sitting on the bench or more importantly regress as players. Dawn knows each year is different and keeps moving forward. She laughs about how she is recruiting kids. People, let me clear this up once and for all… I know almost ALL the Top kids in the Shore Conference and I know where they are going in most CASES before they are in 7th grade. Kids and parents reach out to Dawn Karpell and her program because they know she develops kids, she plays a great schedule and ST. JOHN VIANNEY is a hot bed for college recruiters, because she has made it that way…that why kids go to SJV…People love to talk about the SJV talent. Well folks. How many high school coaches or fans wanted or cared about where Katie Beriont and Jackie Gallagher were going into high school 4 years ago? They're softball players' folks and guess who developed them into star basketball players? DAWN KARPELL.
What about Kat Egan and Lindsey Rowe? Who the heck knew who those two girls were coming into SJV? Nobody!!! But both developed into D1 players and nobody gave Dawn Karpell credit for developing those kids. In fact if the truth be told NOBODY expected either to play much at SJV. But you see when your good people, everybody thinks it's given to you on a silver spoon. Gigi Caponergo was a raw big kid last year. Now she has offers from Atlantic 10 school folks; she was on my ALL DEFENSIVE TEAM and tomorrow will be on my ALL SHORE TEAM. Who do you think is responsible for that? What about little know and forgotten Angelica Esposito currently kicking butt at College of NJ who won so many big games for Coach Karpell. It's insane. Who do you think was responsible for all that has happen to her? I can tell you it wasn't the fairy god mother… but Dawn Karpell. When Zoe Pero decided to attend SJV the hatters cried recruiting. OK here are the FACTS, she wanted to play in the shore since 7th grade, she planned on attending another shore school. BUT DRAMA scared her off, and she decided that maybe it was not a good idea, so she stayed in north jersey. Then this year she BEGGED her Dad to let her attend SJV. Her AAU teammates and best friends where at SJV and she wanted to play against the best with the best. Boy it sounds like Dawn had to really put on her recruiting shoes to convince here to attend SJV….NONSENSE and when she signs her D1 scholarship in 3 years folks will cry foul… but remember this is SJV.
I've known Dawn Karpell since she was a freshman at FDU, I meet her while I was coaching there, she reminds of my purple suit every chance she gets. Dawn was one tough hombre; she played so hard it made your teeth sweat. Her teams play the same way at SJV and she is not one for excuses, even when she has every right to make one. I remember coaching at FDU and losing to #2 Michigan in the NCAA tournament. We led the entire game and had 4 starters foul out and lost by 6. I was one pissed off human being. I blamed everyone except myself, because we were not prepared for that situation. Then a few years later we lost to #2 U-Conn in the NCAA by 4 and I lost my mind. After the game I ran over and attacked Bill Rafferty who was doing the play by play for CBS like a madman in the middle of the area, I said "did you mention Rip Hamilton was pushing off the entire blank, blank game" He looked at me like I was on crack or either from Mars and calmly said…"TINY HE HAD 35 POINTS, HE DIDN'T PUSH OFF ON EVERY POINT". You see I needed and excuse, because I couldn't believe we had just lost another close game in the NCAA. That's where Dawn Karpell is way bigger than me and a lot of other people coaching on the sidelines. Her team never lost a game by more than 3 points all year and she never gave us a WOE IS ME ANSWER…. NOT ONCE! So let me do it for her, wow woe is SJV!
The SJV kids are special because they have a target on their backs, but they don't let it sour them. They know there will be people jealous of their success and when they lose take joy in it….but they are ok with it. They don't make excuses, because SJV kids get what sports is about…WINNING AND LOSING…..oh yeah the babies will be ALL GROWN UP NEXT YEAR!
UPDATES-
ALL SHORE TEAMS WILL ANNOUNCED AT 6PM …TOMORROW
CORE SKILL TRAINING AT HOOP GROUP STARTS TUESDAY
POINT GUARD SCHOOL BEGINS MONDAY…young talented guards I urge you to attend!