I always felt RBC was a little different than most high schools. The location of the school, in downtown Red Bank, gives it this flavor of being in a mini NYC. Whenever I drive though Red Bank there is always a group students either eating or walking the streets. RBC, in my mind, is a really special place. It's a throwback to the good ole days when kids got excited to be part of something special. That's why Caitlin Conroy giving Division 2, U of Sciences, a verbal commitment should come as no surprise.
When you play for Joe Montano, like it or not, you always know where you stand and Caitlin Conroy has learned that in her time at RBC. "Nothing was handed to me at RBC, I had to fight for everything I got and that has prepared me for a great future. I learned that hard work and discipline as opposed to who I know and what they want to give me will be the key to my future success". The words of Caitlin Conroy, do you think this kid gets it?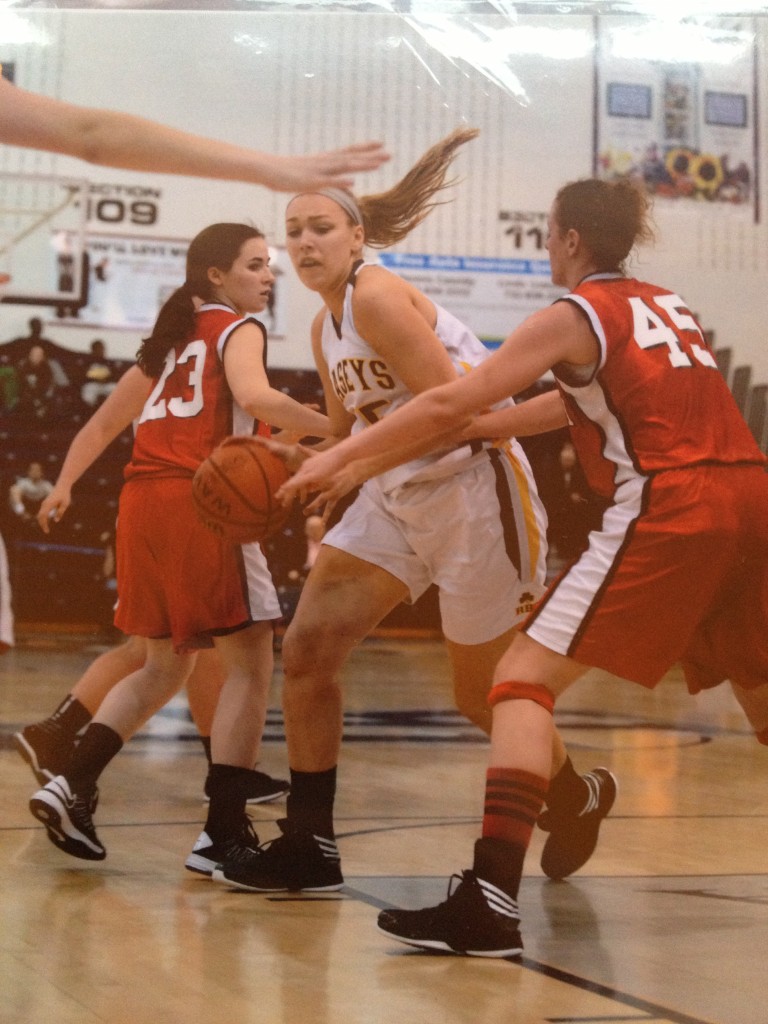 Caitlin Conroy has seen the good times and the rough times
I believe when you play at RBC you learn these life lessons. They are hard lessons to learn but ones that stick with you for a life time. In Caitlin Conroy's time at RBC she has been part of great teams and been through some hard times. She tore her ACL as a freshman and was on the undefeated RBC SCT championship team last year. She has seen the ups and downs at RBC. This year she saw an inexperienced, small but quick, RBC team hit the floor on most nights and didn't get the time she had hoped for, but she continued to work. When trying to be part of a team and at the same time chasing a scholarship, lines can get crossed, at RBC that rarely happens. Like it or not Joe Montano always stays true to his philosophy of doing what is best for the team and played a smaller lineup on most nights. But what Joe Montano also did was to encourage U Sci Head Coach Jackie Hartzel through E-mail "to come watch Caitlin Conroy practice and play". When I spoke to Coach Hartzel she said "Joe Montano was very positive and didn't hype Caitlin up, he simply told me, it was worth making a trip". Now that may not sound like too much to most, but here is why I love Joe Montano, he knows that credibility is everything. For a high school coach, there are always other kids down the road he will need to help and his credibility is everything. Joe Montano killed two birds with one stone, he gave a kid a chance and he didn't lose his credibility…THIS IS WHY HIS WORD MATTERS!
Laurie and Rob Conroy could have had Caitlin transfer schools when she found herself not playing a lot of minutes. But they understood that having Caitlin face up to a challenge and finishing what she started was important. They watched the pain in their daughter's eyes on nights where she did not hit the floor. This is such a hard thing for parents and kids, but it happens somewhere every night during the high school season. But it's the kids who have someone to lean on that get though these times; these kids make it in the long run.
John Mayo, for my money, has done as much for youth basketball and kids in the SHORE as ANYONE has. Mid Monmouth is the best grammar school basketball organization on planet earth and John has been part of Mid Monmouth for years. He sees kids when they are at the beginning and then at the end. He also knows basketball is about life lessons. John and Buddy Pavia have had a huge effect on Conroy. "They taught me to play tough and to go after what I want" Caitlin Conroy says about her two AAU coaches. It amazing how so often coaches toughen a kids life and never know their impact. Caitlin Conroy needed those life lessons because they made her stronger and able to accept her situation and stride to change it.
Laurie and Rob Conroy did not sit on their hands when their daughter was not getting the exposure needed for college. They found people like Rob Drysdale and Steve Justice who put Caitlin in the right spots to get exposure. More importantly they trained her and put her in a position to succeed. They made sure she improved her game and worked on her confidence. "Those 90 minutes practices were well worth it to me, because it helped me improve every aspect of my game" Caitlin Conroy.
Conroy will join former Howell star and current U of Sci star, Kaitlyn Schmid.
Jackie Hartzel knows that high school basketball is about matchups and at RBC it was not easy to find the right match up every night. But Jackie Hartzel of U of Sciences is excited because she knows that on a certain level she has stolen a post player. Good freshman post players at the D2 level are so hard to find and she found a good one. She also knows she is getting a player from one of the best programs in the state in RBC. She knows that Conroy has been part of a winner and knows how to practice and prepare. This is something only college coaches care about.
Caitlin Conroy will be in the University of Sciences 6 year Physical Therapy program and calls this "The absolutely the best opportunity for her college wise" but she also understands she has been surrounded by some good people. There are different roads for a young lady to travel reach her goals. In the Case of Caitlin Conroy, it was the road least traveled because many kids in her situation would look for a short cut… Caitlin Conroy and her family did not, they do not believe in shortcuts and because of this they have found a nice home!