Tom Brennan has been getting it done at Middletown South for a long time and upon further review of his career record there wasn't a whole lot left to do…that was until this YEAR!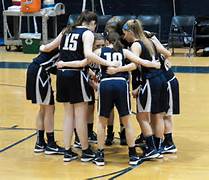 Middletown South under Tom Brennan
*5 A North Titles… ('06, '07, '12, '13, '14)
*lost in the SCT semi- finals to eventual champ RBC twice ('06 and '13)
*Been to the Central Jersey Group 3 semi- finals 4 times ('99, '06', 08. '09)
*Lost in CJ 3 finals 3 times to Neptune ('11, '12, "13)
* He has coached 3 1000 POINT scorers… (Heather Litzbauer, Danielle Pankey, Meghan McGuinness)
Now those numbers speak VOLUMES for themselves, but Tom Brennan is so much more than numbers. We so often talk about wins and losses and forget high school basketball is about life lessons; making lifelong friends and of course making memories, Middletown South did all that and more this year, while winning a lot of games… and that's why MIDDLETOWN SOUTH WINNING ITS FIRST STATE TITLE feels a little better than most other teams.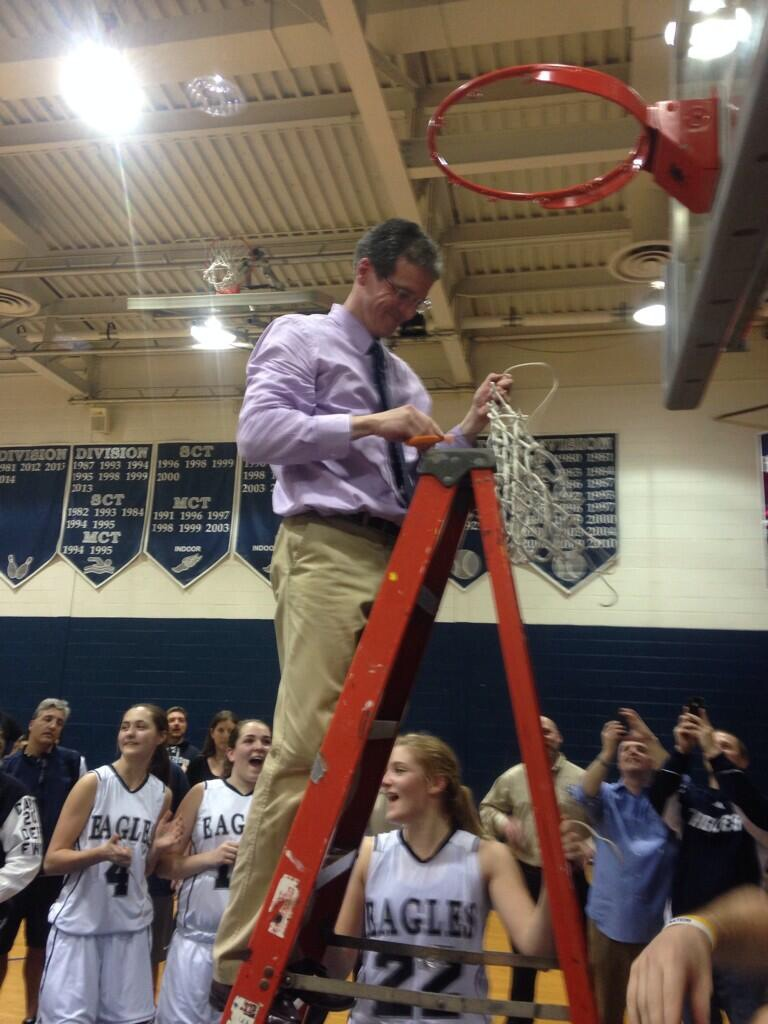 "WE WANTED TO WIN IT FOR HIM" Jill Falvey soon to be ANOTHER D1 player developed by Tom Brennan

So why do I call Tom Brennan the professor? It has nothing to do with basketball and everything to do with his approach towards kids. He has a quiet low key approach towards teaching. Rarely do you see him yelling, screaming and jumping up and down on the sidelines during a game. Tom Brennan does his teaching in his laboratory better known as practice. When you watch a Tom Brennan team play, you never see wide eyed players looking at the bench for direction. There is a clam about his players and teams. You just feel their emotions are always under control…just like their HEAD COACH.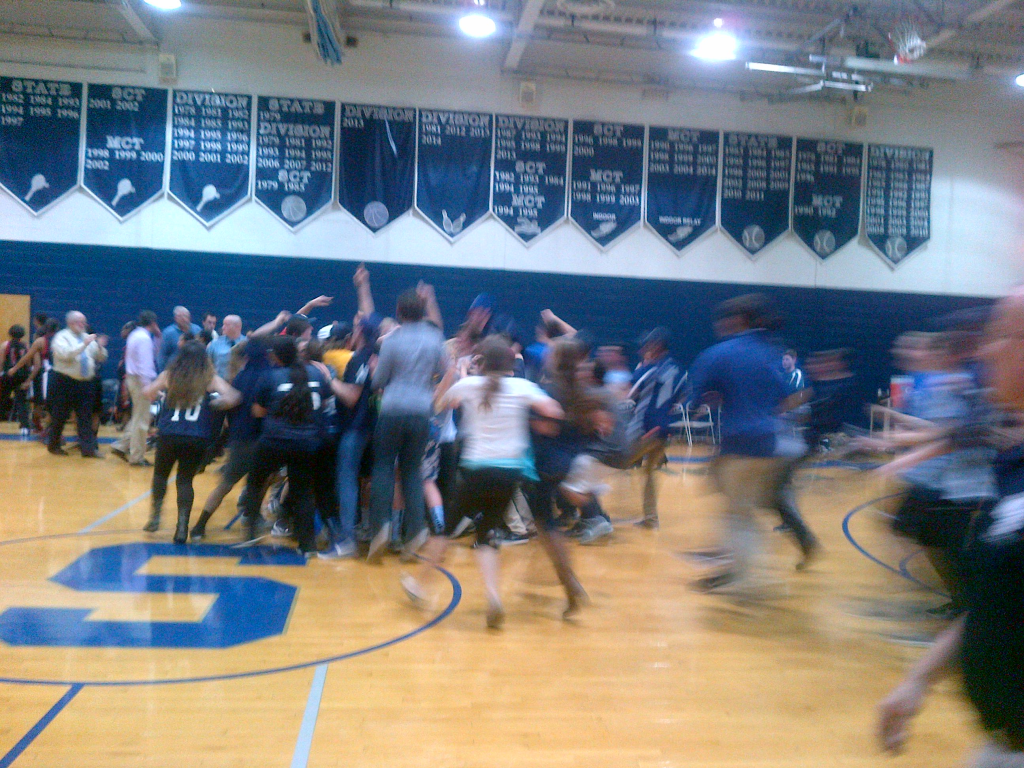 Coach Brennan couldn't keep South Fans from showing their emotions
Middletown South is not a hotbed for star 8th grade players moving on to high school. But it is a place where players develop. Tom Brennan doesn't get superstars, he makes them and then they become stars in college. In recent years, both Danielle Pankey and Megan McGuinness were not stars coming into high school, but yet both became Division one All conference players in college and high school. Pankey (FDU) was ALL NEC and McGuinness (Niagara) has been ALL MACC 2 years running. Current Wagner Freshman, Jackie Dluhi was an afterthought to most shore fans until Tom Brennan helped her become one of the best players in the Shore Conference and a Division one player. But what's special about all 3 is this….THEY SWEAR; by the word of TOM BRENNAN. All three are totally convinced they would not be where they are without the guiding hand of the professor.


"Coach Brennan is NOT JUST A COACH, HE IS A TEACHER FIRST"…Megan McGuinness, former player
What makes Tom Brennan so special is that he wins with the hand he is dealt. He never concerns himself with who he doesn't have. He will not try and persuade a kid to stay at home and play for South; he simply has the attitude that a young lady has to want to be part of a TEAM. There are no special set of rules for Middletown South kids, no kid is more important and every player is EXPECTED TO PLAY THE RIGHT WAY regardless of your ability.
"No one is bigger than the team. You're going to be on time, you're going play hard, you're going to know your job and you're going to know when to pass and shoot. If you can't do those four things you're not getting time here and we don't care who you are."….HUBIE BROWN
When people ask me what's make a good Coach? My first response is always; are you talking high school, College or the Pro's? If you're talking High School it's easy. Nobody is putting food on the table because of High School basketball, so wins and losses, should never trump the happiness of the overall team. I have seen far too much of this in recent years at the high school level. In the case of Tom Brennan you NEVER have to worry about such things, find me a group of kids happier than his. How they feel about him says it all.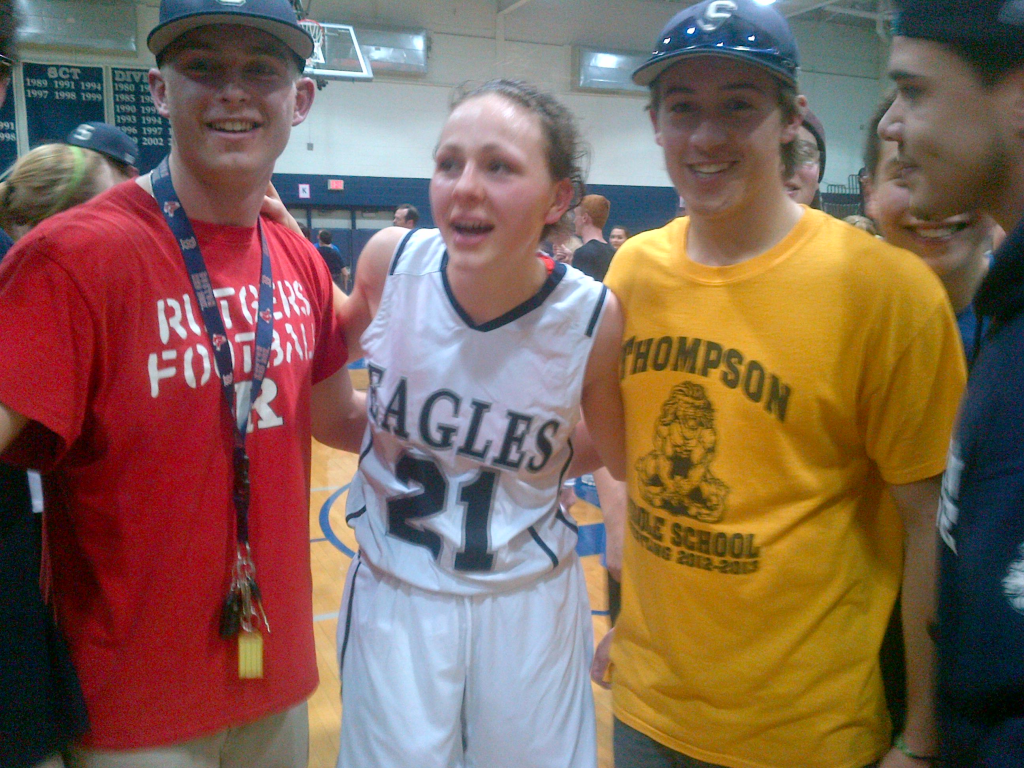 "Every time someone asks me if I have a role model in my life, the answer is always Coach Brennan," Senior Christiana Rutkowski
I always watch coaches and see if they hold kids accountable for behavior at the high school level. I want to see if wins count more than actions. I want to know if a player is selfish and when they are, does the coach encourage them or force them to change. See, at the high school level these things matter. I want to know if that coach is open to change and communication. I can tell you Tom Brennan is about all of these things. Because all these things lead to a little word called TRUST and Tom Brennan's teams inner circle at Middletown South…well their trust in him is marrow deep. This folks is what makes a high school coach special and Tom Brennan just may not have any peers when it comes to the word TRUST.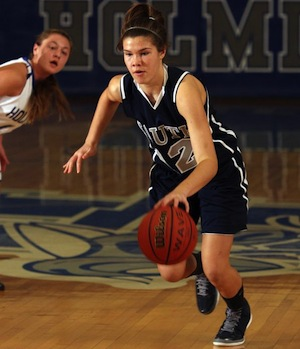 "he seems like such a nice man and I know we can trust him" Virginia Karcz when her daughter decided to attend MS
This season Middletown South lost 4 starters from last years Top 20 team, including Division one player Jackie Dluhi, who was the only true post player Middletown South had. Tom Brennan knew he would have to change his style in order to be successful. There opening season lost to Holmdel was shocking to everyone except Tom Brennan, after the game he said this to me. I'm not concerned we lost, we will get better; I have to play a lot of kids and work on our weakness. He was right and that's exactly what Tom Brennan and his team did, as they won the Central 3 title. When a school like Middletown South loses four starters, it's usually the start of a new rebuilding era…not this year. Led by Senior's Olivia Liskowitz, Christiana Rutkowski's and Rachel Becker, Middletown had another 20 win season and perhaps the most exciting season in Tom Brennan's career. But next year with Stephanie Karcz, freshman studs Haley "the Future" Dalonzo, Angelela Debartolmome and Jill Falvey returning, Middletown South could be chasing another state title.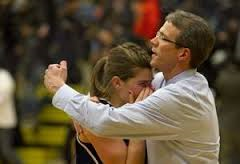 Losing players like Olivia Liskowitz will hurt but the future looks bright for Tom Brennan and Middletown South
Tom Brennan and his wife Shelbi have two kids Isla and Lara, and they know how hard it can be to raise kids and teach life lessons. But somehow Tom Brennan has created this extended family that is part of his very own. His daughter Isla, will one day be one of the best point guards in the shore. She reminds me of him so much in that nothing shakes her. I have a feeling that's how the entire Brennan family is at home. Nothing shakes the foundation. I asked Tom Brennan to run a camp last year, his answer "I have to spend time with my family." That came as no surprise because Coach Tom Brennan surrounds himself with the people who know him best. Asst Jessie Chalmers a Grad of Middletown north, who is so faithful its gives me hope for young asst coaches, Randy Thomas(math teacher and stat magician) a remainder to kids,, there is a bigger picture and Joe Benbrook, who played at Middletown South in the 80's… all work as a team and it been a GREAT ONE!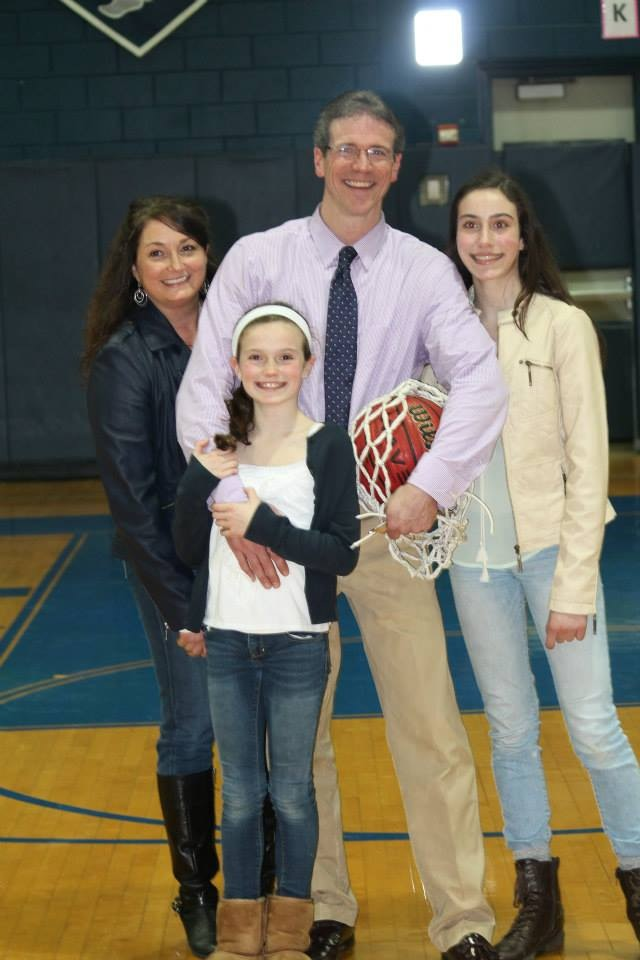 The Coach of the Year, should do more with less, should be honorable, should be a teacher, should be honest and of course WIN…the 2014 COACH OF THE YEAR DID ALL THOSE THINGS AND MORE….TOM BRENNAN