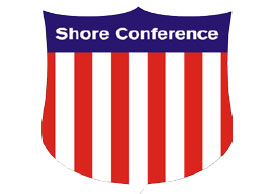 There has not been many times over the years, the we can say this after the THE SHORE CONFERENCE committee meets. They got it right from top to bottom. But that's exactly what this years committee did.
There can be zero complaining about the seeding this year.  Its clear quality wins and strength of schedule ruled the day. It's why ST. ROSE is the 2nd seed and Jackson Memorial is the 16th seed. TOMS RIVER EAST was rewarded as the 10th seed for its quality wins. Despite a few slips ups along the way. Middletown North  was blazing away until Middletown South took them out Saturday. This did a few things, it made the committee focus on there body of work and that resulted in a 15th seed. Middletown South avoided a total disaster with the win and was rewarded the 8th seed. Again quailty wins and only  one bad lost on the season.
The seeding is a reward for your seasons work. Now its about getting ready to extend your Shore season. The first round clearly has some mine fields. Jackson Memorial will take on Howell for a 2nd time. Howell will be playing with house money. They have already exceeded all expectations this season. A win over Jackson in the SCT would just be the cherry on Top. Jackson never imagined they would be the 16 seed coming into this tournament, when the year started. Now they will have step up and give there season a new feel with a win in the SCT. The bad news is the winner gets SJV.
TRINITY HALL and MIDDLTOWN NORTH has all the makings of a great 1st round match up. Trinity Hall is the new kid on the block. They gave shown an ability to compete with highly ranked teams.  On the other hand Middletown North is the most improved team from the start of the season till now. A lost would certainly take the edge off their great season.
Colts Neck, plays Long Branch and this game is bigger than anyone realizes. Why? Because the winner gets the weakest and most vulnerable team of the teams getting a bye RFH. Meanwhile if RBR gets by Southern they will play RBC and there is no question, if RBR could pick any Top team to play, it would be the cardiac kids known as RBC.
SJV, ST. ROSE, MANCHESTER  all know the fun won't start for them until the semi finals.  Mansquan may be sitting on a date with RBC in the quater finals. That is not what they expected when the season started. This year the committee was smack dead on. It sets up for a great tournament. The tougest to win in the state ….THE SHORE CONFERENCE TOURNAMENT.