e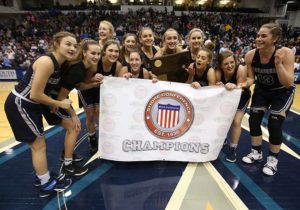 Manasquan just won the hardest title to win in girls basketball. I could tell you how Carly Geissler and Emma McMemaman set the tone with both scoring early layups. I could tell you how Faith Masonious and Lola Mullaney were special in so many ways last night. I could tell you how Lisa Kukoda is off to maybe the greatest start of a coaching career in Shore history. I could tell you she has already won 3 SHORE CONFERENCE TITLES and only her mentor Joe Montano has more. But for today there is only one story that matters most…DARA MABREY.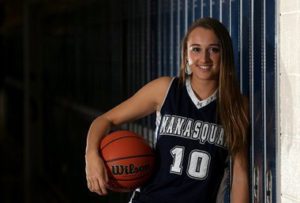 Last night Dara Mabrey cemented her career and  Legacy with the greatest SCT championship performance of ALL TIME in the Shore modern era. Last night Dara Mabrey put a ribbon around the best career of  any player in the modern Shore era. When you look up at the Shore Conference  Mount Everest of players, her face will be there among the other greats. Last night Dara Mabrey imposed her will on an entire building, which included fans, players, coaches and officials. Dara Mabrey was that good last night.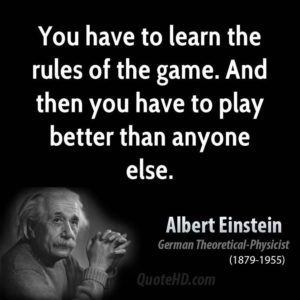 They are few players that play beyond their own talent levels in big games. It's  usually reserved for role players or a surprise player out of nowhere that does this. But when a mega talented player plays beyond their abilities we see unspeakable greatness. When Micheal Jordan or a LeBron James plays above there own abilities we are in awe. Yesterday we were all in awe of Dara Mabrey. She showed us what perfection truly looks like on a big stage. We saw what happens when the stars and moon are  aligned. We saw what a happens when a entire building stops to simply admire greatness. Yesterday everyone at Monmouth University knew they were watching something that may never happen again…Dara Mabrey last night set a bar for greatness that simply may never be matched again.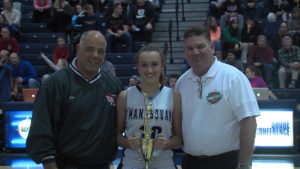 There are a few times in sports were near perfection is reached. Bill Walton 20-21 from the field in the NCAA CHAMPIONSHIP comes to mind. The historic Bob Beamon jump at the 1968  Olympics. Yesterday we saw the Shore Conference  high school version of near perfection. We saw Dara Mabrey perform magic right in front of our eyes. Her Coach called her "a gamer" …with all due respect to her masterful coach, Lisa Kukoda. Dara Mabrey in not a gamer. Last night she was playing a different game, one which  none of us are  familiar with…DARA MABREY  played a game we have never seen before and may never see again in the SCT. While others played checkers …she was playing chess
20 years from now people will speak of Dara Mabrey's  electrifying preformance. They will brag and say they were there. Like all great stories the lengend will grow. They will say she had 40 points and didn't miss a shot against the #1 undefeated team in the state. Now of course none of that will be true, but it won't be far from the truth. Mabrey was 11-16 from the floor. She made jumpers from the parking lot, she stepped into passing lanes and stole the ball to break SJV's sprit time and time again. She broke the vaulted SJV press and she gave her team a confidence that made them unbeatable last night. Now some will ask what happen to SJV? The answer is nothing, last night SJV ran into a unstoppable force named Dara Mabrey. They ran into a once in a lifetime player on a once in a lifetime performance. You don't plan for what Dara Mabrey did last night, because it's never been done before. Manasquan did not plan for what they saw last night, the fans did not play for what they saw last night. Nobody saw what was coming last night, except one person….DARA MABREY.
There was much debate who would win the Shore Conference Player of the Year. The debate came to a close last night in resounding fashion. Dara Mabrey has never fit the part of a mega star. Not because of sisters, but rather because she looks so  ordinary. There is nothing  physically imposing about her. In fact she looks like a typical teenager. This is what has made her special over the years. She appears to be an ordinary teenager.  One that almost every young player could  identify with. She has had to measure up to so many others  expectations. Yet it was her own self  expectations that exceeded those of  anyone ecould've put upon her. It's how we got to last nights masterpiece. Dara has given the Shore Conference so many big preformances ! It would be silly to try and list them. Instead close your eyes and dream about all the great moments DARA has given us.  Now be thankful,… how DARA MABREY, this beautiful player was even gracious enough last night to give us one BIG BEAUTIFUL KISS GOODBYE …the Best Player on the damm EAST COAST. Just ended the best career in Shore Modern history. Dem not words folks…DEM BE THE FACTS…