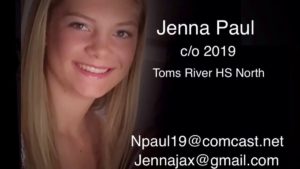 So excited to say that I have verbally committed to play Division one basketball at Colgate University! #gogate @ColgateWBB @CoachTinyGreen @MBHoops10 pic.twitter.com/WESsdOEgxj

— Jenna (@jennapaul_) April 8, 2018
Yesterday another 2019 Shore Conference player came off the recruiting board. She has had an excellent high school career. She has been a shinning example of working hard on and off the court. She has not been just a good teammate, but more importantly somebody who is well liked throughout the state. It's why twitter exploded with congratulations when …..TOMS RIVER NORTH'S, JENNA PAUL GAVE PATRIOT SCHOOL COLGATE UNIVERSITY A VERBAL COMMITMENT.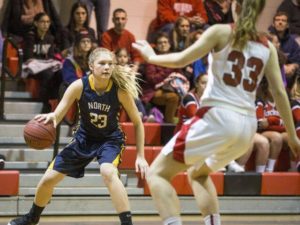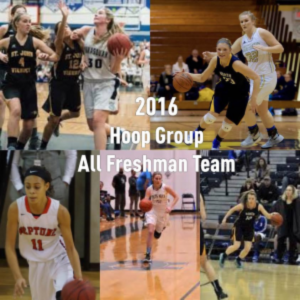 I have no idea when the last time TRN was ranked Top 10 in the state of NJ. I have no idea when the last time they won a state title. I have no idea if they have ever had a All Shore Player.  I have no idea when the last time they had a player verbal to a D1 school. I do know Jenna Paul has accomplished all these things. I also  know, she did so by swallowing her ego every step of the way. When she was a member of the superstar Tom River Starz's AAU team, she was not the star.  Yet it did not bother her or effect how she felt about her teammates or herself. She entered high school as one of the best entering Freshman in the 2019 class. She had a monster freshman year and was named to the HOOP GROUP ALL FRESHMAN TEAM. Yet you would have never known it by her humble attitude. She has always been somebody with a big game, who didn't need the hype or the approval of others. She has always focused on getting better. She also has had to adjust her game every step of the way.
Jenna do you notice how twitter has just exploded over your verbal to Colgate….do you know why? Because you are a good kid and liked by ALL" pic.twitter.com/HeGnkzxCtB

— ellonya Tiny Green (@CoachTinyGreen) April 8, 2018
I met Jenna when she was 11 years old play. She fashioned herself as a versitle forward. She was taller than most kids and had nice hops. But her future was as a Guard. It's why when she was told she needed to handle the ball better, she worked at it. It's why when told she needed to shoot better, she turned herself into one of the deadest shooters in New Jersey. You see Jenna Paul has an elite work ethic and attitude. She has the  emotional tools all the great ones have. She understands that to get better you must listen and more importantly act, now you know why each year she has gotten better at her craft. There are master teachers and then there are master learners….Jenna Paul is a master learner.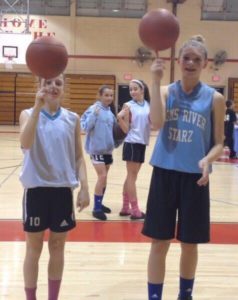 It was just a year ago when the snakes finally got to the superstar stacked Tom River Stars team. The team broke up all and went there separate ways. Jenna Paul was left on a island without a team. It was at this point she decide that she would spent the summer training not playing. That was until Mary Beth Chambers called and asked if she would join her Jersey Shore Elite team. But there was a catch, she would be on the so called "B" team. Jenna Paul said yes, she said yes because she didn't care what others would say or think. It's same reason she stayed at TRN, when many thought she should attend a powerhouse high school team….she has no ego, but rather pride. She wanted to get better and she felt Mary Beth Chambers would help her do this. It's why at the end of last summer, she was on the "A" team and became the apple of college coaches. The fact of the matter is few kids with her ability would have swallowed there ego, for the long term benefit. Jenna Paul doesn't play to impress others. She plays to challenge herself to be the best player she can be…but more importantly is not afraid to trust her coaches.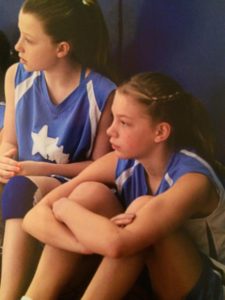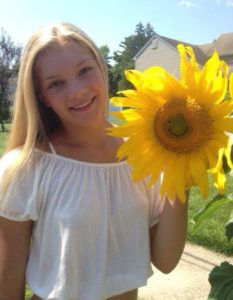 I often tease Jenna about her work ethic and commitment. I complain she doesn't work hard enough or show up enough. The truth of the matter is since she was 11 years old, she has been  relentless. She travels long distances to be in the gym. She has been the target of my many rages directed at her..often times when she did not derserve it. But yet in all her years, she has never said a word back in defense of herself. Her parents have watched it all go down and they too have never said a word. It's called trust and more than anything, the Paul family are about trust and loyalty. It's why they stayed at Tom's River North to play for Vikki Gillen and let Jenna become one of the schools all time greats in just 3 years. It's why her uniform will hang from the rafters one day. Many kids will see the uniform, but will never know about Jenna Paul's once in a lifetime character on and off the court.
There is a long list of star players that have wanted to attend COLGATE in the past. Many are lighting it up now at other D1 schools. I have seen the coaching staff ask for favors, ask kids to take the SAT over and over. I have sat with kids crying when all options have been exhausted and it was time to look at the other D1 schools recruiting them. It's not anything you want to see..TRUST ME! Jenna Paul will walk though the front door at Colgate University. There was never a question about her getting accepted. Just like she is a mega baller, she is a mega student. She understood that her education mattered and she did not want to just enough. Just like on the court ,she wanted to do more than most..it's why she is going to one of the best schools in the country. When you have some free time, take a look at what expected Colgate  graduating seniors will earn, then go look at the acceptance rate. It's not chicken feed folks and it's reason the reason getting into the Patriot School,  is not an easy task.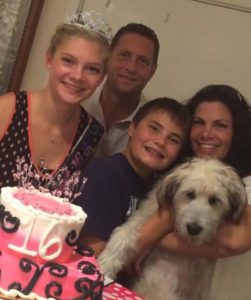 I was at Sportika watching games on Saturday. When I received a phone call, it was Jenna Paul. She told me she was going to verbal to Colgate University. I asked her if she was sure? She told me Colgate was everything she had hoped for and more. I told her parents maybe she should have waited until at least the weekend was over. But they said her mind was made up. Jenna asked me not to say anything on social media, said she needed to call each coach. Yesterday morning, I received a phone call from a D1 coach. He asked "is it true" I said "yes" I then called Jenna and asked her if she had announced to the world her decision? She told she had not spoken to a IVY LEAGUE head coach, who I knew would be a tough call for her to make. I told her to text her and call her later. She said, her parents said no, you have to call her first. Now you understand why Jenna and her parents are special, they get it. They understand it's not just about them.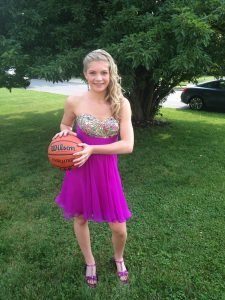 Jenna Paul

since the day I met her has been different. She has been respectful to all on and off the court. She oozes with confidence not arrogance. She has been a force on and off the court not because of her basketball skills. But rather for her goodness and the way she carries herself with such  dignity and class for a young lady. She is quick with a smile, she dresses and speaks appropriately always( I have never heard her utter a bad word) Not easy for young ladies today. Her parents have raised a true ALPHA FEMALE. My daughter coaches at Colgate, I told Jenna, do not pick Colgate because my daughter is there. I told her to think about, what she is looking for in a school. I should have known better, Jenna always knew what she wanted in a school and settling was never going to be an option….it's why COLGATE UNIVERSITY IS THE LUCKY STAFF THAT WINS THE JENNA PAUL SWEEPSTAKES….CONGRATS TO JENNA PAUL