New Providence  high school eliminated RFH from the state tournament for the 2nd year in a row yesterday.  New Providence also  ended the high school career of JULIA CORSENTINO, who will go down in history as one of RFH'S best players. Cosentino  will continue her athletic  career at D1 MARIST COLLEGE.  It was a great day for New Providence  high school. It also was a great day for Grace Kinum who like Cosentino is a great player. The difference being not many people know it yet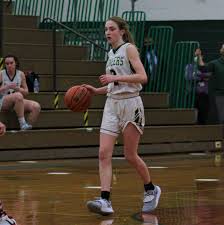 Yesterday Grace kinum scored a season high  26 points vs Rumson as New Providence advanced to the group 2 finals.  By now you've read  about how her personal  great defense on Julia Corsentino was the key to victory. By now you've  read or heard her Coach and supporters speak of how she is under recruited. These are just things said to try and validate Grace Kinum as a player. College coaches pay little attention to such nonsense. But what they do pay attention to is truth in performance. Yesterday should come as no surprise as Grace Kinum has been been shining  against  the best teams all year. She seems to have a 5th sense when the bright lights go on. She has that "IT" factor all the great ones have. Yesterday was futher proff of her talent. Grace Kinum  really doesn't need validation though words and hype. She has validated herself with performances against the best on the biggest stages.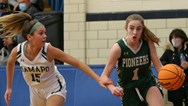 Line up the best of the best and Grace Kinum has gone to battle against them and come out standing tall. SJV has 10 D1 players on there roster. Playing against them is like playing against a D1 team. Grace Kinum had 14 points and 4 dimes. RBC is the most talented team in the state Top to bottom. RBC has 11 D1 players including 3 off to Power 5 schools . Yet Grace Kinum found a way to score 12 points  with 3 dimes and 2 steals. St. Rose's entire backcourt is off to D1 basketball next year. Yet Grace Kinum  absolutely stuffed the box score  in New Providence's win over St. ROSE  with 9 points, 3 rebounds, 3 dimes and 4 steals. Why do I bring all this up you ask? Because performance  speaks so much louder than words or comparing Grace Kinum to other players. Grace Kinum  doesn't  need cheap comparisons to others. She doesn't  need validation though words and comparison to others. Her validation is what she does on game night, regardless  of who she plays against.  Grace Kinum game is "REAL"
"

The notoriety of any player is based on their performance under pressure when the stakes are highest under the bright lights"
Grace's older sister played at University  of Pennsylvania in the Ivy League. She also looked the part before  arriving at UPENN. Grace Kinum doesn't look the part of a D1 player.  She doesn't impress you physically. There is nothing about her that makes you jump out of your seat; when she walks in the gym. But what Grace Kinum  does do is play the part of a D1 player to perfection. She is a deadly shooter, who never takes a bad shot. There is not exciting about her handle, it just ridiculously effective against pressure. Her ability  to defend is shocking  due to her thin fame. But when you are physically  aggressive, play with enormous pride  and have a next level IQ,  size quickly takes a backseat when it comes to defense. You see Grace Kinum plays an ACADEMY AWARD winning role each night she sets on the floor. Once again it's called "VALIDATION" …watch the performance, and there is no reason to listen to meanless words and weak attempts at hype….AGAIN HER GAME IS LEGIT!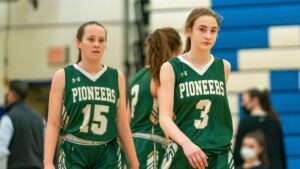 Grace Kinum  dad is her biggest supporter. Despite his words, he believes his daughter is a D1 player. He has watched his daughter play against current and future D1 players. He pretends it doesn't  bother him his daughter recruiting  has not reached the level it deserved.  He doesn't understand that his daughter  is fighting the rwo  hardest things in recruiting. Exposure  and name recognition.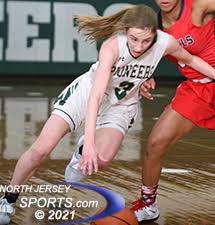 You see New Providence  is a great program, has been for years. But it's not SJV or RBC for example where coaches flock too there gym for practices and games every night. Grace  played AAU last season, but few coaches watched her team play. She didn't  play for a team stacked with D1 players with  big names players to draw on coaches. There is no Tiny Green types  in the ears of college coaches daily, preaching of her greatness.  GRACE KINUM  is trying to make a name for herself the old fashion  way, by proof of game. It's risky business these days.  She doesn't  self promote,  you be hard pressed to find her highlight tape; if she indeed even has one. I can tell you if she did,  it would be show stopping trust me.  He social media  page is nothing to brag about either.  It's goes to the fact that she is humble. It's pretty clear…. GRACE KINUM  is betting that her game will be enough.. she is betting on herself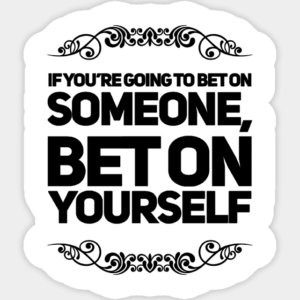 These days more is said and less is done at the end of the day. GRACE KINUM is a hard worker and a doer not a talker. These days talkers get more  exposure than doers  at times. Grace  is part of the US HOOPS basketball family. A place that has proven they know how to get kids ready for the next level. It's where she has mastered her skills and developed her talent. But if you don't mind, I will take a second and brag a little. I think I know what a Division one player looks like. I may have coached and trained one or two in my time. D1 is not everything,  that I know for a fact. But Grace Kinum  is 100% as good as any guard in the 2024 class. If she want to play D1 basketball that option  will be on the table at some point. That is a fact of facts. That is unless college coaches across the country have lost there minds. I know if GRACE  KINUM played in the Shore Conference she would be over recruited not under recruited. On MONDAY, she'll face another team that just so happens to be from the Shore with mutiple D1 players. Six to be exact,  if we were counting. But them again does it really matter? Because  in the end…
 

GRACE KINUM  WILL

      VALIDATE HER STATUS

ONCE AGAIN