By now it has all set in and all is settled. SJV is still the best team in the Shore Conference. We all knew this long before Sunday's big game vs RBC.  SJV is the Gold Standard in girls basketball. On Sunday they gave RBC a golden chance. Zoe Brooks the best player in the state of New Jersey was out with an injury and many believe SJV was ripe for the taking. But what everyone forgot was that SJV with or without Zoe Brooks is still the best team in the Shore Conference. They just needed to remind us on Sunday.
A BABY SHALL LEAD
MADISON KOCIS  is now a name SJV and Shore fans will never forget…As I walked out of the gym on Sunday. Each  SJV fan came up to me and said "She is the best freshman in the Shore"  or  "Madison Kocis has to be Freshman of the Year".  I don't know if Madison Kocis is going to be Freshman of the Year. I do know she had just put on one of the two best performances by a freshman in SCT history. She also saved the SJV season, with a dynamic 19 point performance. But she may have saved her best play of the day and year, when she ran by the entire RBC team late in the game for a put back on a missed breakaway layup to seal the game. It was a hustle play for the ages. It was the final dagger for RBC and Maddie Kocis was now in SCT and SJV folklore. Freshman of the Year? FRESHMAN PERFORMANCE FOR THE AGES…..YES!  
 THE GREAT SENIORS NEVER  SURRENDER
ASHLEY SOFILKANICH, has been watching and learning at SJV for the past three years. She has learned how to win big games. She has no idea what defeat taste like in New Jersey. She also had no interest in SJV losing on Sunday. On Sunday RBC has no answers for Ashley Sofikanich. She simply dominated  RBC on every front. She had 17 points and 7 rebounds. She seemed to make every big play late in the game. She cleaned up the boards on defense and offensive when Janine Bachman went out of the game with her 5th foul. She became the face of SJV and that face means greatness…. Ashley was great and reminded us all once again. SJV doesn't rebuild ….THEY RELOAD.
BRE DELANEY  was busy grinding on Sunday. She was fighting and clawing. She was trying to do what all SJV seniors do come winning time. Nobody except her teammates saw the extra passes to Madison Kocis.  Nobody saw her chase and hound two smoking hot guards in Christina Liggio and Casey Prior. She limited their shots and made them work for all.  Nobody saw the hustle plays all afternoon. But everyone did see the biggest made JUMPER IN SJV RECENT HISTORY IN THE SCT….her massive "3"  with 1.40 left in the game is stuff what kids dream about and mothers cry about….it's the stuff… ONLY SENIORS CAN DO.
JANIE  BACHMANN  was in foul trouble all afternoon for SJV. She was the victim of happy whistles blown by officials trying to stop her. Like everyone, nobody knew what was a foul and what wasn't. Without Zoe Brooks  Janie Bachmann knew she had to make the most of her time on the floor. So when Coach Karpell threw in the post, she made the entire RBC roster pay dearly. . She got SJV to the foul line often and got the entire  RBC team in real foul trouble. She may not have played much but it was she that forced RBC out of their pressing style and  made the foul line a thing of beauty for SJV…. JANIE WAS EXACTLY WHAT SENIORS ARE….UNSTOPPABLE!
MIKAELA HUBBARD  played her role Sunday. She came in the game and closed down the lane. She rebounded off the bench. But more than anything she made no mistakes. More than anything, she hustled every minute, more than anything she gave ASHLEY SOFILKANICH a chance to breath without missing a beat… YOU SEE SENIORS DO LITTLE THINGS IN A BIG WAY
STEP YOUR GAME UP
JULIA KARPELL worth is not in a box score. It's her performances especially in big games and in big moments as special. She also is a born leader, that because she set the tone for SJV on Sunday. She challenged everyone, her teammates, RBC and the refs. She put everyone on notice she meant business. You see no player in the state of New Jersey has seen more winning in their lifetime. She has been watching SJV work their magic since she was in diapers. When RBC game out of their timeout with  the game in balance late in the 4th quarter. She recognized the RBC had made a bad mistake. A game defining mistake, RBC didn't do the little things. Like pay attention in the huddle late in the game when everything was on the line. They were suppose to be in zone and one of their players was in man. It's when the words "JULIA ZONE" broke the heart of every RBC in watching the SCT Chip game. Thats because Julia Karpell did what she has done all year.  She made RBC pay as she went "BANG" from corner and RBC never recovered.
ALEENA DINKER  was asked to replace Zoe Brooks in the starting lineup in the biggest game of the year. If you don't understand pressure, well now you do. She was asked to carry the burden of trying to play the point, lead the team and to STEP UP HER GAME.  So she did because that's what SJV players do…grow up. She was murder on defense all afternoon, she pushed the ball and put pressure on the RBC defense. Then she made jump shots, ran down loose balls and made the play that just may have prevented  RBC from running away in the first half. RBC was up 7 and stole the ball and had a clear layup. But Dinker jumped up and stole the ball  back out of the air, she then passed the ball to Ashley for a layup as time expired. Instead of SJV being down 9 and on the ropes. They were down 5 and ready to do battle…. DINKER UP'ED HER GAME~!
 INSPIRATION

ZOE BROOKS  sat on the bench in a boot. But unlike other stars who get injured. She didn't disappear from practice. Stay home and wait to hear the results of the SCT. Zoe Brooks has always been a teammate first.  She has always been about winning first. So she rooted and cheered for her teammates. She said words that only stars can say and truly have meaning. Zoe Brooks once again proved she is ….THE BEST IN THE BUSINESS!
COACHING MATTERS
DAWN KARPELL is the GOAT. She may be the only coach that can lose their best player in the biggest game of the year and her team never change their style or identity.  Then she lost her 2nd most important player in the biggest game of the year. She may be the only coach to get one baby ready to have the night of a lifetime and then turn the lights out on the best babies in the state,  the backbone of the RBC team.  She may be the only coach that can win big games from the sidelines. The real MVP for SJV on Sunday was their coach….DAWN KARPELL and  SHE ONCE AGAIN PROVED COACHING MATTERS!
UNBEATABLE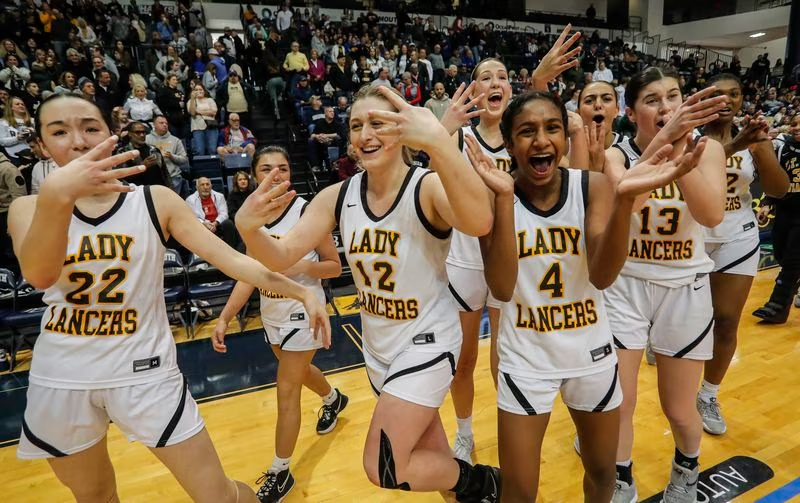 SJV did all the little things great teams do on Sunday. They made there layups…RBC did not. They made big shots late, RBC did not because they  forgot how to run offense and how to press. RBC  forgot all the things that got them too Sunday.  SJV called all the right timeouts at the right times,  when RBC tried they were late or the refs refuse to give them one or didn't see them begging for relief. The SJV seniors where special, their babies where special. There leaders were leading, they inspired each other and in the end,  RBC found out what everyone already knows…..SJV IS UNBEATABLE!~
CONGRATS TO SJV…..4 IN A ROW AND COUNTING!