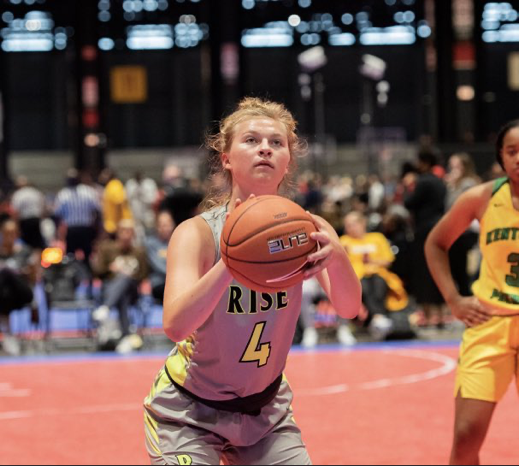 Next Wednesday will begin the 2022 signing period. It will for many be the crowning day for years of hard work. There will also be kids who will not have that feeling of making there dreams come true. There will be lots of reasons for this. Some simply are not good enough, some didn't work hard enough and some just got lost. Some have settled and some are still searching. Today I am going to peek into the future. I am going to give you 3 reasons why each recruiting situation is different.
Taylor Derkack, just might be the best player in Middlesex County in 20 years. She also is just a sophomore at Colonia High School. She was 1st Team All county as a freshman. She is that rare once in a lifetime player. This summer she played for the Philly Rise EYBL team. It seems she has a big future ahead of her. She clearly will at some point be a candidate for the state player of the year. But recruiting is a strange thing. That's because college coaches get a snap shot of players these days not the entire picture. Why do I bring this up? Because even college coaches don't truly understand how talented TAYLOR DERKACK truly is. I have been watching some of the best players in New Jersey over the past 20 years.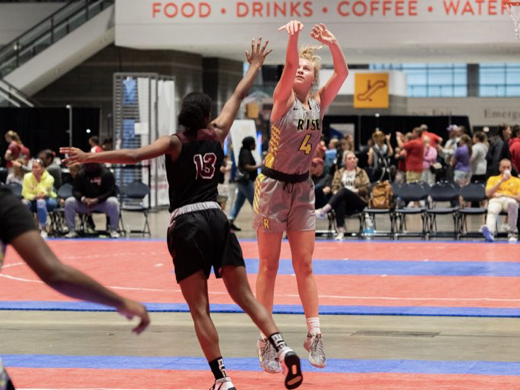 I doubt that many would say Taylor Derkack is among the 5 best freshman these eyes has ever seen. That's because she plays in Middlesex county. She doesn't have the hype machine of the Shore Conference behind her for example. But everyone in the Shore knows who Taylor Derkack is, that's because she has played against the best Shore players and proved she is one of the best players regardless of grade or age. Taylor Derkack is one of the most intelligent players these eyes HAS EVER SEEN. Her feel for the game is second to none. Her ability to see the floor is breath taking. Her size for her position and competitive nature you don't teach. You also can't teach personality. Taylor Derkack's personality is her biggest strength. It's why everyone likes playing with her. She is a natural born leader. Not because of her talent but because of the respect everyone has for her. The older stars and best players in NJ respect her, younger players admire her and coaches can only dream about her. It's why I say these words.. I BELIEVE TAYLOR DERKACK CAN PLAY FOR ANY.. repeat… any school in America one day. She is that good and I wonder how many National Championship contending colleges know this💪🔥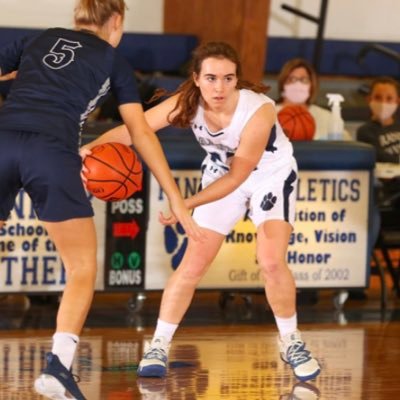 Sometimes the journey for some kids comes down to a simple thing called respect. Sometimes a kid has to jump though hoops to get that respect. Sometimes a kid gets labeled early and spends all there time trying to change the narrative. SARAH HUGHES has been fighting this battle it seems for years. She has watched others do less, yet get rewarded more. She has improved daily and been told this too often, year after year it seems. Yet, she is never rewarded or given the respect that often comes with such development. That's because she has not figured out the political game. She hasn't figured out, how to market herself. She is that rare kid who actually believes that letting her game speak for itself is most important.

It's why college coaches would be wise to listen to what am about to say. SARAH HUGHES progress as a player is stunning. She has stepped up her game against some of the best players in New Jersey. But yet she continues to have to do more than everyone else in order to make believers out of people. Well am a believer, that because all a kid can do is out play the competition. That's exactly what Sarah Hughes has done. That and get better each time she steps on the floor. All she has done is out play other kids with D1 offers. Yet we refuse to believe our eyes. We refuse to believe the jumper is butter, the handle is deadly and the confidence is off the charts. It's all good tho because I'm watching a kid that is going to be one of the biggest recruiting steals in the 2023 class…. trust me in that one. That's because I see them all and I watch them vs the killers. Well newsflash Sarah Hughes is becoming one of those killers.. it just taking us time to to accept it. Her reputation is starting to catch up to her game… and her recruiting will soon start to reflex that… TRUST ME ON THAT ONE 👏🔥
ISABELLA ASENCIO is the best 2023 pure point guard in New Jersey and don't try to question that statement. Do you know what I see every single weekend. Isabella Asencio playing against the most recruited guards in the state and crushing them. She doesn't out play them, she doesn't just win her match up. She dominates the very guards who have committed or have D1 offers on the table. How good is Isabella Asencio you ask? Well she is a combination of Sophia Sabino(Fordham) and Abby Antognoli( Lafayette). She has Sabino's leadership and Antognoli's motor and energy. She also is so much more crafty and savvy.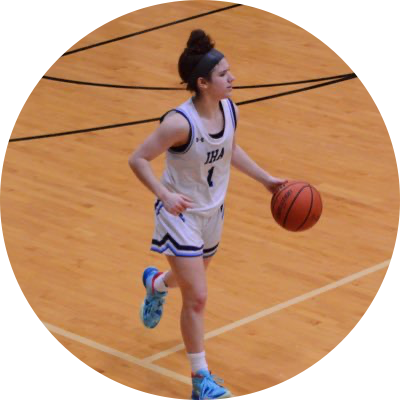 She my friends is a once in a lifetime pure point guard and let me explain to you why. Her handle is the best these eyes has seen since Kaitlyn Flaterty (Michigan). She is completely and always under control and doesn't make bad decisions. Her ability to shoot behind screens makes her a nightmare in pick and roll. Her vision has no match since Dara Mabrey(NotreDame). It makes her murder in transition. But it's her ability to run a team and act like a coach on the floor that makes her so different. Yes, some schools will be afraid of her size… LOL. That's because they don't see her dominate the best guards in NJ. They don't get to watch her toy with them. They don't understand the work ethic and how her swag is addictive to all those around her. Remember you heard this hear first.. she will be 1st Team ALL FRESHMAN IN COLLEGE REGARDLESS OF WHERE SHE ATTENDS ONE DAY... how do I know this? Because she is the best pure point guard to attend NBS in years. The same NBS who had 6 players make all freshman at D1 schools last year… ISABELLA ASENCIO IS SPECIAL… the 🐐🏀
Three players with three different recruiting journeys that are going to take place. The good news is is all three will at some point be doing exactly what a few will be doing next week…. MAKE SOME COLLEGE COACH VERY LUCKY!