The SCT Semi Final MATCHUPS
RBC vs MANASQUAN

COACHES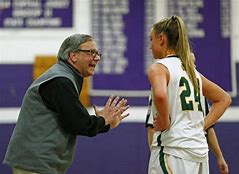 JOE MONTANO – He is the dean of coaches and more importantly has 5 SCT titles in his back pocket. His teams always play tough hard nosed defense. He is one of the best in game coaches in the state. His team will no question come into tonight's game prepared and will not panic
LISA KUKODA– She is one of the best young coaches in the state. She has showed she can coach talent and manage her teams ego's. Here team can show many faces and she is murder in special situation's. She will not make a mistake from the bench tonight
HISTORY– These two teams have split the season match-ups.
THE MATCHUPS
GUARDS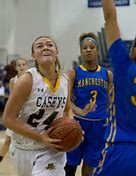 RBC– The RBC guards are seasoned and all have the ability to shoot the ball. Rose Caverly is one of the best Point Guards in the state. Hayley Moore is the best deep ball shooter in the Shore. Baby Sophia Sabino has averaged 15 points a game against Manasquan this season. All three are elite defenders and all three are 50/50 ball, elite players. All three are players makers in transition.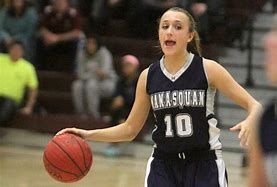 MANASQUAN– Dara Mabrey is the best two way guard in the state. Lola Mullaney is  one of the toughness matchups in the state. Carly Geissler has been in the wars. Mullaney and Mabrey are offensive machines and play makers. Mullaney is the best rebounding guard maybe in the state. Mabrey is unstoppable in transition and can take over games.
ADVANTAGE
This a serious battle of great guards. RBC's starting backcourt are all signed by a D1 schools or have a offer on the table. Manasquan has two power 5 guards in Lola Mullaney and Dara Mabrey. RBC guards can all score, but Mullaney and Mabrey are capable of big scoring nights.
EDGE– MANASQUAN
FORWARDS
Katie Rice is the best defensive forward in the state. She also can knock out the 3 point shot. She is a tough matchup because of her ability to put the ball on the floor. But it's her passing skills that separates her from every forward in the state. Fab Eggenschwiler has been rock solid and has shown no fear. She is an excellent passer and a serious threat from the three point line. She is very capable of blowing up at any time. These two are very mobile forwards who are very versatile  and guard multiple players in the post or away from the basket. Both get out and run in transition, both on defense and offense.
MANASQUAN–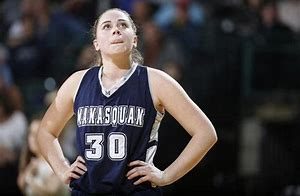 FAITH MASONIOUS  is a super versitale players. She can post up, go off the bounce and knock down the three. She is one of the best ball handlers for any size in the shore. Her passing skills are magical. She is making a serious run at the PLAYER OF THE YEAR AWARD. She is a capable defender and 100% a nightmare in transition. Emma McMememanan was brilliant in game one as Manasquan blew out RBC. She did not play in the 2nd game which RBC won. McMememanan does little things that don't show up in the box score, like keeping balls alive on the glass and making layups.
 ADVANTAGE
This is a interesting match up and winner of this match up could decided this game. Faith Masonious is the toughest match up maybe in the state. Katie Rice may be the only forward that can play her straight up one on one.  Eggenschwiler length no question is a factor when helping on Masonious
EDGE–EVEN
THE BENCH
RBC–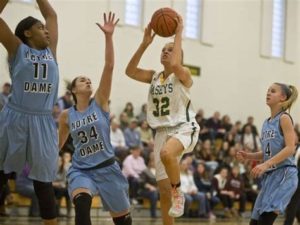 There bench is loaded with instant offense. Amanda Hart is one of the best 6th men in the state. She not only provides offense, but leadership and playing making ability. She also is capable of making big plays on both offense and defense. Julia Setaro has been a reliable scoring threat off the bench all season with her 3 point shooting ability. Coach Montano will not hesitate to use Maddie Fagan if he is looking for shooting. Eliz Srinivasan is hard nosed physical defender and also may be called upon this evening
MANASQUAN–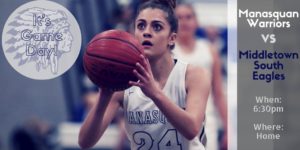 Annie Mako has showed she is capable of making big shots. She is a shooter and a solid defender. She's a very conservative and picks her spots. She will play  her role to a "T". Freshman Macey Black has been solid off the bench this season, she on most nights is mistake free.
 ADAVANTAGE
RBC has a big advantage in this area, but only if Manasquan get in foul trouble.  Annie Mako will play major minutes and Macy Black will play spot minutes. RBC's bench is capable of scoring in bunches and are a confident bunch.
EDGE- RBC
INTANAGBLES
The Tri Angle of Death of the most deadly threesome in the state. They each can take over the game at any point. All three are elite passers and are big shot play makers.  RBC is maybe the best 3 point shooting team in the state. Both teams play hard and defend. Both teams are excellent free throw shooting teams.
EDGE–EVEN
WHAT  TO EXPECT?
Look for Dara Mabrey is be ultra aggressive on offense. Look for her to start out on Hayley Moore. But if Sabino gets going, she will move to Sabino. Faith Masonious will try to pound the offense boards. Lola Mullaney will take advantage of her matchup and be offensively aggressive. Look for Rose Caverly to run the point and have the ball in hands most of the night. Hayley Moore will look to find shots in transition tonight. Katie Rice will try and get to the rim and get Masonious in foul trouble early.
PREDICTION–
Revenge is a serious motive and Manasquan will be looking to do just that tonight. Sophia Sabino has been a issue for Manasquan in both games. Manasquan will not let her get away from them again tonight. …MANASQUAN ADVANCES
NBS IS ACCEPTING SPRING DATES APPLICATIONS…first come first serve