The Shore Conference started off with a bang this year. Defending Champion Manasquan proved they will be in the hunt all year as they held serve in beating RFH in the first of two battles. Southern High School sent a long message to those paying attention; they are real and will be a force in Ocean Country all year. Long Branch High school led by Coach Shannon Coyle pulled off the surprise or the weekend knocking off Central Jersey Group 4 State Champs Colts Neck. But the story of the start of the season that quietly went unnoticed was the play of Pt. Boro.
WEEK ONE AWARDS WINNERS…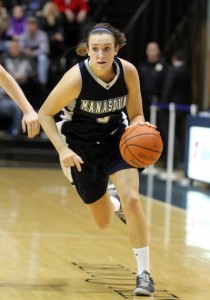 PLAYER OF THE WEEK
MARINA MABREY OF MANASQUAN- Mabrey had 25 points, 9 rebounds and more importantly showed that she understands when to take over and when to lead her team in Manasquan's win over RFH…She single handily sent every RFH guard to the bench with foul trouble, in a tour de force type performance.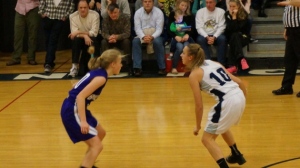 FRESHMAN OF THE WEEK
DARA MABREY OF MANSQUAN-While many freshman had big opening nights, none did it on a bigger stage than Dara Mabrey, who had 5 huge points in the 3rd quarter of Manasquan win over RFH. She finished with 11 points and 9 rebounds in her high school debut.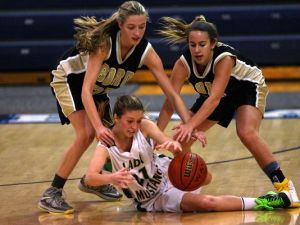 TEAM OF THE WEEK
PT BORO HIGH SCHOOL this weekend knocked off B SOUTH public favorite Central Regional 59- 47 as senior guard Lindsey Havens, (the only hold over from the Hughes era) had 21 and 8 rebounds in a banner performance. But she got lots of help form Future D1 stud and sophomore Meagan Hughes who put a show…Hughes had 17 point 5 assits and 4 steals in the upset win. Then the following night, Pt. Boro knocked off Brick in a barn burner 44-39 as Heavens led all scores with 17….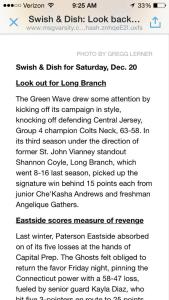 WIN OF THE WEEK…
LONG BRANCH HIGH SCHOOL pulled off the biggest upset of the week, when defeated Colts Neck 63-58. Coach Coyle's team picked up it biggest win in years as Che'kasha Andrews and Angelique Gathers each scored 15 points. But they had help in this total team win as Ryasia Cunningham had 12 points, Camarie Brown add 10 points, while Hydeinah Moore finished with eight points and eight rebounds. Coyle is slowly building a nice program and this win could speed things up.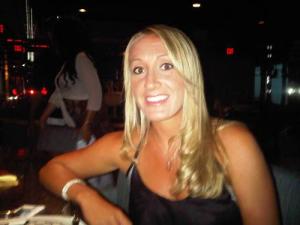 COACH OF THE WEEK-
SHANNON COYLE– Those on the AAU coach know Coach Shannon Coyle can coach them up. But in just a short period of time, she has turned Long Branch from a disinterested group, to hard working blue color team. The week she did what only can be called the impossible, beat a state champion…when is the last time Long Branch has even dreamed about this more less actually doing it…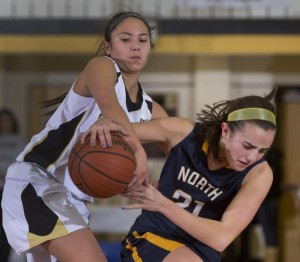 SURPRISE PERFORMANCE OF THE WEEK-
BIANCA NICOLINI OF SOUTHERN HIGH SCHOOL– The Junior guard got her season off with a bang. Nicolini had 20 points in Southern's win over former #9 Freehold Twp. Nicolini is coming from out of the shadows and opening NIGHT may just be a start of a new star in the making.

AROUND THE SHORE-
KIMI EVANS had 21 points in SJV,s season opener victory over Roland Park in Queens, NY.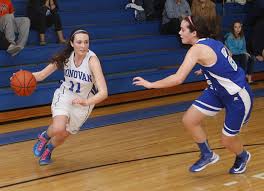 Chelsea Crowe started the year off in grand style with 23 points and 8 rebounds  for  #10 Monsignor Cathloic. Junior Kaitlyn Borghesi reputation continues to grow as she had 12 points and a whopping 8 assists in the opening night win.
The St. Rose Captains Jess Louro and Kat Phipps picked up were they left off last season this weekend.  Louro had 15 points and 18 rebounds, while Kat Phipps went 6 or 7 from the three point line while scoring 24 points and grabbing 12 rebounds as St. Rose picked up their 2nd win of the season over Patterson Catholic in what has to be considered a nice win out of conference.
Stephanie Karcz averaged 19 points in two wins for Middletown South to start the season.
Marajiah Bacon had 28 points in the festival of Phoenix as Neptune defeated Colombia High School.
BANNER WEEKEND FOR THE BABIES– The Shore freshman class let it be known they are the real deal on opening night.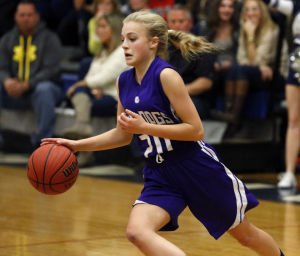 Tori Hyduke emerged as another possible go to player for RFH as she had 10 points and 6 rebounds against #1 Manasquan.
Loving Marsicano had 12 points, 8 rebounds and 2 blocks in her first real test of the season against top competition…Looks like Lovings is ALREADY giving St. Rose some Loving.

Cara Volpe has to be the sleeper freshman of the year as she averaged 11 points and 7 rebounds in her first two games, Vople is going to make at run at freshman of the Year folks. Colts Neck has not had a freshman with this impact since the Hampton, Clark era.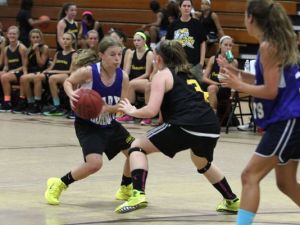 Christina Antonakakis had 8 points, 5 dimes and 4 steals in her season debut in a win over Monmouth.
Molly Collins said hello to the shore world on opening night with 8 and 2 dimes.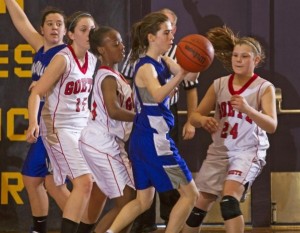 Markham had college coaches talking!
But the story of the weekend for freshman was the response from college coaches about Mikayla Markham who one college coaches had this to say
" Hey Coach Tiny saw St. Rose play today at University HS, know she is only a freshman but kid Mikayla was impressive"
followed by …" A recruiting war is going to break out, I can't believe she is a Freshman"  and what does Joe Whalen  have to say about all this?
" Tiny she has arrived" …I guess so folks!
TOP TEN WEEK TWO-
1. MANASQUAN– Held Serve in week one vs RFH.."THE HEART OF A LION"

2. SJV– Kimi Evans… puts them on a different level
3. RFH– Shot selection issues… but its a long season
4. ST. ROSE– The Captains and Loving is just one of the reasons they more up
5. MIDDLETOWN SOUTH– They have to drop a spot losing Jill Falvery…NOW WHAT?

6. RBC– There first test will come in the WOBM…soft early season game help?

7. HOLMDEL– They are going to be dangerous folks…Jen Inman had 15 on opening night
8. NEPTUNE– John Browns team just sitting and waiting for… RBC
9. SOUTHERN REG– Davis and Nicolini …are a dangerous team
10. MONSIGNOR DONAVON– The Back-court is the key…and they had a nice start!