There will be a lot of talk about SJV's win over Rumson- Fair Haven last night. Some will focus on the play of Kimi Evans in the first half. Some will talk about Kelly Campbell being…well Kelly Campbell. Some will talk about how SJV showed an inner toughness and imposed their will on a inspired Rumson team. But last night SJV's win was about more than a victory. This was a game that put some DEMONS TO REST.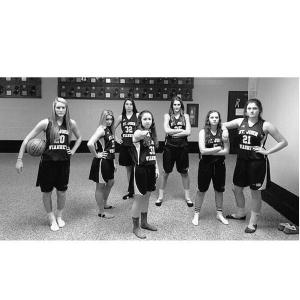 SJV lost 3 games last year; all in the last seconds. It was said they could not win close games. There best players where babies a year ago and those babies won a close game last night. They did it with the mental toughness all great teams have. When down by 14 in the first half they did not panic because they believe their coach is the best in game coach in the State. They chipped away at the RFH lead and took the lead only to see RFH send the game in overtime. In overtime they got the win and it took a total team effort. But most importantly SJV got the monkey off their back, because if they had lost, a cloud could have followed this team all year. SJV spent the night killing DEMONS!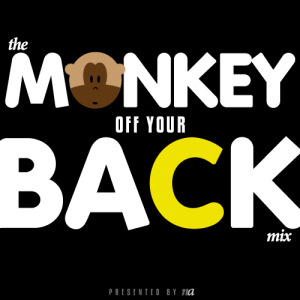 The Monkey is looking for a new Back to hang out on!
When Emily Urbie went out for the season, with a torn ACL, people said SJV was in trouble. In the past few years, SJV has had to suffer through major injuries that occur mid-season (not the easiest thing for a team/coach to handle) but Coach Karpell has inspired her team to rise above it and realize they still have plenty of talent to get the job done. She may not want to admit it, but more than likely it has cost her a few SCT and TOC titles. But Dawn Karpell is not a big fan of excuses. This year she got one of those injured players back in Tina LeBron.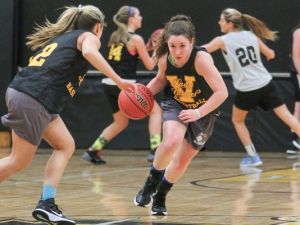 Where would SJV be without TINA LEBRON?
Tina Lebron has been like a forgotten child, but she has worked her way back into the spotlight and last night no player made two bigger plays than Miss LeBron. In the first half with SJV struggling to make a shot, Dawn Karpell needed something big to happen and she needed it quick, RFH was trying to run away from SJV. Tina LeBron did not let that happen, she came in and buried a deep 3 to stop RFH dead in their Tracks. She also did something else which I'm sure nobody else noticed. Tina LeBron without hesitation reversed the ball quickly and this lead to a 2nd straight 3 as her partner in crime Vanessa P buried a jumper. This is  what coaches call making the pass to make the pass (hockey assist shout out van riemsdyk brothers and Joe Masonious), you see Tina LeBron did not get credit for the assist, but good kids never care about credit…they care about winning and no kid cares more about winning than TINA LEBRON. These two plays allowed SJV to see the light and mount the late 2nd period come back and put Kelly Campbell in position to be…well Kelly Campbell to start the 3rd quarter. But it was the dagger she and Kelly Crouch threw at RFH in the 4th quarter that settled things last night or as a friend of mine said to me " LeBron …BANG!! CROUCH…BANG!!! RFH down 6 before you can blink an eye…Do you think having shooters manner? My response do you think SJV having TINA LEBRON BACK MATTERS! The injury DEMON IS DEAD!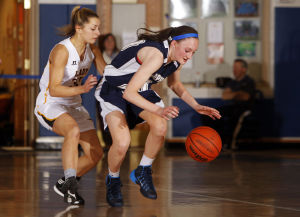 VANESSA PINHO "D'ed up and hit a big 3
Yesterday Kimi Evans did her best Marina Mabrey impersonation in the first half. While the SJV guards missed open after open 3-point shot, Sam Sabino and RFH seem to make shot after shot. It seemed RFH was going to run away with this game early. But Kimi Evans kept scoring just enough to keep SJV in the fight. Then late in the first half Kelly Campbell gave her some assistance, banged out a 3 and got to the free throw line. But it was Vanessa Pinho who came in late in the first half and hit the big 3 and then on the next possession forced a traveling violation in the RFH backcourt. Zoe Pero gave SJV those solid minutes that allowed Evans to take a rest and have legs in the game. After I had left in the 2nd half I got this text from a Division one Head Coach " Tiny, How is Kelly Crouch playing?" well here's my response coach: coach just fine because this morning she is a hero and real soon the Shore Conference is going to understand no kid has made more sacrifices for their team than Kelly Crouch. If there was ever a question about weather SJV was a team that DEMON IS DEAD FOREVER AFTER LAST NIGHT.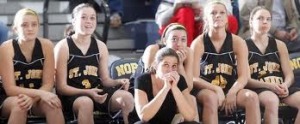 NOBODY MAKES BETTER USE OF THEIR TALENT!
Finally I want to tell her a story, I called a Athletic Director at a D1 one school and I told her she needed to interview Dawn Karpell (sorry SJV folks) for the head coaching job. It was the perfect job for Coach Karpell and she was the perfect coach for this job. I then called a big booster of this school who I have known for years and said you need to hire Dawn. I explained the team would play an exciting style, I said you will get big crowds at games and finally she will work 24/7 to get the job done. A few weeks later this AD said to me she liked Dawn but was going in a different direction. I said OK and laughed my ass off because let me explain something to every Shore Parent, Player, Fan and Coach…. NOBODY uses their entire roster like Coach Karpell, NOBODY is preparing kids to play in college more than Dawn Karpell and NOBODY'S style of play and that including many D1 schools is more suited to bring out the best in players…. Dawn Karpell folks is the real deal and last night you found out why…every player on SJV's roster feels part of her team…DEMONS DEAD ACROSS THE BOARD.
MY THOUGHTS ON LAST NIGHT
SJV proved when they are not at there best they can still win games. Dawn Karpell showed nobody is better at taking advantage of a deep roster, as her bench was big last night. Kimi Evans showed that she is the toughest matchup in the Shore Conference this side of Marina Mabrey. Kellyville proved they are a special best backcourt and finally GiGi Caponergo showed she could still be a factor even when not scoring. SJV proved there are by far the most complete team in the Shore Conference
RFH, will test-ed now… because they lost to the two teams they fear the most. Last nights game was the most intense game they may play all season. Manasquan was a walk in the part compared to how hard both teams played. In both RFH fell apart at the end of the 2nd half and that must be addressed…rotations, rotations, rotations. But there are bigger problems brewing, they simply do not understand what a good shot is based on who should shoot when as well as time and score. This along with constant fouling by their guards is starting to look like real red flags. The defense and rotations issues I believe will be cleaned up, i'm not sure if the the shot selection can be fixed so easily because this has been an issue, long before last night.

IMPORTANT DATES-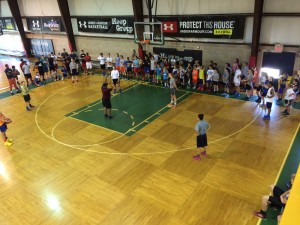 THE HOLDAY HOOPFEST STARTS THIS MONDAY- DECEMBER 29TH-30TH… 9AM-2PM …MONDAY AND TUESDAY
http://hoopgroup.com/headquarters/clinics/holiday-break-hoop-fest/
CORE SKILLS SATURDAY TRAINING STARTS JANUARY 3 AT HOOP GROUP…    FRESHMAN AND JV PLAYERS THIS EVENT IS FILLED WITH SKILL WORK
http://hoopgroup.com/headquarters/weekly-instruction-programs/core-skills-training/
THE HOLDAY HOOPFEST STARTS THIS MONDAY 9AM-2PM …MONDAY AND TUESDAY