If you are looking for Bobby Fisher, you can stop searching he is roaming the sidelines of Manasquan and he is a woman now. If you wanted to see the Queen and Princess all you had to do was attend Manasquan's Basketball last night. If you what to see what real live Buzzards look like, get to a Manasquan basketball game. If you want to see what a shiny new warrior looks like, get to a Manasquan game.
Yesterday for 15 minutes and 48 seconds it looked like Rumson Fair-Heaven was ready to make a statement and give Manasquan war, but then with 12 seconds left in the 2nd quarter the wheels fell off the bus for RFH as they lost their composure and never recovered.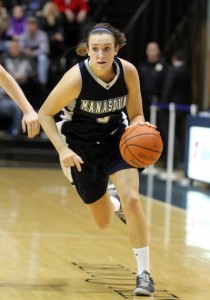 Maybrey refused to let let RFH run away and hide
In the first quarter of last nights battle of #1 and #3 it looked like we were gearing up for a classic match up. When Stella Clark hit a 3 point shot to opening the scoring, junior Nicole Morris answered right back. Rumson  took a 13-11 first quarter lead while sharing the ball taking good shots. It looked like Manasquan was in for a real dog fight. But then the 2nd quarter became a tail of two stories.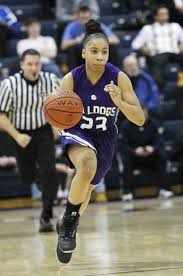 Mayfield, Morris and Sabino were all in foul trouble all night
In the 2nd quarter it looked RFH was trying to run away and hide from Manasquan, as they mounted an 8 point lead. But while her teammates were frozen in time and in the dark, Marina Mabrey wasn't having any of that. Marina carried her teams offense and keep things close for Manasquan, but more importantly she did something that only the great ones do…she sent every RFH starting guard to the bench. First she sent Jane Mayfield to the bench with fouls, then when Nicole Morris tired to guard her she sent her to the bench with 3 fouls. Then finally she sent Sam Sabino packing… Marina Mabrey was one woman wrecking crew. But RFH still held all the cards until 12 seconds left in the half and that's when things went south for RFH. After getting a defense stop, RFH had the ball and 5 point lead. They had a chance to go up by as much as 8 and more importantly put Manasquan on their heels. Instead RFH turned the ball and then in a eiry remainder of last years SCT WIN OVER SJV.. Bobby Fisher "aka" Lisa Kukoda rushed her senior Courtney Hagaman into the game. Marina Mabrey then split two RFH defenders and found Hagaman for a basket at the buzzer…from this point on Rumson never recovered and panicked.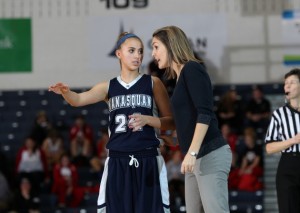 Lisa Kukoda and Courtney Hagaman got together and did it again!
The start the 3rd quarter, somehow inexplicably found Rumson guard Nicole Morris with 3 fouls guarding the most dangerous offense weapon in girls basketball Marina Mabrey. Mabrey made RFH pay dearly for such a huge match up mistake as she sent Nicole Morris in the first minute of the 3rd quarter packing to the bench with her 4th foul. While the older Mabrey was sending Morris away, RFH some how made another match up mistake as 6'1″ Stephanie Lesko was guarding the 5'6″ Dara Mabrey. Dara who was silent to this point WENT OFF. The younger Mabrey had 5 points and an assist in 3 minutes.  Marina Mabrey  then sent Janae Mayfield and Sam Sabino back to the bench with more foul trouble. Emma Miller, Grace Stant and Lesko none who had foul trouble never guarded Marina Mabrey in the 3rd period and Mabrey made RFH pay dearly for not moving players players free of foul trouble in front of her. When she drove to the basket and got fouled to put Manasquan up 11 with 4 minutes left, Rumson resorted back to years of past. Their Shot selection went out the window as they turned the ball over and missed free throws. Despite all this RFH ended the 3rd quarter down 8 and it could have been much worst.
Then to start the 4th quarter George Sourlis made the boldest move of the night. He sat his star junior Nicole Morris with 4 fouls in favor of his stud freshman Tori Hyduke. Hyduke had been brilliant all night in her debut. It was she that Coach Sourlis decided would carry the fortunes of RFH  on her shoulders, as Sourlis put the ball in his baby hands and asked her to carry his Bulldogs. Hyduke tired and had 4 sweet drives to the basketball that made the gym grasp for air. But each shot rolled painfully in and out for RFH. While Coach Sourlis was riding his freshman, Lisa Kukoda was having none of the that as she gave the the ball to her senior star Marina Mabrey, who was surgically removing the Bulldogs heart. Mabrey scored on deep three's, pull ups, spinning drives and old school  three point plays all the while making breath taking passes to teammates. While she was doing all this, two Buzzards by the name of Addie Masonious and Stella Clark showed up to pick and pull at the lifeless RFH team. They ran down every loose ball and despite their size crushed RFH on the glass with 2nd chance opportunities, finally they harassed the RFH guards into rush shots and turnovers.  Meanwhile while the buzzards where enjoying their tasty meal, Victoria Galvan was preparing the RFH coffin. She buried a 18 foot jumper and then got the crowd involved with a block shot. Then she posted up and got to the foul where she went 3 out of 4 and just for good measure controlled the boards as well. It appeared that all that was left were the formalities.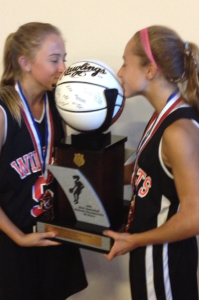 THESE BUZZARDS WERE NOT INTERESTED IN KISSING!
But with 4 minutes left in the 4th quarter, Rumson started pressing and rattled the young Manasquan guards. Then with 2.45 seconds left and down by 5 with the ball, the problem that has haunted RFH in recent years reared its ugly head…SHOT SELECTION. RFH had a 2 on 1 and a chance to trim the Manasquan lead to three. But RFH decided to go for the home run and shot a ill advised three point shot in transition… which missed. From there Bobby Fisher made another great move, Lisa Kukoda moved her star Marina Mabrey to the point to beat the RFH pressure and that was that. Then in a final act of cruelty, with under a  minute left in the game, Marina Mabrey went to the foul line and missed two free throws as if she was saying…"SEE FOLKS I AM HUMAN"  Sorry Marina nobody watching last night believes that!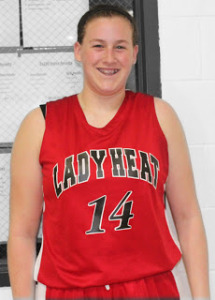 Lady Heat was the best way to describe Galvan last night
In the end I saw Bobby Fisher "aka"  Lisa Kukoda pack up her chess set after winning another game of wits…I saw the Queen and the NEW Princess of the Courts better known as Marina and Dara Mabrey wave goodbye to their subjects as they departed. Then out of the corner of my eye, I noticed two fully stuffed and thoroughly satisfied Buzzards known as Stella Clark and Addie Masonious smiling mischiefly.  I saw Victoria Galvan enjoying her new found seat at the Warriors round table. Finally I then looked down to see the Rumson funeral procession taking place as their fans lined up walking out consoling each other…..MANASQUAN showed the  HEART OF A LOIN  and their name fits perfectly…THEY REALLY ARE WARRIORS.
MY THOUGHTS
Manasquan now knows Victoria Galvan will fill the shoes of Sam Sullivan. They also found out that when things are not going well that Marina Mabrey can keep them in games. They found out that Dara Mabrey can provide outside shooting that they will need later in the season. They also found out something about their coach…she understands match-ups and situations  as well as anyone.
Rumson would be wise not to panic, no other team has the ability to put them in foul trouble as Marina Mabrey did. The luster in Monday's match-up vs SJV is all but gone and this may help RFH. They will need to pay more attention to match ups, but its RFH Shot Selection that continues to be the real issue. The season is a long one and RFH will get another crack at Manasquan at home and it could be different result. …this team is not done by a long shot.
AROUND THE SHORE-
While most were focusing on last night Manasquan vs RFH game. Another battle of TOP TEN teams took place. Southern defeated Freehold Township as Bianca Nicolini continued has march toward stardom with 20 points
Middletown South won big  yesterday but lost forward and and Division one player Jill Falvey for the year with a Torn ACL…
Nicole Shatskey had 21 points in Marlbro's season opener…Molly Weiss had 8 dimes.
REMAINDER TO THOSE OFF FROM SCHOOL TOMORROW…THE HOOP GROUP HOLIDAY CAMP BEGINS MONDAY…FOR MORE INFORMATION https://nothingbutskills.com/booby-fisher-the-queen-and-princess-two-buzzards-and-a-new-warrior/