The 2017-17 season kicks off with two big games today.  These are big games for reasons that go way beyond wins and losses. NEPTUNE @MARLBORO and SADDLE RIVER DAY@RFH both have interesting story lines which cannot be ignored.
Last year NEPTUNE started the year unranked in the state. They finished the year ranked in the Top 20, largely because of three reasons. First Brianna Love played the best Robin to Dezzy Allen's Batman role than any would could have imagined.  Next Rahmena Henderson, shocked everyone and became a HOOP GROUP ALL FRESHMAN TEAM member out of nowhere. They surprised everyone and many believed, NEPTUNE with everyone returning could be a Top 10 team in the state. They did beat this years #6 team, RBC last year; so much was anticipated. It's seemed everything was setting up nicely. That was until Henderson decided to transfer to SJV. This left NEPTUNE without a Point Guard and many people are now questioning there State #15 ranking. Today they are taking on Marlboro, a team that is no stranger to playing ranked teams. They also were a team that had NEPTUNE beat last year on the road and somehow let it slip away in overtime. Marlboro will not soon forget that game. It had to be the most painful lost of the season. Senior Guard Molly Weiss and Jr Jess Board will not let them off the ropes today, if they can help it.
Marlboro is ranked #8 in the Shore and know a lost today, could mean bye bye to there ranking. DEZZY ALLEN and NEPTUNE hope to show they are still a top ranked team. But more importantly both teams would like to start the season by sending a message to each other. That while ranking are nice for the ego, they have not forgotten know important divisional matchups are…if winning championships matter. I hope they both play like champions today
There is a non conference battle of ranked teams taking place tonight. #11 SADDLE RIVER DAY@#5 RFH  in RUMSON. This game was suppose to take place on Neutral court. But there was a gym change, lucky for Rumson. Not so lucky for SADDLE RIVER DAY, who now are forced to play at RFH for a second year in a row. Last year SADDLE RIVER DAY came down undefeated and riding a ten game winning streak against RFH. They quickly found out, while Bergen County plays top notch hoops, it's not the Shore. Many believed SADDLE DAY would catch RFH peeking ahead to its matchup vs Manasquan two days later. That they were right about, but it really  didn't matter.  In what can only be called a lackluster performance,  RFH won easily. Everything was in RFH's favor, the home court,  the crowd, the D1 seniors and loads of experience to lean. Then of course they had a HALL OF FAME coach, who was known as the best defensive mind in New Jersey.
This years things are much different. First that Hall of Fame coach, SIR GEORGE SOURLIS whose defense shut down the leading scorer in the state last year, Michelle Sidor…. is gone. Sidor had Shore fans excited to see the superstar baby. They wanted to see if it was all true. She had 14 points that day,  not bad for any ordinary freshman. But Sidor was no ordinary freshman; she did not have her best night. But this year SIDOR is a year older, stronger, wiser and knows what to expect. She also won't have to play against the 4 guards who rotated on her all afternoon, last year, as she missed shots, you have to think she never misses. This year RFH only has a rotation of 6 players. Last year they had too many players to count and it may have been the reason they didn't win a SCT OR TOC. This year why do I get the feeling Michelle Sidor might be looking for a little payback? Why do I get the feeling we are going to see the real Michelle Sidor tonight and why she is North Jersey's pride and joy. It's has just taken Michelle Sidor a little longer to show the Shore faithful why is special.
Some people believe the Dave Callahan era starts tonight. Now the games count, playing time counts and the results matter. Tonight RFH will have only kids on the floor, who grew up playing  in the town. There will no so called outsiders, stealing time and joyful moments, that many feel rightfully belongs to those who were born and breed in the community. Today everyone in the RFH inner circle will finally be happy again. It's there team, their kids and they have a new exciting coach to kick it all off. Today the #5 team in the state will start  exactly were they ended last year. Except now on a new Journey and everyone will be happy. Those people  saying Dave Callahan starts tonight…well their wrong.  That is unless RFH loses tonight, because … THAT'S WHEN THE DAVE CALLAHAN ERA will truly begin. Both Michelle Sidor and Dave Callahan are hoping we see what and who they really can be TONIGHT…. Me you ask? Well am rooting for both of them!
UPDATE-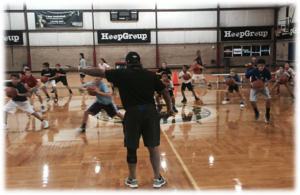 The Holiday Camp at HOOP GROUP is DECEMBER 26th-30th…call 732 502 2255 or sign up online http://hoopgroup.com/hoop-group-headquarters/new-jersey-basketball-clinics/holiday-break-hoop-fest/