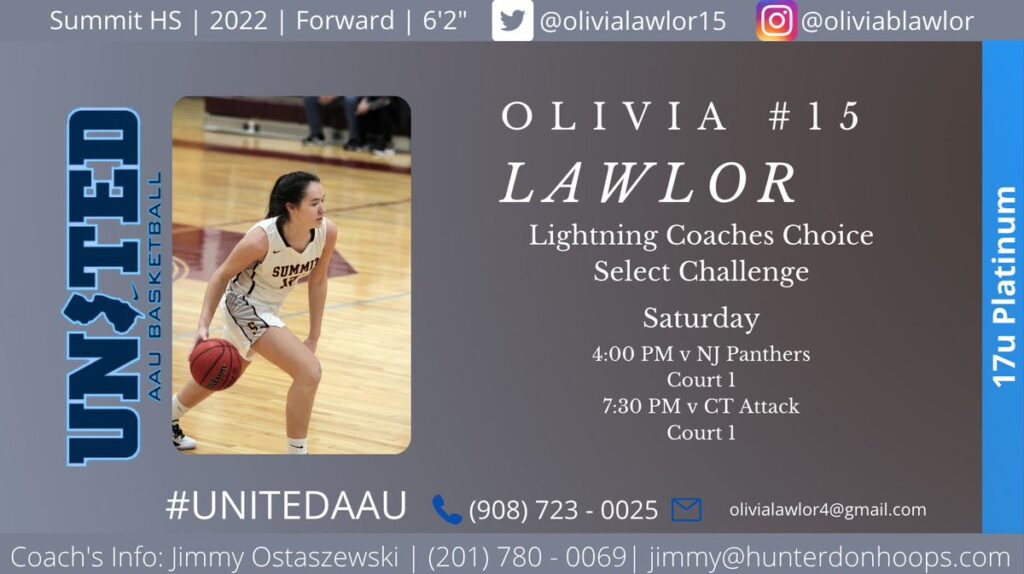 The first round of the early recruiting period has come to a end. It was certainly nice to see college coaches and fans back watching the action. There was much anticipation for this moment. There were lots of questions for coaches and players regarding their futures. If you ask me it was a great time for kids who may have gotten lost along the way due to covid but have been saved this summer, given a chance to show their medal in this first round. Some hit the July recruiting period with lots of name recognition. While others had to make a name during the first recruiting period. They had to set the table for the next live period. They had to prove they were worth a 2nd look. Olivia Lawlor is one of those kids. She has set the table just nicely and I believe she will go from just another kid hoping to make a dream come true…TO MAKING HER DREAM COME.
You never know why a kid joins a certain AAU program. Some join AAU programs to stroke their ego and brag. Some join programs to try and get ranking. Some join because they are friends with the coaches and promises are quietly made. Some just are looking for status or being attached to kids with bigger names and profiles. In the case of Olivia Lawlor, I have no idea why she joined the United Blue Flames AAU program. I have never met Olivia Lawlor, I've just watched her from a distance and just know she made the perfect AAU choice. Each time I have watched her, she has grown on me more and more. It would be real easy for college coaches to miss, Olivia Lawlor. She is playing on a super team in the Empire Blue Flames AAU program. It's team with Division one players up and down the roster. It's a team with kids who are brand name players with multiple D1 offers. It would be much easier for Olivia Lawlor to find a AAU team that doesn't have so much talent surrounding her. It would much easier for Olivia Lawlor to find a team where she could be the star and shoot when and as often as she please. Olivia Lawlor could find a team that doesn't play elite competition and try to trick coaches into recruiting her. Olivia Lawlor could have found a team where the spotlight was all hers. Not focus on getting some of the best coaching in AAU basketball.
But it's clear Olivia Lawlor prefers to take right road to making her dreams come true. The right road is one where you make you own way by doing things the right way. You know playing with talented teammates, focusing on elite coaching and most of all playing the right way at all times. Olivia Lawlor is trusting college coaches are paying attention to all the wonderful things she has done, game in and game out all spring vs the best competition in the AAU world. I know it';s these things about her that has caught my attention. If you don't mind me bragging yet again, I know a few things about what talented players look like. Olivia Lawlor is very talented and more importantly a baller in every sense of the word. If fact she is a division one player. Trust me that is a fact and will be a dam good one in fact one day… please don't question me when it comes to such matters because my track record speaks for itself and I AM SPEAKING LOUDLY RIGHT NOW!
When I watch Olivia Lawlor, I see a young lady that really understands basketball. I see a kid who is unselfish and always makes great decisions. I see that kid who makes the extra pass, sets screens for teammates and makes all the hustle plays. She is a young lady that is willing to play the game for her teammates. Doing all the little things that all teammates and winning coaches see and feel. But make no mistake Olivia does the big things as well. It was these big things that have caught my eye. Her timing is a thing of beauty. It seems she is always making big shots. I can't begin to tell you the number of big shots I have watched Olivia Lawlor make this AAU season. I can't believe the number of times I have said these words… "who the hell is #15". I can't begin to tell you how she just seems to always wins her matchup every time she laces them up. I also cannot tell you the many kids that have D1 offers on the table she has out played this AAU season. To be honest the list of names would shock you. But I will just leave that to you to research… she is game over hype Olivia Lawlor is a player whose value cannot be overstated because of her ability to be that glue player that so many kids wish they can be… but their ego's won't allow them!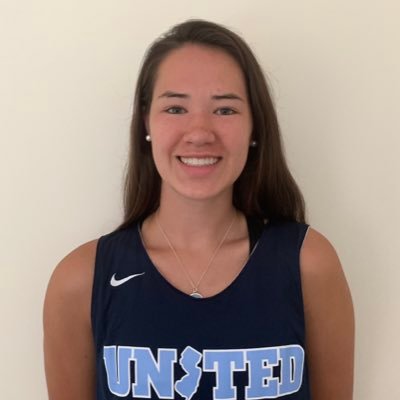 It funny but kids like Olivia Lawlor are hard to find. But when you find one. You fall in love with them. They seem to always make everyone and everything around them better. There is no doubt that as the AAU recruiting period moves forward, her name is going to become more and more important to college coaches. For me it just fun discovering a kid that you never knew existed…Olivia Lawlor is that gem of a player than makes you enjoy watching the game just a little more…OLIVIA LAWLOR IS GOING TO MAKE LOTS OF COACHES HAPPY BEFORE THE END OF THE SUMMER...A LOT OF DIVISION ONE COACHES THAT IS.… but the good ones seem to always do that…WHY I SAY GOOD LUCK TO THIS YOUNG LADY🙂