Joe Montano and John Brown are two mega successful coaches. They have won EVERYTHING a coach can win on the high school level. Some believe RBC is the best girls basketball program top to bottom in New Jersey. John Brown has turned Neptune into a state power as well. Yesterday, two 5 star generals went to war.
Neptune tired and tired to get away from RBC in the first half of yesterday battle of B North favorites. Neptune seemed to be dominating RBC in every area of the game. But Joe Montano is a master on the sidelines. When opposing coaches, coach against him, they feel him and his presence. How do I know this? Because yesterday I felt him from the stands. He rotated players on Neptune star Allen, he worked the officials' yesterday again as he does better than ANYONE. Joe Montano controlled this game in the first half with his sheer win. But their was one thing he could not control….no coach can control this one thing…SHOOTING! His young Casey's missed open shot, after open shot, after open shot in the first half. The fact that RBC was only down 18-13 at the half was a true testimony to one thing…. JOE MONTANO!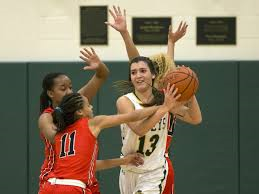 Katie Rice and RBC hung around all night
John Brown had to wonder how his team could only be up 5 points at the half. His team had out played RBC from A-Z. But a bigger concern had to be that his stud Brianna Love picked up her third foul in the 2nd quarter and he had a entire half to play. He also had to know that Joe Montano had thrown everything but the kitchen sink at his star Dezzy Allen…and that sink was surely next. Montano rotated no less than 5 …yes 5 players on Allen in the first half. Now with Love out with fouls Dezzy Allen would have to play the entire 2nd half. But John Brown has been to a few rodeo's himself over the years. So when RBC jumped on Neptune early to start the 3rd quarter and tied the game at 21. Here is what he told to the team, now I quote "stop playing scared, pass the ball, everybody stop trying to do it alone". This is when his star scorer turned into vintage Magic Johnson. Dezzy Allen found Bennett not once by twice in the corner for three's. Then she found Henderson with a sweet dime and just like that Neptune was up 9 points. John Brown gave his team the road map and his players followed the directions to perfection. John Brown was beastly in the 3rd quarter from the sidelines.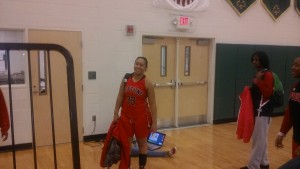 JUST CALL HER BIG GAME BENNETT
Sometimes a star must know the moment and that moment just might mean, taking a breath. In the 3rd quarter Dezzy Allen was on fumes, gone was the pop in her legs and the mad dashes to the rim. Joe Montano was looking  like a genius and making Dezzy Allen pay, except  Dezzy Allen was in cruise control the last 4 mins of the 3rd quarter and the 9 point lead Neptune built allowed her to do just that ease on ease on down the court. Brianna Love picked up her 4th foul and headed to the bench to start the 4th and Neptune was up 32-27 in large part to Alexis Bennett taking over and stepping up as all winning players do. Bennett was sensation in the the 3rd quarter….her shooting allowed Allen to rest and find her legs….she gave NEPTUNE BREATHING ROOM!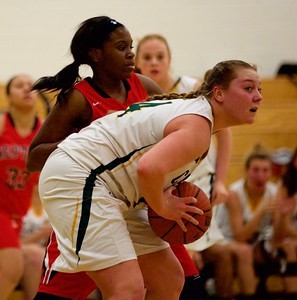 COAKLEY GAVE HER ALL
The young Casey's showed that sometimes you must find a way when your "A" game is missing. Rose Caverly finished with 14 points but it was how she got them that was impressive. In the 4th quarter she matched Dezzy Allen with big basket after big basket as the 4th quarter rocked back and forth. Maureen Coakley who had 14 points and nine rebounds finally got RBC over the top with a bucket and then Caverly made a made dash to the rim and got fouled. She made one and RBC was up three. CAVERLY WAS SENSATION ALL NIGHT…it looked like the young Casey would survive like all good opportunist on a night of missed shots. I said it looked like they would survive.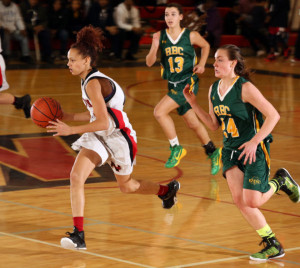 ALLEN IS  SIMPLY THE BEST THE BEST IN THE BUSINESS
Dezzy Allen PROVED she is the BEST PLAYER IN THE STATE OF NEW JERSEY these days. She made twisting layups in the lane for three point plays. She got rebounds in traffic, she blocked shots and made jumpers.  Dezzy Allen  turned into RBC'S executioner in the 4th quarter. She took RBC to the gallows and made them pay for earlier discretion's.  Katie Rice tired to respond for RBC, when she blocked an ALLEN shot and ran the floor for a layup. Then Rice who had 11 rebounds got on the offensive glass and got fouled and went to the line and played string music to give RBC a three point lead. Surely Neptune was dead with 2 mins left. But Allen came right down the floor and buried a 18 foot jumper. Then Allen drove the lane with a twisting, dancing and prancing move in traffic; scored and got fouled. It was shear poetry in motion as she walked to the line and made the free throw to give Neptune a three point lead with 1.30 left in the game.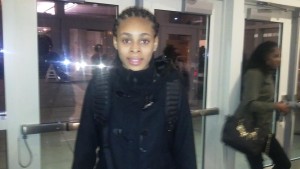 Henderson was wonderful the entire night
Freshman Rahemena Henderson doesn't get the hype of some others. But last night when the game got it hottest, it was she John Brown trusted with the ball. It was she that was cool as a cucumber and had one turnover the entire game. It was she that found Allen late in the game when RBC was denying her the ball. But most importantly it was she that when Brianna Love when out of the game, that picked up the rebounding slack with 10 huge rebounds. Henderson folks is now officially a freshman of mega impact.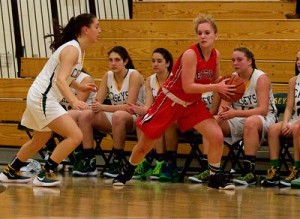 VREELAND STEPPED UP AGAIN!
It was not Dezzy Allen who closed the door on RBC last night. Di' Avaian Foster walked to the free throw line with 50 seconds left and a two point lead for Neptune and buried two free throws ON THE ROAD.  A senior who is now making a name for herself,  Alexa Vreeland threw a few blows at Colts Neck earlier this week, threw the biggest blow of all last night, when she made a free throw and then got her rebound and scored on a miss with 20 seconds left in the game. She had 6 points in the final  minute of the game. It was these two who sent RBC off to the showers.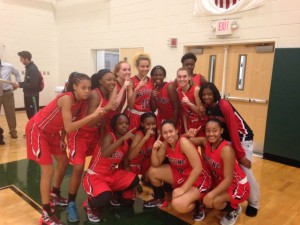 TWO BIG ROAD GAMES AND IN FULL CONTROL OF B NORTH!
When it was over the RBC kids had tears in their eyes. Not because they lost, but rather because they did not play how they wanted. I was happy to see tears of disappointment. I was happy to hear kids say what they didn't do on this night…NOT POINTING FINGERS!  I was happy that the RBC kids again prove they get it….they understand it's about TEAM!  Neptune… well they have the best player on planet earth these days…Dezzy Allen had 30 point, 13 rebounds, a bucket of assists and so many big shots…why bother to count. The B south title now runs through…NEPTUNE!
UPDATE….I BELIEVE IN THIS PROGRAM
MAINTENANCE SHOOTING STARTS THIS SUNDAY…TAKE ADVANTAGE OF THIS EVERYONE….ITS THE LITTLE THINGS!