Next week most 8th graders will start their High School Basketball careers and it may be the most exciting time of the young lives. Now of course the parents of the kids will be on pins and needles, hoping to learn all the details of their child's first practice. That information I can tell you from experience will be slow coming if it comes at all. Some players will show up with a built in buzz, due to the fact that the high school coach knows who they are and has seen them play on a number of times during grammar school.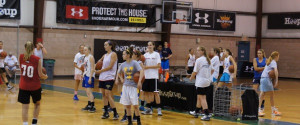 NBS is the most competitive Camp in New Jersey http://hoopgroup.com/headquarters/summer-basketball-camps/nothing-but-skills/
The first day of High School practice for an 8th grader is always a eye opener. In many cases it will be the first time they will play against older, bigger, stronger and better players. Some players will simply not be prepared and struggle, others will not be ready for the pace of practice. But the details that come with learning a new system can really throw a player off their game
.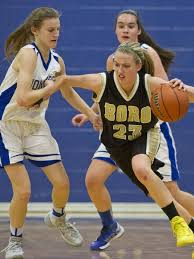 Megan Hughes had no problems adjusting to high school
There is also another side of the first day of practice and that's the upperclassmen. Many times older upperclassmen are territorial and try to isolate the freshman. The cold shoulder in often the chosen choice of putting a freshman in their place, this can really throw a freshman with questionable confidence into a funk early. But as we all know the good programs embrace their freshman and their senior leaders make sure the freshman are made to feel like family.
The Manasquan Team embraced Freshman of the Year Stella Clark and Addie Masonius and it paid off..BIG TIME
The Superstar freshman is in a tricky role because all eyes are on them. If the head coach caters to them and treats them special all hell can break loose. This is always the easiest way for a coach to lose the trust of his team. Rewarding a freshman before they have been though the rigors of practice and games is a dangerous move. But on the flip side not allowing a freshman to compete for a spot can lead to a very unhappy freshman and more importantly bad blood between the player, coach and teammates. Not an easy thing to manage for a coach at the high school level. When a freshman walks into the first practice, there are going to have all eyes on them. First the older players will size them up to see if they are a threat.  The coaches will watch the body language and the attitude of the freshman. Lastly the respect factor is the thing everyone will be watching the most; does the freshmen know the pecking order of things. Do they get to the back of the line in drills, do they wait till the underclassmen drink water, do they pick up the balls…in other words are they HUMBLE AND TEAM PLAYERS.  If the coach see's them buy into this concept, then the process of earning time begins.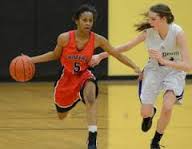 RFH's Nicole Morris watched most of her Freshman year from the sidelines… but is now one of most recruited players in the Shore!
The first practice is the one almost every player never forgets, its seared in a players mind forever. Twenty years from now this experience will be talked about at dinners and reunions. I hope every kid is prepared and does their best and remembers it's the start of the best times of their young lives…
SHORE CONFERENCE FRESHMAN… When you talk about the best freshman in the Shore it doesn't always translate in the first season. Remember sometimes it takes players take time to develop or adjust to high school basketball.  In some cases there may be an upperclassmen at their position and the Coach is loyal to this upperclassmen who has been a dedicated player for years. Alex Barazotti was forced to watch much of her freshman year, yet has given Loyola College a verbal commitment. Nicole Morris was forced to watch much of her freshman year and now is one of the most recruited players in the Shore Conference. Last year the St. Rose freshman studs got little if any varsity time, but they all will be heavily recruited by their senior year. In a lot of ways the freshman year is very overrated in terms of a player's future is concerned. This list of freshman is just the names of kids I know. Trust me after summer camp and other events, many incoming freshman will have made a name for themselves.  This year's list of incoming freshman class is deep with a number of Impact players.  But They  all must understand they must prove it  on the courts…HYPE DOESN'T ALWAYS MEAN SUCCESS!
IMPACT FRESHMAN:*special note to college coaches I believe most of these kids are D1 locks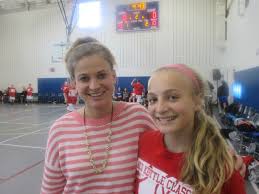 Former POY Caitlin Hyduke with Sister Tori …RFH may have gotten the biggest fish of All
TORI HYDUKE– Congrats to George Sourlis and RFH on winning the lottery. Hyduke will be a MAJOR factor at RFH from day one folks. No freshman is more ready offensively than Miss Hyduke, who can score in a variety of ways. She is already on the radar of Division one schools and will be a 1st Team All Shore and POY candidate one day. Hyduke will give RFH a guard that create their own shot and more importantly break down defenses and free up teammates.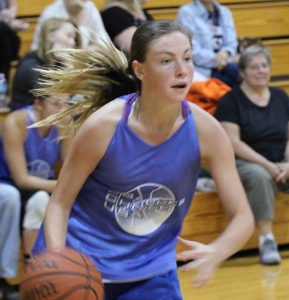 Caverly is a Impact player..with a great understanding of the game far beyond her years
ROSE CAVERLY– She could be the missing part for Joe Montano crew, a true point guard with an INSANE IQ. She could be one of the smartest point guards we have seen in years. But because of her strength and decision making she can also slide to the two spot. This young lady is going to shock EVERYONE. There is a strong case to be made she was one of the best guards PERIOD at NBS this spring regardless of grade. She clearly is not afraid of any level of completion…major impact for Casey's. D1 LOCK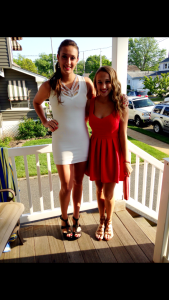 Dara and Marina will be looking good on and off the court together…NEXT YEAR
Dara Mabrey– Manasquan gets another Mabrey and everyone will to try and label and put pressure on her. No worries she has lived being a Mabrey her entire young lady.  She is battled tested as she has ALWAYS played up vs older better completion. She is already a floor general, as she makes those around her better and has SUPER COMMUNICATION SKILLS. NO QUESTION, along with Masonius and Stellar Clark they are possibly the best young 3 guns we have seen in years. Mabrey will instantly give Manasquan a player who not only lead but make plays for teammates and create for herself.
KATIE RICE– Joe Montano, has cornered the market for the 2nd consecutive year folks. Katie Rice is the perfect replacement for Grace Fallon down the road. Built much like Fallon at 5'11" and long arms, her passing skills and toughness will jump off the page.  Her ball handling skills are improving and this future D1 lock gives RBC a advantage that other schools don't have as a do it all freshman. Rice's upside may be bigger than any other entering freshman.
MAKAYLA MRKHAM– This is a name most college coaches don't know, but they better learn it quick. Makayla is super skilled player that can see the floor and score. She has the ability to knock down jumpers and already has a mid-range game. Much like Dara Mabrey  her future teammate at Manasquan she has always paired up against older, better competition. This young lady is a future superstar and no question will become a household name before she is done
RBC gets the best pure shooter entering the Shore
HAYLEY MOORE – Another pick up for Joe Montano and it's a good one. Haley Moore can do something RBC was in die of need last year of…THREE POINT SHOOTING. Haley Moore is one of the best pure shooters entering the shore next season. The RBC crew is loaded with talented guards and Moore will need to fight for playing time. She is quick and has the quickest release of any of the incoming freshman on this list. Moore is also murder in transition because of her ability to pull up in transition
LOVING MARSICANO– ST. ROSE and Joe Whalen get another stud. This young lady is one of the nicest kids I have met. She is very competitive and at 6ft can play either the 4/3. There is no question she fills two very important needs for St. Rose size and athleticism. Loving is quick and runs the floor like a deer. She has improved her shooting ability and held her own this spring at NBS vs College bound seniors.  She is very rare in that she will be able to guard 3 positions as a freshman. This my friends is a MAJOR PICKUP FOR ST. ROSE.
Christina Antonakakis- Now remember you heard this hear first…Don't be surprise if this young lady is the "FRESHMAN OF THE NEXT YEAR"  next season. She is the best ball handler and on ball defender of the incoming class. Her size is a zero factor due to her strength and knowledge of the game. This spring in the gym against the best guards in high school at NBS she was at times DOMINANT…. No incoming freshman works harder and is more dedicated…Holmdel is picking up a 4 year starter and player that will give them a chance to move up the ranking!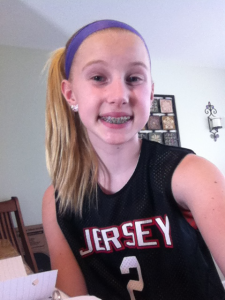 Mack is an adopted shore player…who would be a impact if she played in the Shore Conference
LINDSEY MACK– She will be attending Seacaucs High School, so you may be asking why I am including her on the list. Mack much like Danielle Padovano I consider a shore kid because her AAU team is made up of Shore Players and she trains year round with Shore players and coaches. Lindsey Mack is a flat out knock it out shooter. She is left handed and gets by opponents with quick moves and smart play. She already knows how to use screens and has college range right now. She would be an impact player if she played in the Shore Conference.