There are always players on every team, regardless of how good the team is, who never truly gets their due. When I think of these kids, one name always jumps out at me; Arron Zimmerman, who played for the great SJV teams that Coach Karpell built a few years ago. Now, Zimmerman plays for American University where she was an ALL PATRIOT LEAGUE MEMBER. Now that may look impressive now but when Miss Zimmerman played for SJV, outside of Coach Karpell nobody did much talking about her value to the team. She spear-headed the SJV press, was a terrific passer, defended the post and would score when they needed it most. If you took Arron away from those SJV great teams, I believe it would be a whole different history for that great crew today.  Zimmerman's success in college may come as a surprise to some these days, but not to her SJV coaches and teammates. That brings me to the new updated version of Arron Zimmerman….GIGI CAPONERGO!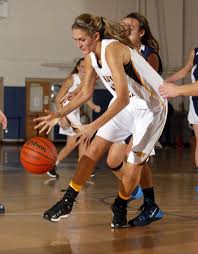 The 6'2″ Caponergo is a special talent
The past season Gigi Caponergo made my 2nd team All Shore Team and too be honest I felt she had a real case to be named to 1st team. Most people don't notice you these days unless you score points or make flashy plays. Most people don't understand winning players names don't always show up in the box score. To understand Gigi Caponergo, you must dig down deep; this is a player who does not need to be the center of attention in order to be a great player and a great teammate. Most players love seeing their name in ink. I believe Gigi would like to be given a little more credit for all she does at SJV as well; the difference between Gigi and other kids is that she understands how things work and doesn't let it affect how she plays the game….THE RIGHT WAY. In the case of Gigi her only acknowledgment often comes from teammates, coaches and D1 scholarships (she already as D1 offers). You see when you are asked to do the dirty work nobody notices. Like when Gigi is leading the SJV press with her long arms and athletic quickness, which leads to steals and easy baskets for teammates, NOT HERSELF. She puts the fear of god into teams who run ball screens with ability to trap smaller guards. Nobody notices when at times she was battling 2 and 3 post players alone on defense and then would rotate to help the smaller SJV guards.  SJV rarely runs a play for Caponergo and yet she still found ways to score and NEVER COMPLAINED. You see Gigi Caponergo is a winner and always has been. You see every team that GiGi has ever played on has been a winner at every level. Her Central Jersey Cardinal team is one of the best AAU teams in the state and plays the best competition and as a 8th grader she won a STATE TITLE…  you get the picture!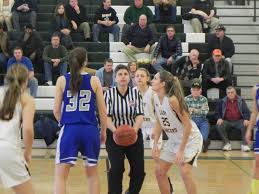 " The College the signs Gigi will be jumping for joy one day"
This past season Gigi developed a beautiful 18 foot jumper and sweet 15 ft. baseline jumper. Now most people I can assure did not pick up on this because she only pulls it out when SJV needs it. When I tell you she is the best ball handling post player in the shore, please don't question it. Her passing skills are in the same class as Jackie Dluhi currently of Wagner and folks Dluhi was the best post passer I have ever seen. Each year since she has entered High School, Gigi has improved and expanded her game. Why?  She came to basketball late and was forced to learn quicker and do a little more than most. I really don't think people understand this…we have not seen even a drop of how good Gigi Caponergo is going to be one day. Because she is quiet and doesn't try to steal the spotlight, some don't appreciate her talents. She comes from a close family where both her brothers are NFL prospects.  Her parents are fun people who may come across as people who are just enjoying time with friends …WRONG,  don't  let their smiling faces and warm greetings fool you; because trust me, when I tell you this, Gigi parents expect her to always give 100% in everything she does. I believe this coming season Gigi will become the most dominate post player in the Shore Conference. We have not seen a post player with her length and athleticism in the shore in a very long time. But what really separates Gigi from so many kids is this, and major college coaches, you be wise to pay attention….COACHABILTY and LIKEABILITY. These two reasons why kids like Gigi always seem to get better and develop each year, while others don't.  Like Arron Zimmerman when Caponegro gets to college, she will only get better each year become a star. There is zero questions about Caponergo future in my mind,  there is no doubt  she can play at the BCS level if she chooses and there is no doubt she will establish herself as one the best post players in the STATE of New Jersey… Gigi Caponergo has the total package; a winning personality, raw talent, work ethic and strong family support ….what can you want from a young lady when building your program.
A PURE POINT GUARD…..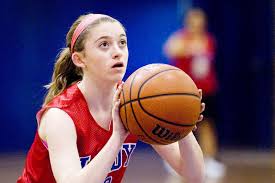 The FACE of a WARRIOR
Andie Lennon plays for Secaucus High School in North Jersey and the name may not jump out at you. In fact many college coaches may not know much about Andie Lennon, but that is all going to change this summer…BANK ON IT. When you look at Andie Lennon her size doesn't  jump out at you. She is only 5'5' and physically not very big; but what is big is her heart and college coaches will find that out this summer. Lennon now plays for the will oiled machine know as the Chambers Central Jersey Hawks that has a habit of stream rolling over opponents.  Mary Beth Chambers says "I can't believe how good she is, she has made us so much better." Annie is something of a dying breed, a true two way pure point guard. When you think of true point guards, you think of a player who can run their team and keep their teammates happy. But Andie Lennon is way more than that folks, she has the ability to not only feed the post and find shooters. But what makes her really special is her ability to guard opponents regardless of size and quickness both on and off the ball she is relentless. 5o/50 balls she runs down with a passion. The fact the her vision  is as good as her quickness makes her turn-over proof.  Now throw in the high pct 3 point shooting ability with the ability to finish at the rim with BOTH HANDS and you got a complete pure point guard.  Her basketball IQ is special as she understands tempo and the moment and this is what separates all great point guards. Annie has always played with talented players her entire life, so she understands how important it is to have relationships with teammates. She also understands when she needs to go and get a basket and when she needs to slow down. While some schools love big guards, Lennon is that small point who out plays her bigger opponents, with quickness and intelligence. Her ability to get pass opponents and set up teammates make her invaluable to the Chambers Hawks who are loaded with talented shooters and post players.
 Coaches will know the name Andie Lennon name by summer's ends!
I had an A-10 coach tell me last year, if I was still at such and such schools I would recruit the daylights out of her…she right, because Lennon is going to be in full demand at some point next year. When you have the talent and play as hard as Miss Lennon, you can't miss. Now I have seen her against some of the best point guards in the state and recently outside the state and make no mistake she has more than held her own. Put her in the Shore Conference and she is a top 3 pure point guard….translation a Division one player. College coaches paying attention will prove me right about this young lady's talent. Annie Lennon is ultra-competitive and a leader and these things are always in high demand….just like she will be REAL SOON
NBS CAMP DATES…AND HOOP GROUP CAMPS STARTING NEXT WEEK!  http://hoopgroup.com/headquarters/summer-basketball-camps/