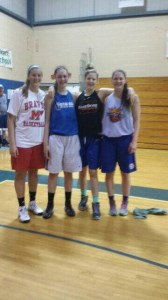 DiCindio with Sam Sullivan(Wagner) Tori P(Colgate) and Sam Meir(St. Peters) after NBS workout
Please  don't question what I am about  to tell you, the most complete young post player I have seen in years;  attends West Windsor Plainsboro High School and plays for the Nick Dipillo Central jersey Hawks. Here is a message to every major college coach who reads this blog, she is as good as any post player at this age that has EVER set foot in NBS and I don't have to tell you what that means… Christina DiCindio is flat out the total package when you talk about YOUNG post players.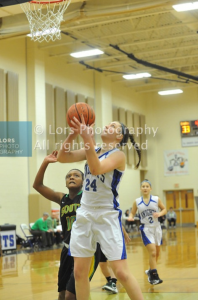 CHRISTINA DiCINDIO IS A RARE TALENT
A year ago former NY Liberty asst coach and one of my former players Nick Dipillo called me to tell me he had the best young post player in New jersey and wanted me to come watch her player. Now Nick knows if your telling me somebody outside the Shore are special, they better be real good because I'm not in the habit of driving outside the shore to watch games, but in this case I only had to drive to Holmdel so all was good. But what I saw that day was greatness in a talented post player with a crazy work ethic. The first time I saw Christina DiCindio, I was impressed with one thing after another, first of all she ran the floor and played post defense without fouling, and this more than anything jumped out at me, because all young post players foul and few run the floor every possession. She also rebound in traffic as well as out of her rebounding area, I though what a nice surprise and this young lady could be special; but little did I know how special she would become… because a year later I was in for a bigger surprise. Because after that game Nick said to me "When I am done with her you won't recognize her game" and then he sent her to NBS to play against the really big girls…. Coach Dipillo delivered my friends and it nice to know when a coach is honest about a player's ability. He was right she just may be the best young post player in the state.

Former WNBA coach Nick Dipillo has given DiCindio the tools!
When Christina DiCindio showed up at NBS this fall I know she must have been taken back for a second. It's not often young post player's play against multiple bigger, stronger and taller players in a practice setting.  She went from being the tallest to the smallest in a matter of seconds and these were not just ordinary post players. These are D1 studs, 9 to be exact who will be wearing D1 uniforms next year. DiCindio was playing against seniors who in most cases had already given verbal commitments to D1 schools. Not to mention the juniors and sophomores who also were in the gym trying to prove they belong. Well one thing everyone figured out from day one was this…. Christina DiCindio is not afraid of competition or anyone's reputation. She was not only an improved player but her skills sets could rival any player in the gym … PERIOD!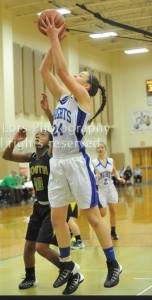 One of the best young post players in NJ
When I saw Christina use her jump hook I was impressed how high the release point was and how quick she could get it off. But what shocked me most was when she shot her jump hoop with left hand with a future D1 6'3" post player rotating over to help as she was shooting. Then she used up and under moves in traffic against guards raking the post. She hit cutters flashing though the lane and caught the ball  and turned opposite to pass… showing off her passing skills. She bumped bigs and guards trying to cut thought the lane. Then the thing that impressed me the most, was the fact she did not back from any physical confrontation.  People I have seen a lot of tears in some babies eyes due to the physical nature of NBS…Christina wasn't having any of that….Folks this is big time stuff I'm talking about, that we have rarely if ever have seen in post babies and DiCindio was behaving like a big time player and breaking all the stereo types about young post players. When I saw that she knew every screening angle my jaw dropped… feet to the sidelines top half of the body on side screens, sprint  screens across the lane and middle screens with her feet pointing to the half court corners. This kid had it all and I just couldn't believe it until I remembered Nick Dipillo coached in the WNBA and taught her the value of screening  and understanding angles…for the record I know of NO BETTER SCREENER THAN THE 6'2" DICINDIO…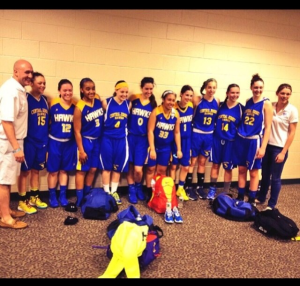 Winning titles is becoming the norm for the Dipillo Hawks
Christina DiCindio spent this spring playing against a number of D1 players who took her under their wings. While many young post players were practicing against smaller teammates and doing dummy post moves; DiCindio got in the gym as often as she could with multiple stronger, wiser post players. These players treated her like a little sister and she responded by listening and growing as player even more. Her AAU Hawks won the USJN East Qualifier and the USNJ Big Apple Classic. She made the All-Tournament Team in both events. She also made the All-Tournament Team at the USNJ East Coast Classic in District Heights in Maryland. It's clear others are now picking up on Christina; but what I like about this young lady is that no matter how much you push her and no matter how hard you coach her, she never puts her head down. She has helped make her 9th grade AAU team one of the best in Jersey.  Right now the only question left is this…HOW MUCH BETTER CAN SHE GET? My guess is with the quality of coaching she is receiving  from Nick Dipillo (parents please don't underestimate this)and her ferocious  appetite for improvement …the sky's the limit…oh by the way  I advise  those so called big time programs…start calling NOW!
NEXT PLAYER SPOTLIGHT…CHELSEA CROWE..FUTURE D1 POINT GUARD FROM THE NJ STING…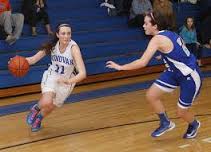 If you are young lady who is a good student I can say it strong enough go to this event http://hoopgroup.com/new-jersey-girls-academic-elite/
Core Skills Camp at Hoop Group this Monday 9am-2pm…this camp will have a small group setting http://hoopgroup.com/headquarters/summer-basketball-camps/core-skills-training-camp/