This weekend Rider College will conduct its first Elite Camp of the Spring/Summer. This may not be seem as big news to most in the basketball world, but for those coaches, players' and parents paying attention it's the start of a very important part of the recruiting season. The Elite Camps run by college coaches is maybe the easiest way for a young player to get their name on the map with a school they are interested in.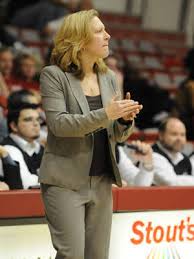 Coach Mulligan and her Rider College staff have Elite Camp this Weekend
College Elite basketball camps can play a major role in a kid's future and for my money provides the best teaching environment for parents and players hoping to be student athletes one day. Elite Camps allows a young player with college aspirations to spend time with PROFESSIONAL coaches. It gives a player a chance to see what a college environment is really about both on and off the court. Most athletes who enter college will tell you the adjustment from high school to college is NIGHT AND DAY!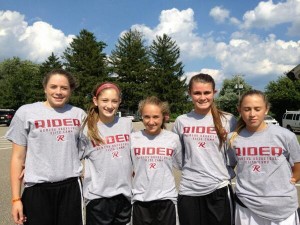 Members of the Jersey Shore Wildcats enjoying the Rider College Elite Camp
I believe that all players should try to attend as many Elite Camps as possible. The more schools a kid visits the more they learn. College Elite camps allow a player to spend quality time with a college head coach and their staff. They get to know the coaches and the college coaches get to know them. This is a huge benefit during the recruiting process for both player and coach. Both parties truly get to see if a player is a fit for a school…it's a WIN…WIN FOR BOTH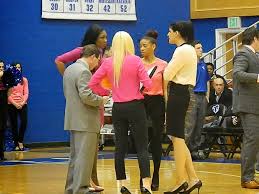 Players spending a week with Tony Bozzella and his Seton Hall staff is priceless
When a player goes on the AAU circuit there is pressure on that player to perform in a small window of opportunity.  As the NCAA continues to shorten the recruiting calendar; College coaches bounce from coach to court trying to see bits and pieces of as many games as possible. The coaches are trying to see as many kids as possible in a short period of time, while baby sitting the kids they know they want. How many times has a kid played great in a AAU setting only to find no coaches watching; then in a game later in the day play poorly with tons of coaches watching. So much is about timing and luck in the summer for those without name recognition. This why I love the Elite camp setting for kids, college coaches of schools a player is interested in …watches that player  the entire day. They get to see the work ethic, the skill sets, attitude and ability to learn. These things you can never see just watching a typical game.  Post players who rarely see the ball in a AAU contest get to show they do have post moves, shooters get to show that they can shoot the ball, point guards get to show they do have a strong basketball IQ. The Elite Camps allows a kid a chance to show improvement during the day and more importantly shows a College coach how bad a player truly wants it.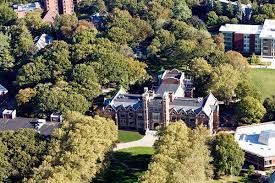 Schools like Wagner College have beautiful campuses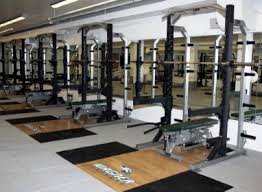 …and top notch Facilities!
I love the fact that at an Elite Camp; a kid is on a college campus; because now they get a taste of what college life for an athlete is like. They get to see to dorms and other facilities. They're forced to show their social skills with other kids in many cases they do not know. They're forced to be on time for games, workouts, meals and meeting, Elite Camps hold kids accountable. You see you can learn a lot about a kid during the non-basketball moments at an Elite Camp. College coaches get to see who is teachable and more importantly respectful to teammates and others. The only place a coach can see these things are at an Elite Camp. A kid who  has all things in place can really open a college coaches eyes and gain an edge in the recruiting process. It's a place where the student athlete can talk to a College Coach legally and their parents can ask questions. They can tour a campus and speak to players on the team about why they like or dislike the school. Nowhere else can a player get this opportunity.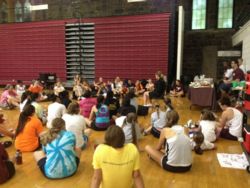 Women's College Basketball "coach of the year"   Stephanie Gaitley of Fordham addressing Campers
Elite Camps for kids under the radar are huge, because many kids do not play for high profile AAU or high school teams. These kids in many cases see few if any college coaches at their games. But at Elite Camps Head Coaches and their staff's give these kids their full attention. These kids get to show their stuff in front of coaches who are truly watching them play. The coaches are not just getting snap shots, being distracted by conversations going on around them or moving from court to court. The coaches are actually in the drills with the kid; a player really gets to improve their skills because the instruction is being provided by COLLEGE COACHES and this is really beneficial for underclassmen, who can attend an Elite Camp for years and reap the benefits of such coaching over a longer period of time. In many cases a coach can discover a kid who just gets better and better every year, right under the noses of other colleges because the player was under the radar.
There are some down sides to Elite camps so you need to be careful…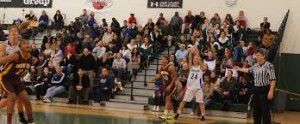 *Some AAU coaches try to prevent players from attending an Elite Camp citing practice and games. Folks a practice or AAU game in June should never trump a chance for a kid to attend an College Elite Camp. Some AAU coaches say they need to get ready for July. I'm sorry but if you have had you team since March and are not ready…you not going to be ready. NOT ONLY SHOULD THEY LET THE KIDS ATTEND COLLEGE ELITE CAMPS… BUT ENCOURAGE IT!
*Colleges over charging for an Elite Camp…I have seen camps that charge $500 dollars. This friend is not an Elite Camp. This is a REGULAR camp and you can still have a wonderful experience but COLLEGE Elite Camps don't have hundreds of kids and people outside their staff running camp while also charging hundreds of dollars.
*Do not attend an Elite Camp simply because you want a scholarship (many D2/D3 school have elite camps). Many times College Coaches at Elite Camps can tell you what your strengths and weakness are, they also can give you an idea what level you can play at and may have friends at other colleges who can use a player of your ability. But the biggest thing about Elite Camps is the coaches will be HONEST WITH YOU!
*Some kids are simply not ready to attend an Elite Camp for a number of reasons. They may be out of shape or simply not mature enough to be on a college campus. I have heard a number of stories of young ladies showing up at Elite Camps  late for meeting and with bad Attitudes.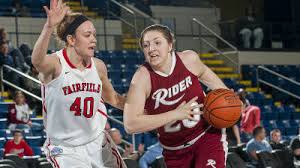 Former All Shore Player Stephanie Mason is currently starring for Rider College
In the end you can't beat College Elite Camps for Exposure and the experience they give you preparing for college. The college coaches who run these camps are professionals and can pass on valuable information to any kid with a dream of playing college. I strongly suggest kids go to websites and check for Elite dates.
VERY IMPORTANT UPDATE– Academic Elite is filling up and again will sell out. Please remember this Event is NCAA sanctioned. Therefore it is a first come first serve situation, you must have the proper paper work in and I advise you to sign up ASAP. If you are good student no matter what anyone tells you the ACADEMIC ELITE is the best event period for KIDS  WITH GRADES…Coaches do not stand in you quality students way…72 coaches last year and this year will be bigger.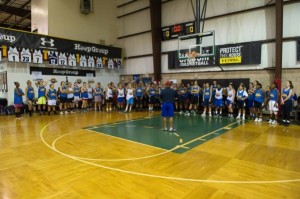 To sign up for Academic Elite  http://hoopgroup.com/new-jersey-girls-academic-elite/