MIDDLETOWN (9-2) VS  HIGH POINT (7-1)
TIME– 11:00 PM
GAME-#1
OVERVIEW-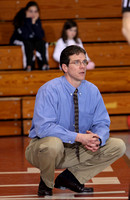 Tom Brennan is one of the best in the state
MIDDLETOWN SOUTH- No team has been hit by the injury bug harder. They started the year out in the State Top 20 and Greg Lerner's Top 15. They are in neither poll today. But they are ranked #6 in the Shore. They have what many consider the best coach in the Shore on the sidelines, in Tom Brennan. Stephanie Karcz is a Player of The Year Candidate. Angela DeBartolome is averaging double figures with a high of 23 vs Manalapan. All Shore Freshman and now a Sophomore Haley Dalonzo while not 100% is back.
FEATURE PLAYER- ALEXANDRA BALSAMO

Stephanie Karcz may be the star of Middletown South. Alexandra Balsamo has quietly had a big year. The 5'9″ swing player who returned this year after being injured last year, can play 4 positions for Coach Tom Brennan. More importantly she can guard 4 positions. Here flexibility now that D1 forward (St Francis, PA) Jill Favery is out for the season, is a major blessing for Middletown. Balsamo can bury 3's or beat her opponent off the dribble.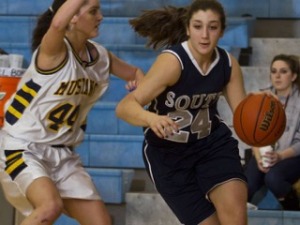 Balsamo is versatile and can play 4 positions
College coaches would be wise to pay attention to her athletic strong body. It's the reason that Middletown South can count on her getting on the glass every night against bigger opponets.  She is only a sophomore and like all Tom Brennan kids will develop into a top player in the shore one day. Alexandra Balsamo will be a major key in Sundays game, as she will be moved around on defense most likely all day. She had 14 points and 5 rebounds in a win over RBC and 12 points and  7 rebounds against Central. When she is playing well Middletown is a much different team. Pay close attention to this young lady, she is under the radar and one of the most underrated players in the Shore.
IMPACT PLAYERS

Sophomores of Impact
–
Haley Dalonzo1(13 points and 5 rebounds against #1 Manasquan), Gabby Cook
Junior players of Impact- Stephanie Karcz, Angela DeBartolome, Julia Valkos
Senior players of Impact– Jill Favery (verbal to St. Francis of Pa) out for season. Madison Curtis
Division one lock players- (2)
Projected Division one players– (3)
HIGH POINT HIGH SCHOOL
OVERVIEW-
They are 7-1 on the season and in first place in there Conference. There only lost this season was to Top 20 ranked and Greg Lerner Top 15 Secaucus 62-71 on the ROAD. Middletown would be wise not to overlook High Point. Junior forward April Peterson, is the real deal and has proven she can play against Top Level competition. She leads High Point in scoring and rebounding. She is not alone as JUNIOR Maddy Smith can light it up as well as she has had double figures in almost every game this season. She scored 23 points in her season opener and clearly plays her best in the big games as she had 16 points, 6 rebounds and 4 assists against #17 Secaucus. Another junior Margo Peterson also has had some big nights as well for High Point.  Witness her 10 performance vs #17 Secaucus and 12 point, 7 rebound game vs Kittatinny. Finally Junior Keeley McGregor has been solid for High Point all year. This is a seasoned team that will not just show up and go home. They have won a lot of games together over the years. They lost last year in the GROUP 2 NORTH SECTIONAL FINAL.
FEATURE PLAYER- APRIL PETERSON

5'9″ junior APRIL PETERSON  is legit folks, all you have to do is look at her  24 points and 9 rebounds against Secaucus this year. She also had a 20 point 16 rebound game just last week. She will be a handful all Sunday for Middletown South. She has the ability to step out and bang out 3's or punish opponents inside….SHE IS TH REAL DEAL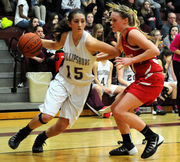 Maddie Smith is a seasoned scorer for High Point
WHAT TO EXPECT– This game could wind up being the game of the day. Middletown is beat up and trying to regroup. High Point will be trying to gain a measure of respect. They have proven they are a a competitive bunch. HIGH POINT is a team loaded with upper- classmen and that will help. My guess is that Middletown South wins this hotly contested game.