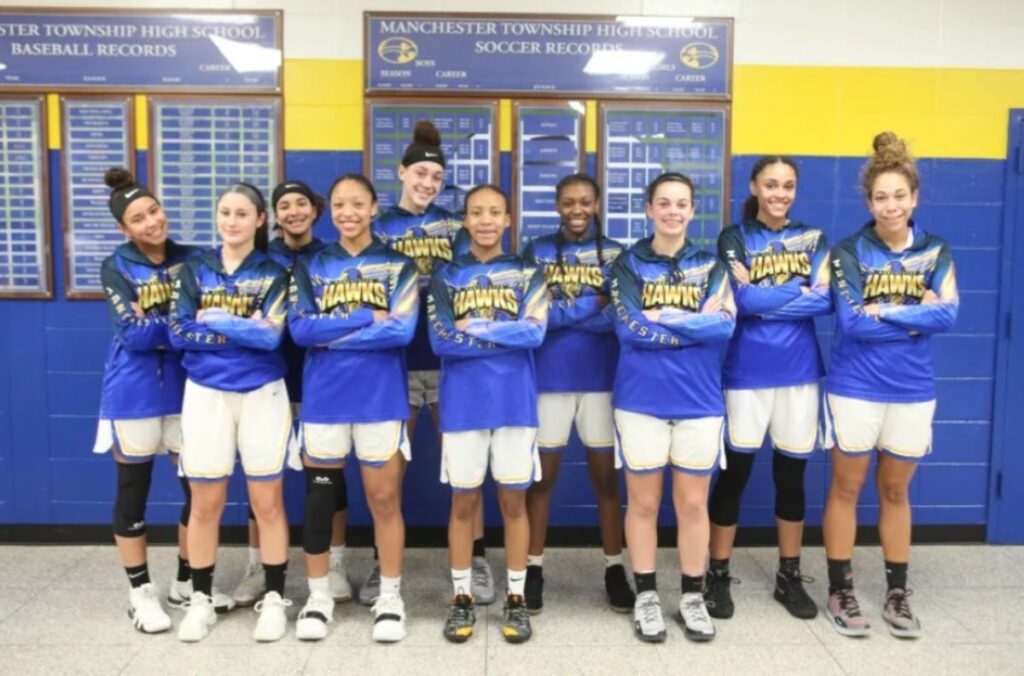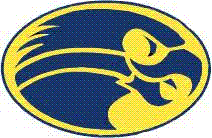 Last year Manchester had high expectations. They were the defending SCT CHAMPS. They had a Division One point guard in Kameri REYNOLDS and a seasoned veteran in Serenity Anderson. They had what many believed was the best young backcourt, the shore had seen in years. But the biggest thing Manchester had was Destiny Adams the most dominant player in the Shore Conference. Manchester made it all the back to the SCT CHAMPIONSHIP game only to lose to SJV. This year those expectations from a year ago are gone. Just like the bulk of MANCHESTER'S once deeply, experienced, talented roster.
This summer Manchester was hit with reality. First graduation hit them hard as starting point guard and team leader Karmeri Reynolds headed off to Ivy League powerhouse U OF PENN. Then the rock solid Serenity Anderson decided to play for D2 Georgian Court. Deadly shooter Tweety Hayes also bid Manchester bye, bye. Those were expected departures. What was not not expected was the lost of there talented freshman backcourt. Freshman of the Year Angelica Velez transferred to TCA and Gabbie Ross transferred to rival Donovan Catholic. Both were stunning losses to the program. But the losses may not have truly sunk in until the summer. When Manchester lost to Donovan Catholic with no other than Gabbie Ross. Many tried to say it was just a summer game. But it was clear this was not a typical summer game, regardless of how much Manchester fans wanted to downplay the defeat. It was a shot across the barrel by the upstart Donovan Catholic crew. If that did not shock Manchester into reality. Then the lopsided lost to RBC a team they manhandled in the SCT, certainly had to concern them. These days Manchester is trying to put the right pieces together. They know things are different this year. But they still have DESTINY ADAMS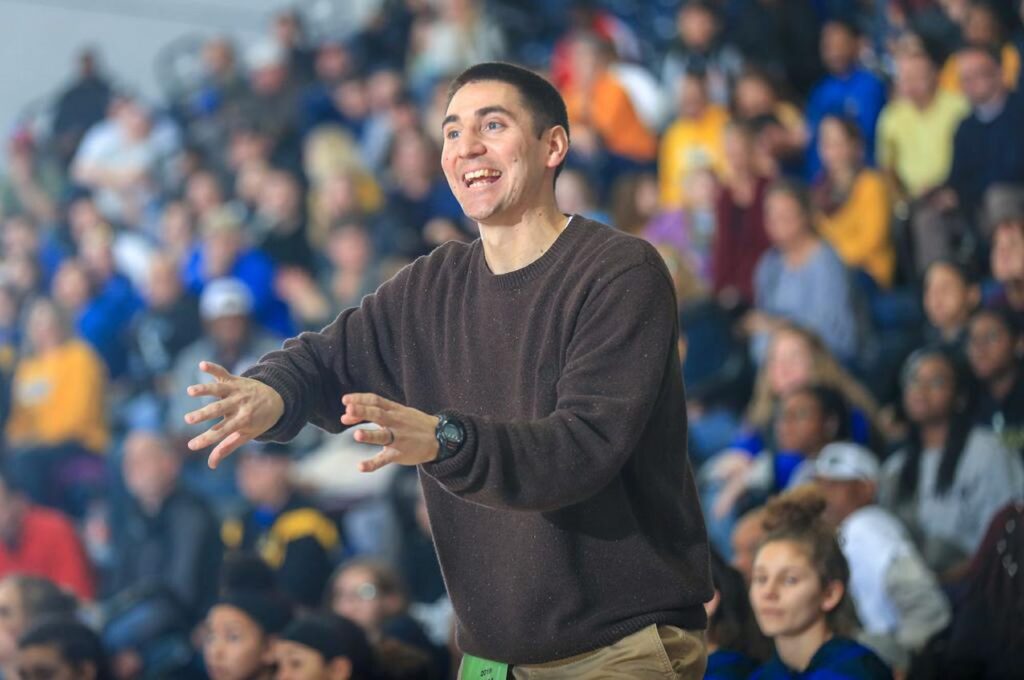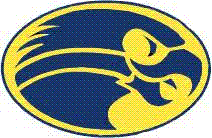 Last year Manchester's goal was to win the SCT. This years goal is to make the SCT. In order to do so, they will need to be ranked in the Top 8. They also must know that two Ocean teams most likely will not make the Top 8. Meaning beating Donovan Catholic is everything this year. In the past Manchester has not played the Shore Powers until the SCT. But that did not matter because they had overwhelming talent. Instead they choose to play outside the state. This year they won't be able to do that. They will be forced to play the shore big dogs in order to grab a Top 8 spot. While there POD will offer little competition. Manchester has swapped out games to pick up Manasquan. They hope to play RBC at the end of the season. In between those marquee games they have Donovan Catholic TWICE. In a lot of ways Manchester is in control of their own destiny… AS IN DESTINY ADAMS.. because as long as she is wearing a Manchester uniform .. Manchester has a fighting chance.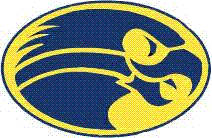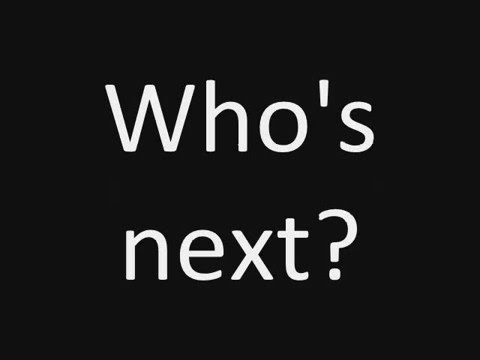 Manchester has a inexperienced roster. But there is talent surrounding Destiny Adams. They have shooters and a young but talented point guard. They have a blood guts player who has been waiting for her chance. Coach Dave Beauchemin will try and find a way to stretch his roster. The one thing he knows is this. Manchester is still the team to best in Ocean County and his returning players know what winning feels like.
Now what the Manchester kids have done in the fall is anyone's guess. Covid 19 prevented many Ocean kids from training or playing against top competition. It certainly will be a wait and see moment early in the season. The good news is Manchester's schedule will allow them to make mistakes and gain confidence without costing them games.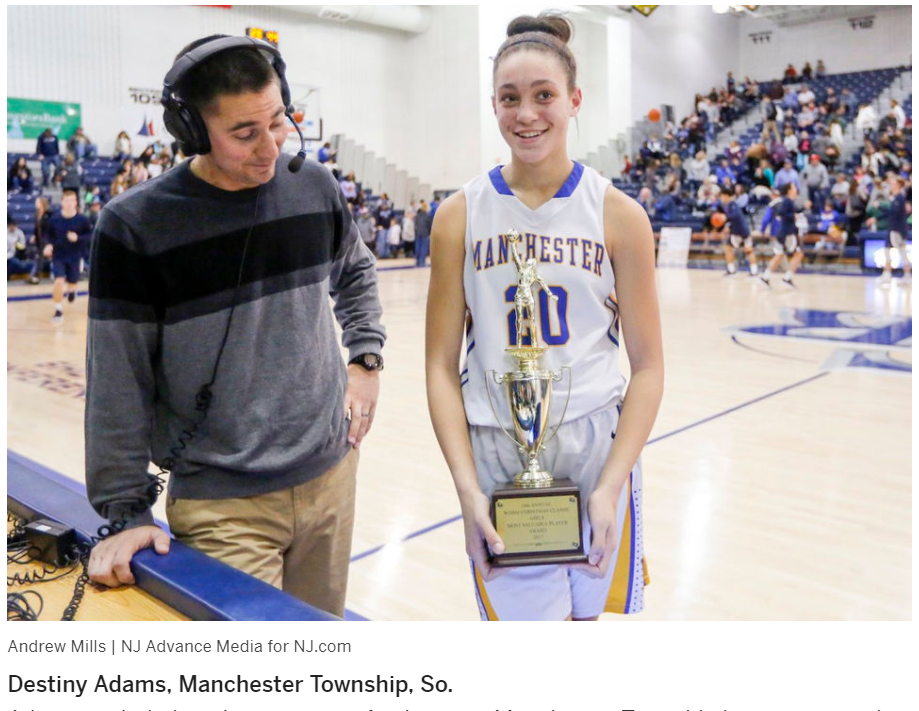 DESTINY ADAMS, no players legacy has been affected more by Covid 19. This year was supposed to the season of Destiny Adams, it was thought she would own every record in the Manchester record book. Of all the current players in the state of New Jersey no one player has done more for a program than Destiny Adams. This year, she will want to go out with a bang before attending UNC. It's why she was shooting everyday right up to the first day of practice. A clear indication Destiny Adams means business. She will have her toughness road yet to get to a 3rd consecutive SCT final. But putting teams on her back is something she has done her entire basketball career..SO THIS YEAR WILL BE NO DIFFERENT.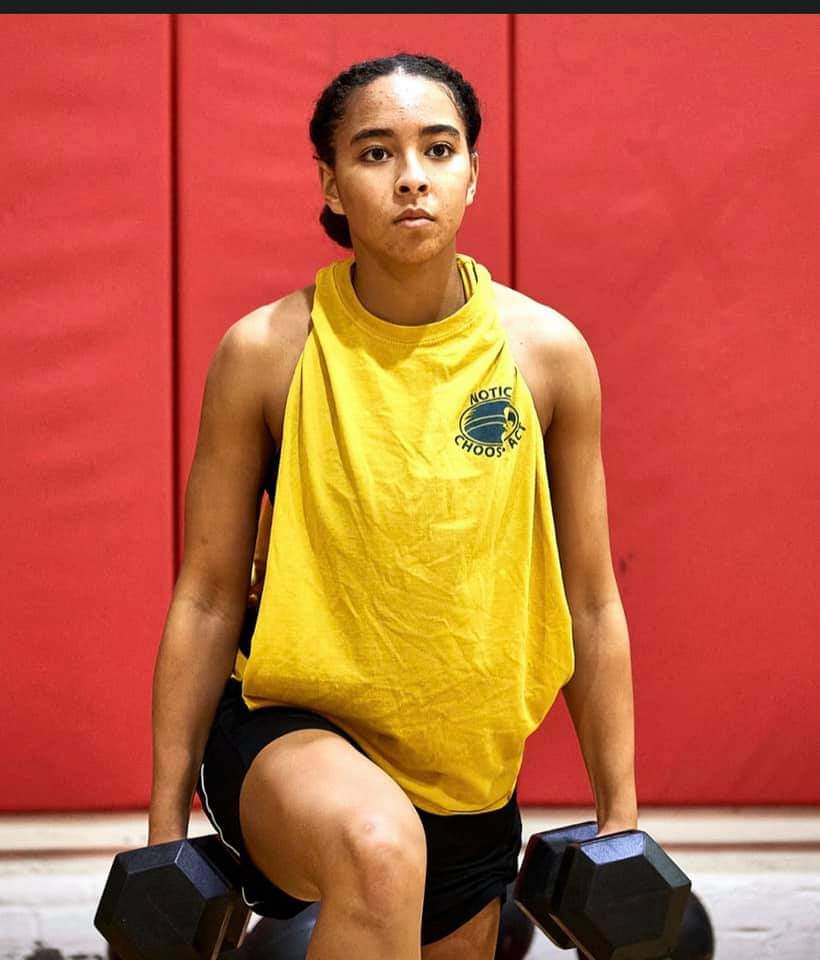 Junior AMAYA BRAY has played a key role in Manchester's success . Last season at times stepping into a starting role and making big shots. Bray will need to provide additional scoring and defense if Manchester is going anywhere. Like Destiny Adams she has been in the gym shooting everyday and folks it has paid off as Bray looks great these days. How good you ask? Good enough to have college coaches buzzing and good enough to be that 2nd double figure scorer Manchester will need night in and night out.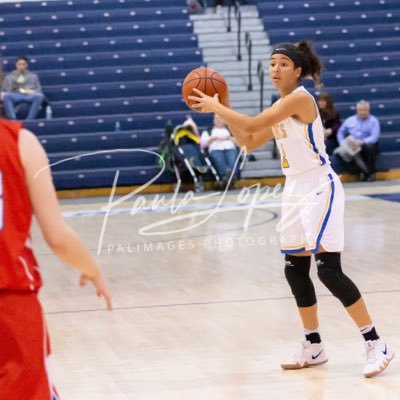 Junior MYAH HOURIGAN has been around forever it seems. She also has been in the wars over the years. She has seen a lot of winning. The talented guard will finally step into the spotlight. The one thing everyone knows is that she won't be afraid. MYAH is tough as nails, she has had some big moments over the years. She is a proven scorer and defender. Manchester will need a big year from her if they hope to make any noise.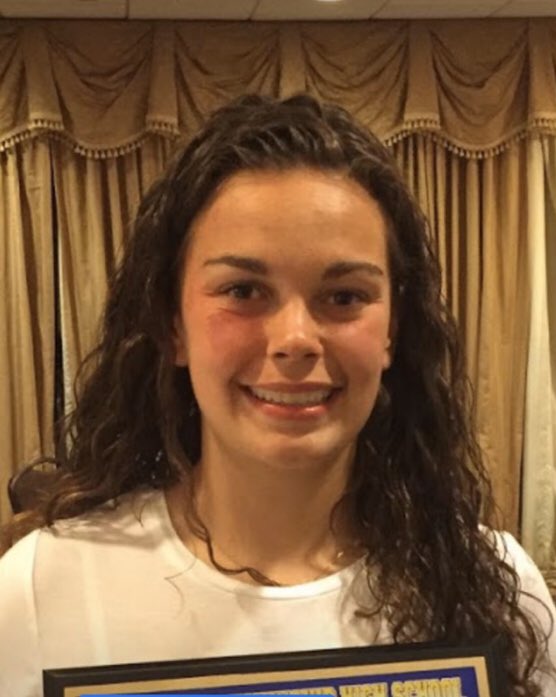 Senior MORGAN BRUSTMAN has been waiting her turn for three years now. Her moment has finally arrived. The ultimate teammate will not disappoint and that's because every time she has been given a chance, she has showed up. Brustman is smart and a leader. She can knock down shots and handle the ball. She is a defensive pit bull and will take on any challenge presented to her… THAT'S A FACT! She is a unknown except to those who follow shore basketball closely. Make no mistake this is the blood and guts of this team. Just know she is very capable to have big shooting nights as she has had as many as 4 three's made in a game. Nobody else on Manchester's roster can say that.
DEVYN QUIGLEY will get first crack at the point guard spot. If this summer was any indication, she will be ready. She has a full tool box. She can score at all three levels, handle the ball, find teammates and defend. She will make a run at the All Freshman Team this year. Quigley will be thrown into the fire from day one. The red shirt freshman had expected this year to be a learning year. Now she will be asked to learn on the job with the transfer of Velez and Ross. The light schedule should help her gain confidence and be prepared for the big games later in the shorten season. The entire key to Manchester's season just might be right here.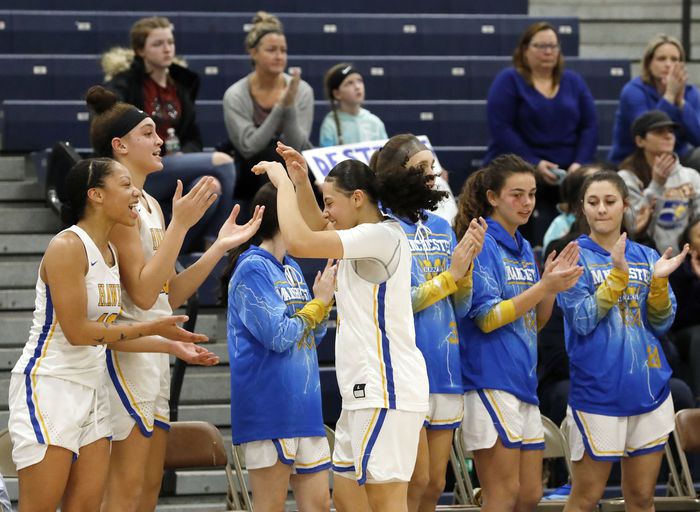 Manchester has 5 starters who will give them a chance to put together a system that hopefully works. Now what that system will look like is anyone's guess right now. But two things are clear. They have the quickness to be a top defensive team with Destiny Adams protecting the basket. Now where does Manchester go to stretch their roster? ALYSSA CARINO made the varsity roster last year as a sophomore and may be the best option available. Sadie Felipe was a freshman last year and could be another option. Both played few minutes. But again the early schedule may offer them a chance to prove themselves.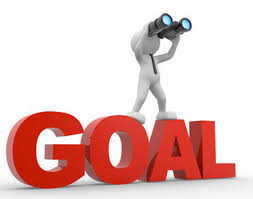 Manchester is hoping to prove they are still a powerhouse team. They hope to be ranked in the Top 20 and get to the SCT Top 8. They had 4 games they could have added to the schedule but choose to play the bulk of those games in Ocean County. It could be a good decision but could also backfire. The schedule will help the returning upperclassmen moving into prime time spots to gain confidence. Yet they do need competition to get ready for Manasquan. There is no easy answer to what is best. The only thing Manchester can't do is slip up. That's why the RBC game, is the last game on the schedule. My gut tells me Manchester will only play that game if they need it to get into the Top 8.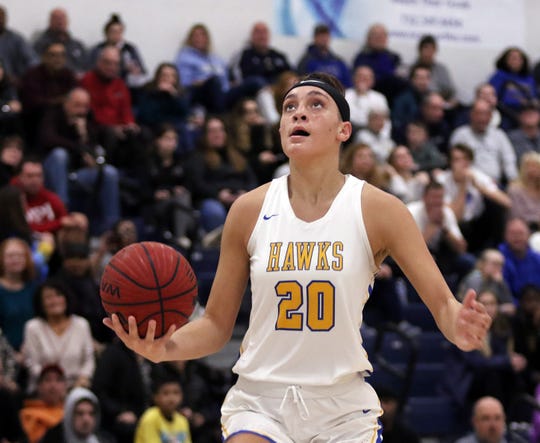 it's seems unfair that Destiny Adams final season will be played with no fans. Everyone should be able to stand and clap for this young lady one more time. she has been a humble, classy superstar. She has done so much for Shore basketball and Manchester High school. There is little doubt her Jersey will hang on the wall as the greatest player in Manchester history. What that Jersey won't tell you is the WOBM TITLES , the SCT TITLE and all the MVP's and excitement she brought along the way. Destiny's final run started this week… let's hope it's a long one.. NO KID DESERVES IT MORE!!