MANASQUAN  (11-1) vs NEW PROVIDENCE (8-3)
GAME – #4
TIME- 4:15 PM
OVERVIEW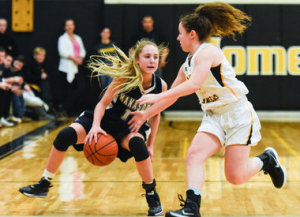 2014 Rookie of the year Stella Clark
MANASQUAN has spent most of the season at #1 in every poll until last week, when SJV defeated them on their home court. Marina Mabrey has been flat out off the charts this season. The WOBM  MVP has at times carried Manasquan and has done it in very way possible. In the RFH game she sent every RFH guard packing to the bench in foul trouble. When Manasquan struggled against pressure in the RFH and SJV games… what did she do? Move to the back-court.  Then Thursday when Holmdel was bidding for an upset, she dropped 40 points on them. Last years freshman of the year, Stella Clark has picked up where she left off, this season. In the season opening win against RFH she crashed the boards ran  and down every 50/50 ball. Her running mate Dara Mabrey has been as advertised this year. In her first High School game she lit up RFH for 12 huge points in Manasquan's win. Her passing skills and basketball IQ are way beyond her years.  Courtney Hagaman has been solid all year and was First Team All WOBM with Stella Clark. Victoria Galvan has become a real factor for Manasquan. In the win against RFH she was great down the stretch with her scoring and rebounding. Then against SJV she gave Marina Mabrey a real helping hand in keeping Manasquan in the game. Addie Masonious continues to be a real spark off the bench for Manasquan. Senior Alex Kurtz has been solid all year off the bench. But it just may be Gillian Black that could put this team over the top. She gave Manasquan some real good minutes vs SJV and appears real at ease on the floor. She takes care of the ball and is a real a serious concern when behind the  three point line. This crew is going to want to send a message to everyone on Sunday.
FEATURE PLAYER- VICTORIA GALVAN- JUNIOR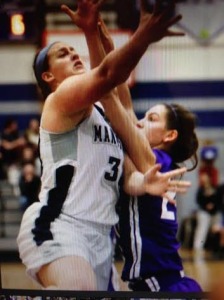 VICTORIA GALVAN  is a big time Softball player who is headed to South Carolina on a full scholarship. But the 6 ft forward could make a case she could easily be on her way to a D1 basketball school. Victoria Galvan right now just may be the 2nd most important player on the Manasquan roster. She has the ability to knock down jumpers out to the three point line. But more importantly she is not afraid of the big moment. In both the SJV and RFH in the 4th quarter she stepped up big time.  She rebounds every night and can score around the basket or get to the foul line. Right now the sophomore is playing at a high level and could hold the key to the entire Manasquan season. If she can continue to give Marina the badly needed offense support Manasquan needs, Manasquan may repeat their SCT and TOC run of last year.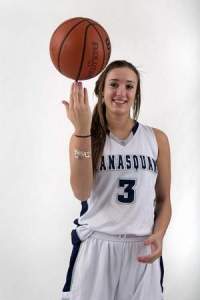 Marina Mabrey is the impact of Impact players
IMPACT PLAYERS
FRESHMAN– Dara Mabrey
SOPHOMORES- Addie Masonious, Stella Clark(shore conference freshman of the year) Victoria Galvan
JUNIORS- Gillan Black,
SENIORS- Marina Mabrey, Courtney Hagaman, Alex Kurtz
DIVISION ONE LOCK PLAYERS (3)
DIVISION ONE PROJECTED (4)
NEW PROVIDENCE
OVERVIEW
NEW PROVIDENCE  is Ranked #14 in Greg Lerner's Top 15. They are led by Florida bound Sydney Morang who at 6 ft can do it all. She is one of the best players in North Jersey and she has scored over 20 points in 8 of 11 games this year, including a 30 point and 10 rebound game against Patterson Kennedy. Junior Katie Kinum has had some big moments in big games. She has been a reliable score all season against top competition. The two players have done just about all the scoring for New Providence this season.  They have played a very competitive schedule, so they should not intimidated by the task ahead. But entire roster will need to have career nights to keep this close.
FEATURE PLAYER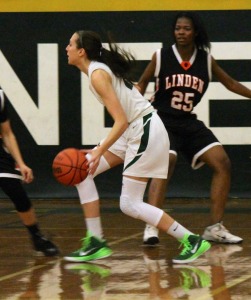 Morang will be matched-up vs Marina Mabrey
Sydney Morang is one of the best players in the state. There is very little she can't do and is a scoring machine. She is 5th in the entire of state in scoring (24.4). She will lace them up at Florida this next year. Morang like Mabrey can take over a game and can will her team to a victory. She will most likely get matched up with the best defender she has ever played against in Marina Mabrey, but just remember this young lady has had huge nights against some of the best teams in New Jersey….she will not back down!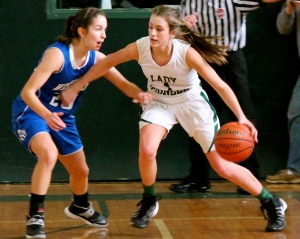 Katie Kinum  will need to give Morang some need support
WHAT TO EXPECT– Unless Marina Mabrey has a off day I just can't believe two players can beat this team. Now if Marina has a off night and Morang and  Katie Kinum  go off maybe it could get interesting. But the real story of this game is seeing two of the best players in the state going head up against each other. Because Mabrey I can promise is guarding Morang…now is Morang guarding Marina? Should be fun but Manasquan should get the win