We are now in that period where college coaches are trying to make real decisions on the recruiting front. For seniors it can be a very tough time, because so much time is spent waiting and hoping. Many are hoping the fruits of their hard work during  the summer recruiting period pays off. There is no question one player is reaping the benifits of this summer….Kaitlyn Borghesi.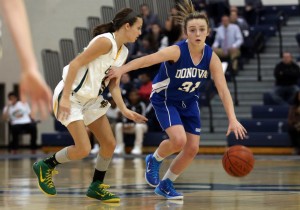 When you tell a player to worry about the little things in the summer recruiting period. Most times they nod their head and go about the business of worrying about one thing… scoring. Shot selection, defense, passing and team play is often just a afterthought not something put into action. The fear is that is you don't score; nobody will pay attention to you. Katilyn Borghesi put her trust into college' coaches and that is the reason right now she has college scholarship offers on the table.
When I saw Kaitlyn Borghesi this summer at the NBS camp my jaw dropped. Because last year I thought Borghesi was a very good player, but now after watching her against future D1 competition… I couldn't believe my eyes. She did not back down from anyone and showed she belonged on the court against any level of competition. But what impressed me most was that she is a natural leader with a super basketball IQ. She understood everything about the point guard postion that one needs to be successful.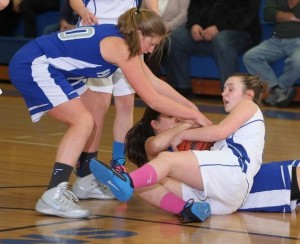 There is no doubt in my mind along with Stella Clark, Borghesi is the best on ball defender in the shore and thats against anyone. She is strong, physical and get over screens. She also can pressures the ball baseline to baseline as well as anyone this side of Janae Mayfield now a freshman at St. Peters College. She is that rare defender that could defend on the college level right now  and that inculdes D1 guards. Now that is a skill set that many high school level players lack. But that is not where it ends for Borghesi, her ability to feed the post and find shooters is just real NEXT LEVEL TYPE STUFF. Because she is so strong its very diffuclt to keep her out of the paint in transtiton and damm near impossible to pressure her with the ball in her hands. There is no question Borghesi has stepped up game in the last 5 months.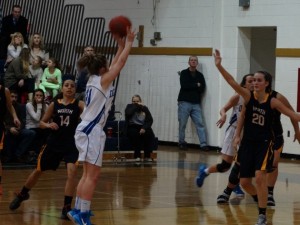 BORGHESI MADE HERSELF A  3 POINT SHOOTER
While in recent years players like Dana Carbone of Monmouth and freshman superstar  Molly Collins have gathered most of the attention at Donavan Catholic. It's been Kaitlyn Borghesi whose done all the little things the have gone unnoticed. A real case can be made she was one of the top point guards in the shore this summer and maybe the most underrated and appericiated. She is a gym rat that has now made herself into a scorer. She has developed a nice three point shot to go along with all the other skill sets she already had in her bag of tricks. She now has the all important floater in the lane and a killer mid range game. She deveopled these skill sets by living in the gym. She also made a point of playing against some of the best guards in the shore. They all now know her by name and have the upmost respect for..they know she is the REAL DEAL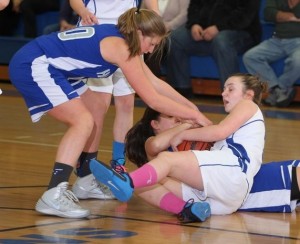 This summer I watched Borgesi play and thought...OMG THIS KID COULD BE A D1 PLAYER. I asked her what she hoped for in college one day. She said "I just want a good school and good basketball team". She really didn't care for my D1 talk, it just was not important to her. It was not what motivated her… She was a young lady that just loved basketball. Her father supports her every step and he just wants her to do one thing… excel on the court. It funny because they are clearly a team and when they are together, they laught and ENJOY THE GAME TOGETHER! It's not a business or a means to a end…they just have fun.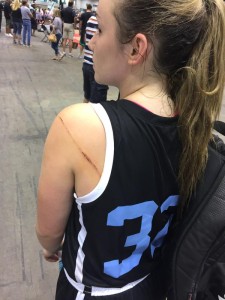 BATTLE WOUNDS ARE NOTHING NEW TO HER!
So now that schools are now calling AND YES THERE WILL BE MORE …LOTS MORE..TRUST ME and asking her to join there program, Kaitlyn Borghesi now knows she did right. She did right by not worrying about points or  bringing attention to herself at the expense of her teammates. She proved to herself and others it about playing the game the right way and if you do that the coaches will come calling…Right now there calling Katilyn Borgesi and nobody could be happier for this young lady than me.
KAITLYN BORGHESI FLASHES THE VICTORY SIGN! BECAUSE SHE HAD CLEARLY WON…

The only real question left is what levelof college basketball and where Borgesi will play. I believe she has D1 talent, but it's clear the young lady doesn't focus on such things. So my quess is she will go to a school that understands what she brings to the table. She will pick a program where winning and playing the right way matters…may D1…maybe D2 and maybe D3…because winning and giving your best is what KATILYN BORGESI IS ALL ABOUT….nothing more!
UPDATE
POINT GUARD SCHOOL STARTS NEXT WEEK AT HOOP GROUP