Another Shore player yesterday joined the ranks of Division 1 basketball. This on the surface is not very shocking. But when you look deeper into this players decision as where to attend college, it's more proof, that more and more girls are picking a college based on more than basketball…Because Stephanie Lesko has some rare athletic gifts and she is taken her talents to … BRYANT UNIVERSITY!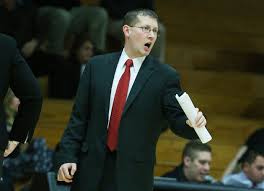 Last week Asst Coach Johnathan Parsons of Bryant University had been texting and calling; trying to give me some news. I was very busy and couldn't get back to my friend. Then finally on Tuesday he texted me again and said I have some big news. But I was still in the middle of camp and enjoying the Stanley Cup my nephew just brought to New Jersey. Then George Sourlis texted with these words "Stephanie Lesko gave a verbal to Bryant University". My jaw dropped when I saw this…Why because its proves good recruiters  can still steal talent away from bigger school and kids. I said to Coach Parsons a certain Top 25 program"must be sick" he texted back  "I'm not sure but we are very happy right now"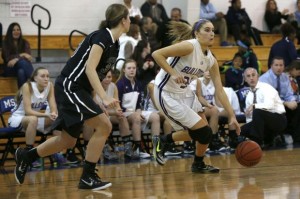 When a player is 6 ft and can shoot the lights out the ball… it makes them very special. When a player is 6 ft and can but the ball on the floor, but yet can post up… it's makes them very special. When a player is 6 ft and athletic with all the above skills sets…it makes them a rare talent…Stephanie Lesko has all that and more.
Johnathan Parsons has been living in the Shore the past few years. He attends high school games and any AAU event in this area. He has made the Shore a major priority and Tuesday his long hard nights,  finally paid off and he helped Bryant get what is maybe the biggest fish in Bryant University women's basketball history. Stephanie Lesko is the type of player that could turn a program like Bryant into a Marist or Quinnipiac over night. She could help make Bryant  a mid major powerhouse.  She is a player that can not just score..but she can  score in a number of ways. This is a player who could one day play 4 positions in college. But what is more impressive… is that she could be the best player at all 4 of the spots in the NEC one day...Stephanie Lesko's upside is flat out scary.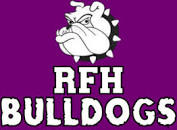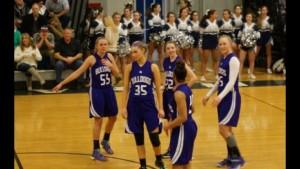 "Hey get over here…welcome to the Rumson  D1 Club"
Stephanie Lesko has been a starter for Rumson since her junior year. She has always been a player that can take over games. She has been somebody that when she gets going, it's almost impossible to slow her down. This year she is the Captain of the RFH team and in many ways the player that is expected to carry the offense in the front court. Like all George Sourlis players, she has gotten better every year in high school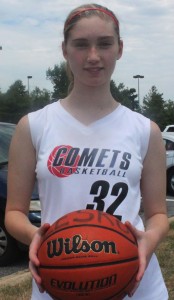 The Philly Comets play in some of the most talented AAU tournaments in the country. It's a program known for producing superstar players. It's also know for playing against the best competition in the nation. It's a place where a player will be challenged every day. Stephanie Lesko has been making that trip 3 round hour trip to Philly for 4 years. It has no question paid off and Bryant University stands to benefit from her efforts ..BIG TIME! "One more added to the list Baby!"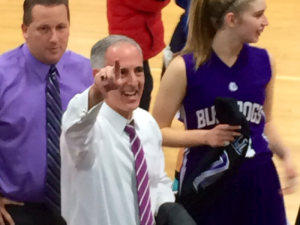 Stephanie is not the first Lesko to play at the Division 1 level. Her older sister  Victoria played 4 years at Boston College. So it clear their is something in the water at the Lesko household. Stephanie is one of the most well liked kids on the Rumson team. She is always smiling and offering her support to her teammates. There is no question, she will bring these same qualities to Bryant University. She knows the work that goes into D1 basketball… nothing will surprise her. It's Clear Bryant University has hit a major home run..because they just signed a major talent….CONGRATS TO STEPHANIE LESKO AND BRYANT UNIVERSITY!
 Okay here's the game plan "lets get Stephanie Lesko here and never let her go!"…yeah that's the Ticket!
MAJOR UPDATE…2ND POINT GUARD SCHOOL ADDED…AUGUST 17th-21th
http://hoopgroup.com/headquarters/summer-basketball-camps/basketball-101-camp/
The hoop Group has added a ANOTHER POINT GUARD CAMP