ST. JOHN VIANNEY (8-1) vs MORRIS CATHOLIC (8-1)
GAME– #5
TIME– 6:00 pm
OVERVIEW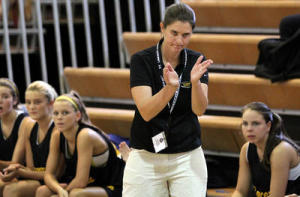 Coach Karpell has her team running on all cylinders
ST JOHN VIANNEY has played everyone  and there grandmother this season. They knocked off #1 Manasquan and  #4 RFH on the road. They are by far the most battle tested team in the state. More importantly they are now closing out games as if it was a birth right. They closed out RFH in over time, held off a furious rally by Manasquan and then shut the door on Long Island super power St. Antony's in overtime. This team of juniors have arrived and there are a lot of reasons for this. First the Kellyville back-court of Kelly Campbell and Kelly Crouch is one of th best back-courts in the state. Up front they are flat out scary with 6'1″ GiGi Caponegro and 6'2″ Kimi Evans, nobody has a front line even approaching these two future BCS players. Sophomore Courtney Dobrzynski has become solid as a rock and not afraid of the big moments as she proved against Manasquan with a all out mega performance. The bench like in most years is the key to everything. Tina LeBron, Zoe Pero and Vanessa Pinho come in and don't play like subs. They come in a try to break your heart and spirit with scoring, rebounding and defense. To call them subs is a total insult. Megan Furch may not hit the floor some nights but the 6'0 junior is always ready and Coach Karpell has no fear in using her. College coaches pay close attention to these words, "Furch is the biggest sleeper I know" Maddie Doring is one of the best freshman in the Shore but is paying her dues on the talented SJV team.
FEATURE PLAYER -TINA LEBRON- JUNIOR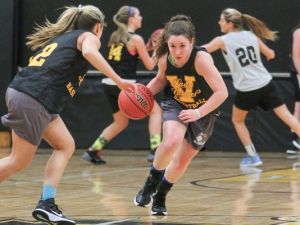 LeBron may be the best story of the year!
Has anyone been bigger in the biggest games of the year, than Tina LeBron? First see breaks RFH's heart with a dagger 3 point shot in overtime to send SJV to victory. Then against Manasquan she simply hit a big 3 to kill the momentum of Manasquan in the first half. Then late in the 4th quarter walks to the free throw line to nail 2 free throws. If that is not enough she had 11 points and 3 three's against Long Island powerhouse St. Antony's. . If anyone was questioning how important Tina LeBron is to the Lancers they can stop, because without her there season would be looking much different… She is clearly is the biggest upgrade to this SJV team this year after sitting out the last year with a torn ACL…Did I tell you she's just a junior and easily the best Teammate a player could ever wish for….
IMPACT PLAYERS-
FRESHMAN– Maddie Doring
SOPHOMORES- Kimi Evans, Courtney Dobrzynski,  Megan Furch
JUNIORS – Kelly Campbell (verbal to Top 25  DePaul), Kelly Crouch, Gigi Caponergo, Zoe Pero, Tina LeBron, Emily Uribe (out for season, verbal to Wagner College) Vanessa Pinto
SENIORS -NONE
DIVISION ONE LOCKS (7)
PROJECTED DIVISION 1 PLAYERS (8)
MORRIS CATHOLIC
OVERVIEW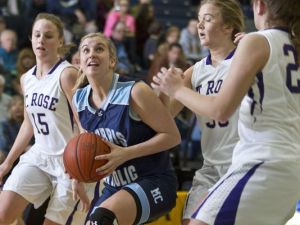 MORRIS CATHOLIC is ranked 9th in  Greg Lerner's Top 15 and all you need to know is this…they play defense. This team is only giving up 25 points a game. Kate Feeney and Stella Johnson are double figure scorers. But Rachel Mills and Rachel Mills have showed the ability to put the ball in the basket. SJV is a major step up in competition for  Morris Catholic. There only lost to date is to Top 20 Roselle Catholic, but its also the only game that was against top competition. This will be a real test for Morris Catholic as they rarely rely on the 3 point line for scoring and will need to stop SJV from getting 3's while trying to stop one the best front lines in the state. Morris Catholic has played against Shore competition in the past as they lost to St. Rose 69-47 in the state NON B State Final.  They will need to be at their best on Sunday, if they hope to pull off the upset….but here is something to thing about MORRIS CATHOLIC  has been known to hold the ball for long stretches in the past, SJV would be wise not fall behind
WHAT TO EXPECT-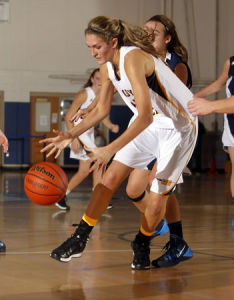 Stopping Caponergo is not a easy task
Morris Catholic is not holding SJV to 25 points unless they hold the ball. So what's the answer? They will need to score and prevent SJV from getting scores off turnovers. Morris Catholic will need to limit the amount of 3's for SJV because they make very few and that could be major point differential. Finally SJV is playing as well as they have ever played and Morris Catholic may just be catching them at the wrong time….SJV wins